THE COAST TO COAST AM CHALLENGE
When you are neck deep in the Real World, it is easy to be facetious and snarky when blogging and trolling in cyberspace. It is difficult for me to take this entire Internet, blogging and social media thing too seriously these days.
In fact, since January 6th, 2021, I do not take the Mainstream Media or the Alternative Media very seriously anymore. I think we are all on our own when hunting down usable information sources.
I have been neck deep in the Real World since I was 18. It is so tiring to filter out the Alternative Media bloggers who do not know what they are talking about; everybody has an opinion. For the most part, the Alternative Media is a forum for Op Ed pieces and not boots-on-the-ground journalism.
As I often write, this website is entertainment. I have a great regular audience, and the Emails that I get often inform me. Lately, there have been so many that I cannot keep up. I am out there with readers looking for viable information and not just Internet rumor or opinion.
The COVID-19 Pandemic and the COVID-19 Vaccine have been where the Alternative Media has really shined. We now see how much disinformation world governments, government institutions, pharmaceutical companies, and the Mainstream Media companies have put out.
The COVID-19 Pandemic came right on my schedule. Although I did not know what was coming in 2019, I did suggest biological warfare in one of my books.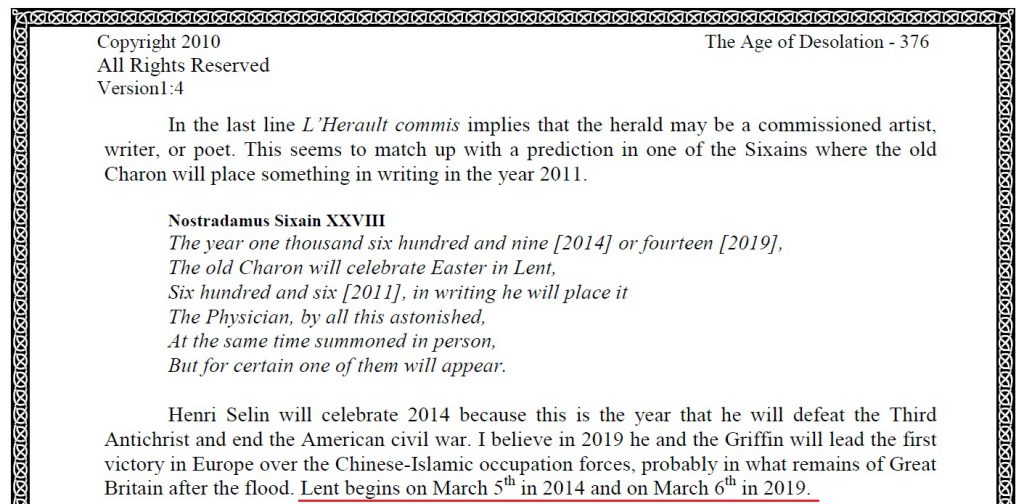 IN 2010, I POINTED TO LENT ON MARCH 5th, 2014
THIS IS WHEN RUSSIA THREATENED NATO WITH NUCLEAR WAR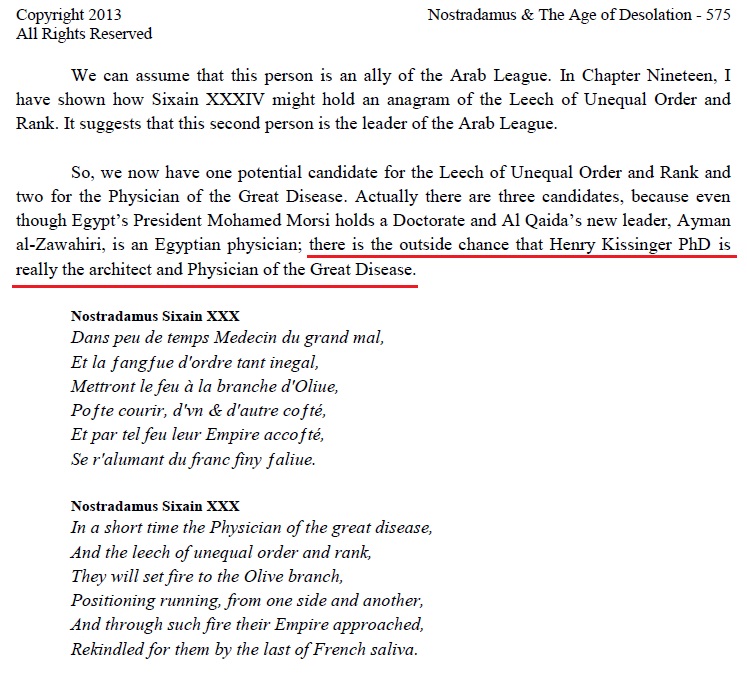 IN 2013, I POINTED TO HENRY KISSINGER AS A CANDIDATE FOR THE PHYSICIAN
HIS PROTÉGÉ KLAUS SCHWAB IS NOW LEADING THE GREAT RESET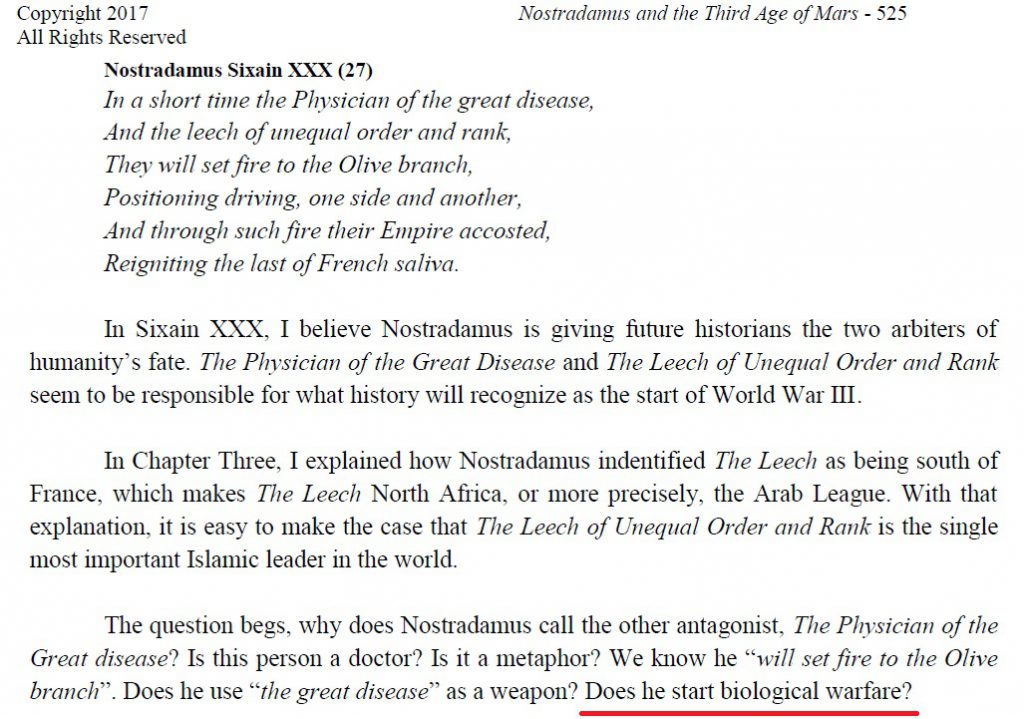 After 2014, I began to see the war with Ukraine approaching for 2019. We now know that NATO had a number of biological warfare laboratories in Ukraine on the border of Russia.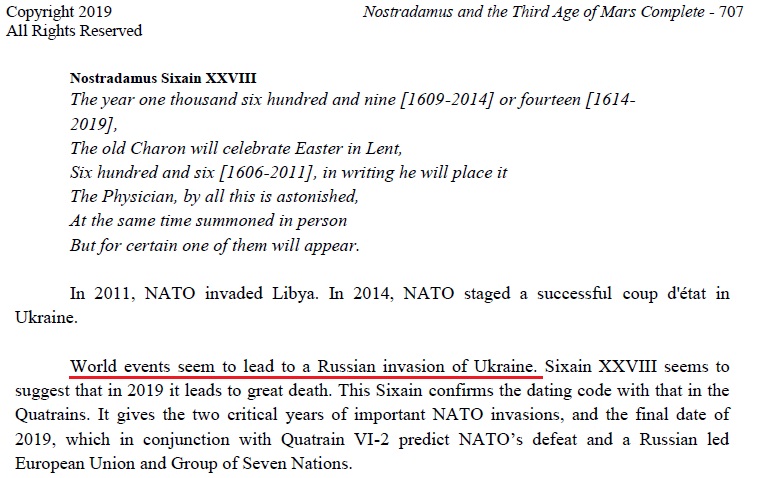 Nostradamus and the Third Age of Mars, The Prophecies of World War III, G. A> Stewart, 2019, Page 735
I get the sense from Brother Anthony of Aix-la-Chapelle's prophecy and The Battle of the Birch Trees prophecies that the war in Europe will almost be a stalemate and remain non-nuclear until sometime in 2021 when Russia and Iran invade Israel and Turkey.
Granted, I was expecting the worst for 2011, 2014, and 2019. But in 2010, and in the subsequent years, who else in the world was writing about biological warfare in 2019 and The Physician of the Great Disease? Actually, the 2010 book that I released to the public was the 2007 manuscript that I sent to publishers with the exception of the new chapter on Barack Obama.
On January 13th, 2007, I shipped out my first manuscript of The Age of Desolation to publishers and literary agents. Here is the point when I can say that I had created my Nostradamus Timeline. This timeline was built like a computer program with Conditional Statements. If This Happens, Then That Happens.
The double earthquake in Turkey followed by the Silicon Valley Bank collapse, that led to more bank failures was a Conditional Statement on that timeline.
The death of Queen Elizabeth II when NATO was at war with Russia was another Conditional Statement on that timeline.
These are only a few of the Conditional Statements on my timeline that have been fulfilled.
Right on schedule Donald J. Trump was arrested and arraigned; this time on 37 Federal charges. If you have been a Regular Reader of this website at least since 2017, then you know that I have been describing where this is going.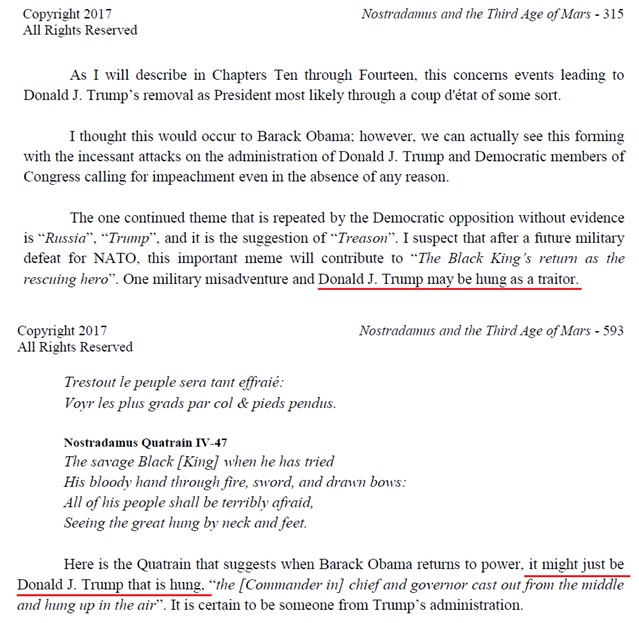 June 14, 2023
Tucker Carlson Pinpoints The Exact Moment That 'Permanent Washington' Decided To Send Trump To Prison
June 9, 2023
Trump: "I Have Been Indicted"
I have been checking off all of these Conditional Statements on my timeline since 2007. The first Conditional Statement on that timeline was Barack Obama.
For me this has all been some kind of macabre dance that is leading to Nuclear War. Most of today's events were all in my 2007 book, The Age of Desolation. I began publishing some of that material for the public when I began this website on December 10th, 2007.
Creating this website and writing these posts have actually helped refine that material and made me dig deeper. A Regular Audience has expectations of performance, and it is easy to find inspiration in that. Even if this website is only entertainment, my interpretations only work on truth and reality.
Exactly two years to the day after I started this website, Barack Obama would receive his Nobel Peace Prize on December 10th, 2009. On that very same day, I would go on to solve the anagram in Nostradamus' Quatrain VI-5.
This came with the appearance of the Norway Light Spiral.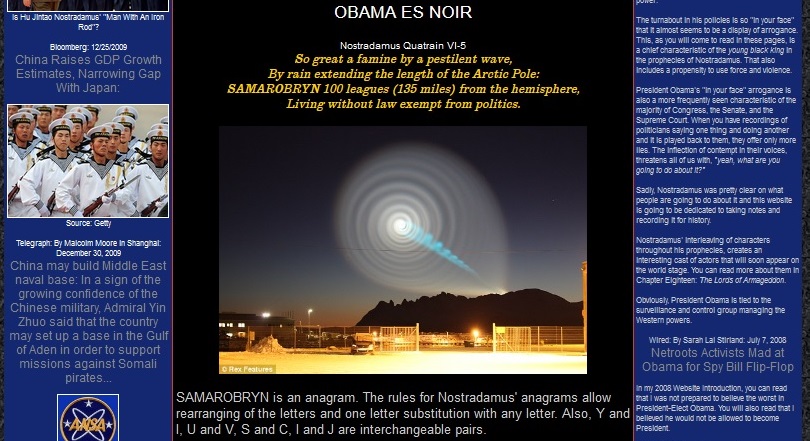 ON DECEMBER 10TH, 2009, I SOLVED THE INFAMOUS ANAGRAM SAMAROBRYN IN QUATRAIN VI-5
It was the Norway Light Spiral that appeared on the evening of December 9th, 2009, not far from Barack Obama in Oslo for his phony Nobel Peace Prize. This led me directly to Nostradamus' Quatrain VI-5.
January 8, 2010
OBAMA ES NOIR
OBAMA IS THE BLACK KING.
All of that supposition in 2009 is now a fact of reality.
June 14, 2023
Eric Hecker makes South Pole earthquake claim at UFO press conference
This whistleblower's story of a Directed Energy Weapon located at the South Pole comes on the heels of another whistleblower, David Grusch, who claims that he knows that the U.S. government and foreign governments have recovered Extraterrestrial spacecraft and have reverse-engineered the technology.
June 5, 2023
Intelligence Officials Say U.S. Has Retrieved Craft of Non-Human Origin
June 9, 2023
Stunning UFO crash retrieval allegations deemed 'credible,' 'urgent'
I published The Road From Atlantis Series Part I on May 25th, 2023. It is interesting that these two whistleblowers came forward soon after. There is a very ancient history here that people need to pay attention to in order to stay grounded when speculating on The UFO/Extraterrestrial Phenomenon.
I read many Alternative Media websites; if you are a believer in Project Blue Beam and The Fake Alien Invasion, congratulations, you have been successfully programmed. I find that many hardcore Evangelical Christians believe in this PYSOP more than any other group, and most of them also voted for Bush I and Bush II.
Be careful of the Pied Pipers who you follow.
May 25, 2023
G. A. STEWART
THE ROAD FROM ATLANTIS SERIES – PART I
Coast to Coast AM is a radio show hosted by George Noory that examines and investigates the paranormal. John Hogue is generally the Mainstream Media's goto guy for all-things Nostradamus. I believe that Hogue still makes an annual appearance on Coast to Coast AM.
I am not sure what John Hogue is selling these days. The last time I checked was in 2014, when he sarcastically referred to me as The Nostradamus Hegemon.
Since I am well-acquainted with Nostradamus' prophecies, I have my own view of the structure and the narrative of Nostradamus' 1,321 prophecies. Therefore, I am not sure what other Nostradamus Commentators are selling these days, but let me define here what I have been selling for these last sixteen years, because I own the copyright.
I am not in any competition; however, let us ante up. What I offer readers here is my view. Therefore, I am putting up one book of just over six-hundred pages, full of quotes from the last sixteen years; it is free to download and readers can decide for themselves who is the most accurate.
Chapter II in my Nostradamus Primer is entitled G. A. Stewart's Scorecard. This is what I have been selling for the last sixteen years. It has not changed very much.
Below are the major characters that I have identified in Nostradamus' World War III narrative. I first constructed this list in 2007. Since then, I have just filled in the blanks with the years that I have identified each character. Here is what I have copyrighted over the last sixteen years.
NOSTRADAMUS' MAIN CHARACTERS – 2023 Update
1) The Black King – Repeated Anagram – Barack Obama – 2009
2) Henri Selin – Repeated Anagram – Unknown
3) The Great Lady – Metaphor – Unknown
4) The Mannish Woman – Hillary Clinton – 2007
5) Trompe/Trombe – Donald J. Trump – 2016
6) The Androgyne – Michelle Obama – 2019
7) The Second Thrasibulus – Unknown – (Potentially The Q PYSOP – 2017)
8) The Physician of the Great Disease – Unknown (Brussels, Belgium)
9) The Queen of The Physician of The Great Disease – (Queen Mathilde of Belgium – 2020)
10) The Griffon – Vladimir Putin – 2014
11) The Great Jovialist – George Soros – 2017
12) The Leech – Geographical Metaphor – The Arab League – 2007
13) L'Araby – Anagram – Nabil Elaraby – Former Arab League Leader – 2013
14) Raugon – Anagram – Recep Tayyip Erdoğan – Turkey – 2014
15) The Relative of the Leech – Geographical Metaphor – Palestinians – 2007
16) The New Xerxes – Iranian Leader – Unknown
17) The Great Soliman – Anagram – Qasem Soleimani – Iranian General – 2014
18) The Great Tiger from Northern Iran – Ali Fadavi – Iranian Admiral – 2016
19) The Elephant – Geographical Metaphor – Pakistan – 2007
20) The Wolf – Metaphor – Michael A. D'Andrea – CIA/ or Italy – 2016
21) The Crocodile – Geographical Metaphor – Egypt – 2007
22) The Great Duke from Armenia – Geographical Metaphor – Unknown
23) The Powerful Muslim from Yemen – Al-Mahdi – Geographical Metaphor – Unknown
24) The Man with the Iron Rod – Metaphor – Unknown
25) The Leech of Unequal Order and Rank – Arab League Member/Unknown Individual
26) The Macedonian – Geographical Metaphor – Unknown
27) Hystra – Libya's General Khalifa Haftar – 2019
28) Sorbin – Viktor Orbán – Prime Minister of Hungary – 2021
29) Senile Leader – Joe Biden – 2021
It took me all of two weeks to assemble this book from my massive reference book on World War III, Nostradamus and the Third Age of Mars 2023. It is basically similar to my 2019 book, Nostradamus and the Third Age of Mars, The Prophecies of World War III, but I have corrected the typos and editing errors, added more material, and made it more readable.
This Nostradamus Primer was written to streamline the narrative, challenge the poseurs, the Web Bot Prophets and Remote Viewers, and provide closure to those readers who bought my 2019 book just in case I cannot finish Nostradamus and the Third Age of Mars 2023.
I was right, The Q PSYOP was a PYSOP; Donald J. Trump was removed in a coup d'état disguised as an election; biological warfare did occur in 2019 and 2020; and NATO and Russia are now at war. There should be enough material in this post and in G. A. Stewart's Nostradamus Primer to convince most people. Although, I do understand that the die hard skeptics and sycophants of many Alternative Media personalities will remain unconvinced.
Readers of G. A. Stewart's Nostradamus Primer should consider that I have just cut and pasted from my forthcoming book Nostradamus and the Third Age of Mars 2023 and just applied some minor editing. Therefore, there will be references to material from that book that are not included in this Nostradamus' Primer. I will be adding more to this Primer and correcting the inevitable typos that I catch later on, so be aware that there is a version number for this free download.
Quite frankly, I am kind of burned out on Nostradamus. There is not much more that I need to know, and we are coming to the end of the story. The world resembles what I described in that first book. Civilization will be irrevocably changed when that first nuclear weapon is detonated, and typing away at my computer is not how I want to go out.
Since I have included artwork and photography that I do not hold a copyright to from unknown sources on the Internet, I have disabled the copy and print functions to G. A. Stewart's Nostradamus Primer, but I am making the book available to the public for free under Fair Use Laws. This is how I would want the book to look if I was working through a publisher. I do hold the copyright to the narrative, and so any quotes, references, and citations to material in any of my books must mention me as the author.
To close out the Nostradamus chapter of my life, once Nostradamus and the Third Age of Mars 2023 is published, I will be making a YouTube video series based on my books.
In 2016, I was invited to be on a cable television show with John Hogue to explain my spin on Nostradamus' prophecies and Nuclear War. There was no pay for this gig, and at the last minute the Executive Producer changed the ground rules that I had worked out with her Assistant Producers during my seven interviews before air time.
It is tough enough not to look like an ass-clown when writing about Nostradamus and Edgar Cayce. The Executive Producer wanted to me do Stupid People Survivalist Tricks and I was not good with that. She recommended that I view a few Discovery Channel survivalist shows that her team had produced.
Here is what I am talking about.
I have written about this video before; this segment always makes me laugh. You should probably clean your house and bathroom before you invite the television cameras in to film.
In case you have not figured out why this is bad survival advice, unless you have some chlorine tablets for the viral components in the water of that nasty bathroom toilet bowl, your Lifestraw will not help you. This idiot should have taken the freshwater from the tank.
I am not a survival expert, but I work with some very serious professionals. I just showed them this video as I was wrapping up this post. We laughed so hard it brought us to all tears. There is comedy even in the darkest of subjects. All save one…
They want your kids and they are sending in the lawyers to come get them.

THE SATANISTS HAVE TARGETED YOUR KIDS
The message is always in the movie.
____________________________________________________________________________________________
THE PERIOD FOR THE FREE DOWNLOAD OF
G. A. STEWART'S NOSTRADAMUS PRIMER
IS OVER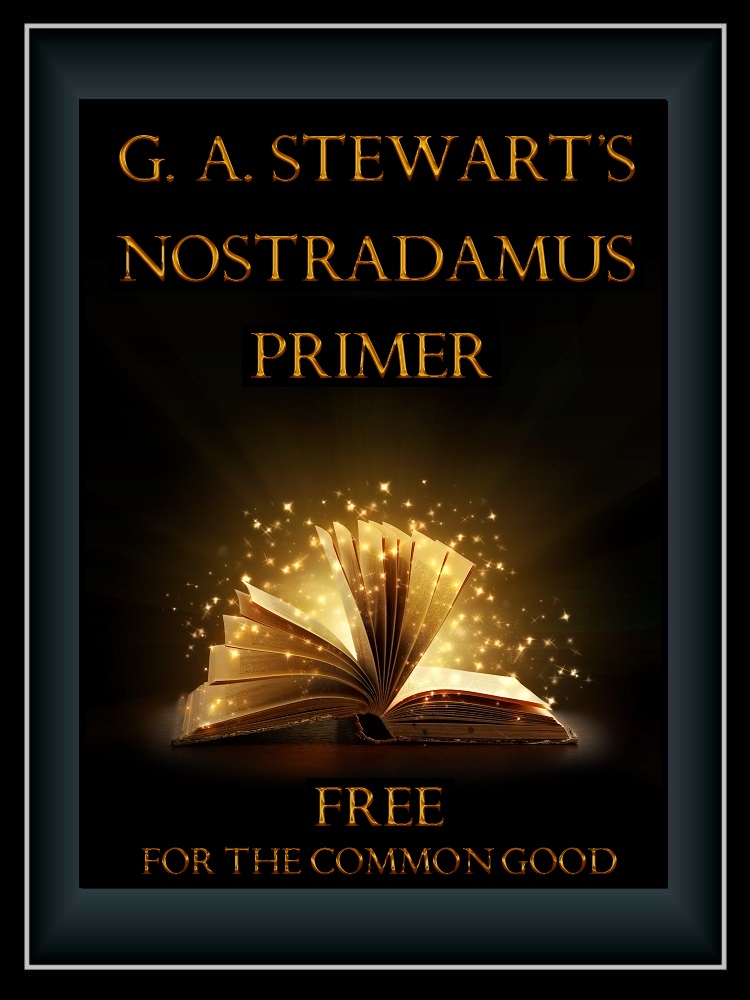 GEORGE NOORY CAN SEND ME AN EMAIL
NOSTRADAMUS AND THE THIRD AGE OF MARS 2023 IS COMING SOON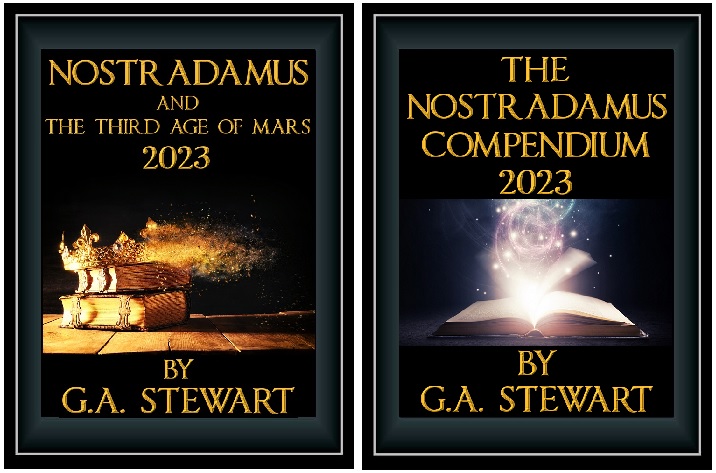 ____________________________________________________________________________________________
FOR SALE $10.00
THE MOST PRECISE AND COMPLETE BOOK OF NOSTRADAMUS PROPHECIES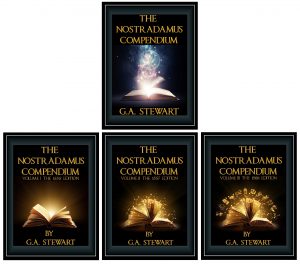 G. A. STEWART'S
NOSTRADAMUS COMPENDIUM
____________________________________________________________________________________________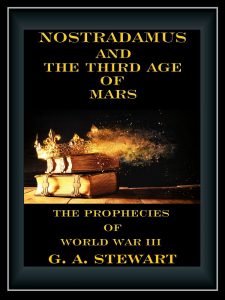 ____________________________________________________________________________________________
NOT COMING SOON ENOUGH