America's political elections have seemed to be squeakers for the last thirty-years. The psychological manipulation is almost predictable.
I love getting it wrong on this website, because it means that there is a good chance that most of us will wake up tomorrow as Doom and Gloom has been delayed for another day.
Even though I wrote here that I did not believe that there would be a midterm election, privately, I told my friends and coworkers that the midterm elections will be another squeaker.
November 9, 2022
Election takeaways: No sweep for the Republicans after all
November 9, 2022
Republicans See Gains In Midterms, But 'Red Wave' Hopes Fade As Democrats Outperform
November 9, 2022
Stock Rally Fizzles As Red Wave Downgraded To Red Ripple
The Globalists have electoral manipulation down to a science.
November 1, 2022
Bolsonaro declines to concede Brazil defeat in first address since election
November 2, 2022
Brazil's Bolsonaro tells Supreme Court election 'is over'
I also think that we have had enough of Donald J. Trump.
November 8, 2022
Trump Says He Should 'Get All the Credit' if GOP Wins, 'Not Be Blamed' if They Lose
The former president wants everyone to know that he's responsible for Republicans' fortunes in the 2022 midterms … unless they lose'
Florida's only problem during the COVID-19 Lockdowns was the Federal government, and Governor Ron DeSantis showed himself to be a capable leader.
November 9, 2022
Ron DeSantis landslide victory brings Trump and 2024 into focus
I was encouraged by the Midterm Election Squeaker; I feared much worse. It seems that the Globalists want to walk the razor's edge for a little longer. In fact, given my interpretation of Quatrain VIII-65 and the possibility of Biden being removed from the Presidency in August or September in conjunction with the NATO-Russia War, I am absolutely giddy. Maybe there is a little more time left on the clock.
However, The Dating Code has not failed yet and there is a great deal happening on the war front.
November 9, 2022
British Nuclear Submarine Catches Fire During "Top Secret Mission" In North Atlantic
November 8, 2022
'The Big One Is Coming': Top US Military Commander Warns American Capabilities "Sinking"
November 8, 2022
US To Establish Another New Military Base In Northeast Syria
November 8, 2022
BREAKING NEWS: CHINA PRESIDENT ORDERS NATION TO "PREPARE FOR WAR"
As many readers know, my interest in prophecy and Nostradamus is a hobby that has taken on a life of its own. I sell enough books here that I have to treat this as a business and pay taxes even though this so-called "business" is a losing proposition and a lot of hard work for me. Therefore, I have taken a laissez-faire attitude toward the promotion and evolution of this website because my professional life is a lot more interesting and challenging, as well as giving me a ringside seat to world events.
There is also my work on Alternative Energy projects; so, it makes me feel guilty when I devote too much time to this website or writing books. However, the Nostradamus mystery is compelling; perhaps it is Nostradamus' curse at the end of Century VI.
As some readers know, I have been trying to complete an update to my 2019 book, Nostradamus and The Third Age of Mars, The Prophecies of World War III. There are 1,321 prophecies in the body of Nostradamus' work with approximately one-third of those devoted to World War III and Nostradamus' Third Antichrist.
Long ago I recognized what I have called the Triplicate Series. These are groups of three seemingly related prophecies. It is nearly impossible to keep a linear timeline considering that these related prophecies appear at different places on that timeline. Therefore, I am more than aware that I have often repeated myself in that 2019 book. In fact, I have explained this problem in that book.
For example, below I have taken eight of those Triplicate Series and connected two predictions, the NATO war with Russia in Europe, shown in blue arrows and the coming NATO war in Turkey and the Middle East shown in red arrows. I have constructed this Triplicate Series Tree starting at the top with The Black King Triplicate and The Sabine King Triplicate, thus representing both Barack Obama and Donald J. Trump.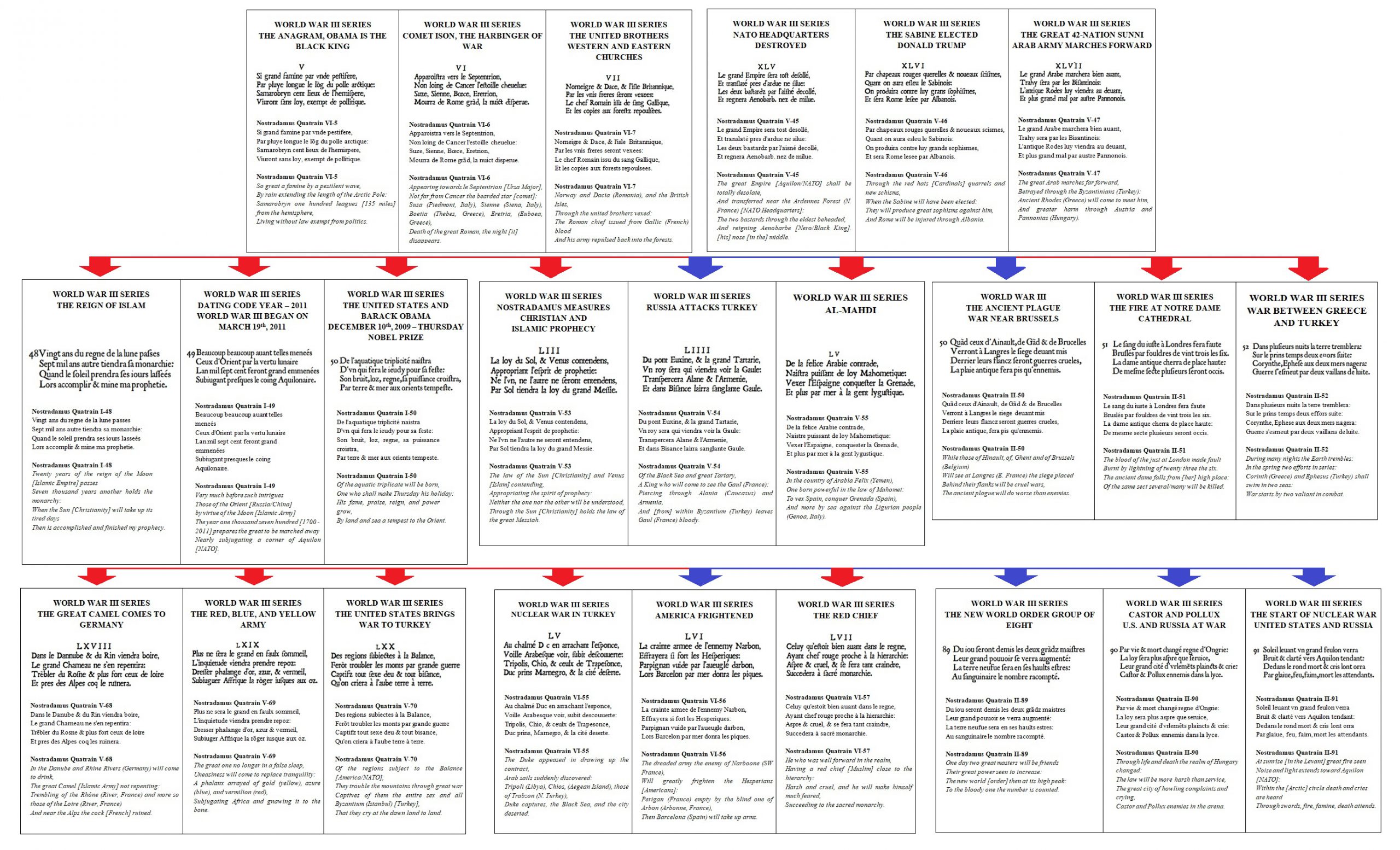 G. A. STEWART
NOSTRADAMUS' TRIPLICATE SERIES
One can see how this chart fans out just regarding the two subjects of a NATO war with Russia in Europe and in Turkey.
I accept the criticism regarding repetition and complexity, and I have been told more than a few times by friends to simplify the message in my books. That chart above represents 24 connected prophecies; consequently one must go back and forth on that timeline to explain individually each separate prophecy. Therefore, simplifying and presenting each in a linear fashion becomes an editing nightmare, which is what I am struggling with right now as I update that book.
People want sound bites while I write to debate the critics and provide solid information. Essentially, my books are notebooks for myself that I organize, polish, and then sell to the public.
Personally, now that everyone on planet Earth can see and feel the potential for a nuclear war, I think my interpretations and material are self-evident. In the 2019 book, I have provided a sequential look at all The Triplicate Series in the Appendix. In the updated edition I have worked out a solution that hopefully is more visual and presentable.
Whether I can finish the book before The Storm arrives is another question. As I have mentioned, The Nostradamus Dating Code has yet to fail, and we should see some historic event related to nuclear weapons before the end of the year.
____________________________________________________________________________________________
FOR SALE $10.00
THE MOST PRECISE AND COMPLETE BOOK OF NOSTRADAMUS PROPHECIES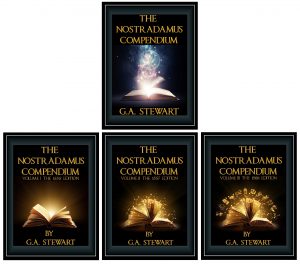 G. A. STEWART'S
NOSTRADAMUS COMPENDIUM
____________________________________________________________________________________________