THE DATING CODE HAS NOT FAILED YET
At the risk of repeating myself ad nauseum, I have been right on this website more times than the Alternative Media put together.
When the NATO war with Russia starts in full, I suspect that we will see it begin in the Middle East.
November 1, 2022
Saudis Arabia, US On High Alert After Warning Of Imminent Iranian Attack; US Prepared To Respond
Saudi Arabia has shared intelligence with the U.S. warning of an imminent attack from Iran on targets in the kingdom, putting the American military and others in the Middle East on an elevated alert level.
My 2019 book did not need much updating, I just had to add a great deal more material since Russia's invasion of Ukraine proved everything that I have been writing about here for the last fifteen-years.
Nostradamus and the Third Age of Mars 2022, The Prophecies of World War III,
G. A. Stewart, 2022, Page 1,064
As I mentioned in the previous chapter, this army of 200 million soldiers wearing the colors from Revelation 9:17 seems connected to Armenia with its flag of the same colors. Armenia currently has a military with over 53,000 personnel, with a pool of 210,000 reservists. Obviously, this is not even close to the size of the army in the Book of Revelation.
As readers will discover in Quatrain V-25 below, we see that the Iranians will contribute nearly a million soldiers to fight The Arab Prince of War.
We know that North Korea has offered to send 100,000 troops to Ukraine to help Russia with its invasion. I suggest that in Phase II of World War III that Al-Mahdi will raise an army that includes all of Islam and the armies of China. This Chinese-Islamic Alliance will scour the world and is the army described in Revelation 9:17.
The 42 nation Islamic Military Counter Terrorism Coalition is led by former Pakistani General Raheel Sharif, and its headquarters is in Riyadh, Saudi Arabia. Kenya joined the Islamic Military Counter Terrorism Coalition (IMCTC) on September 1st, 2022, making 42 nations a part of the Sunni Alliance army.
This army will be crushed and divided into three parts.
IRAN DEFEATS THE ARAB PRINCE OF WAR

Nostradamus Quatrain V-25
Le prince Arabe, Mars, Sol, Venus, Lyon,
Regne d'Eglise par mer succombera:
Deuers la Perse bien pres d'vn million,
Bisance, Egipte, ver. Serp. inuadera.
Nostradamus Quatrain V-25
The Arab Prince Mars [of war], Sun [Christianity], Venus [Islam], Leo [July 20th – August 20th],
The rule of the Church will succumb by sea:
Diverted the Persians (Iranians) well near a million men,
Byzantium (Istanbul, Turkey), Egypt. the true Serpent invades.
____________________________________________________________________________________________
Consider what I wrote only a few weeks ago.
October 22, 2022
G. A. Stewart
Protected: THE NUCLEAR TIMELINE PART I

MY TOP LOCATIONS FOR SIXAIN XIX
1) West Bank
2) Gaza Strip
3) Sharm El Sheik, Egypt (COP 27 Conference)
4) A nuclear false-flag in Ukraine connected to Egypt or Iran
2022, THE PURSUIT OF FIRE
NUCLEAR WEAPONS JEALOUSY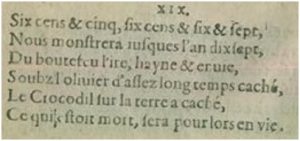 Nostradamus Sixain XIX (16)
Six cents & cinq, ƒix cens & fix & ƒept,
Nous monƒtrera iuƒques l'an dixƒept,
Du boute feu l'ire, hayne & enuie,
Soubz l'oliuier d'aƒlez long temps caché,
Le Crocodil ƒur la terre a caché,
Ce qui eƒtoit mort, ƒera pour lors en vie.
Nostradamus Sixain XIX (16)
Six Hundred and five [1605-2010], six hundred and six [1606-2011] and seven [1607-2012],
It will show us up to the year seventeen [1617-2022],
Of the pursuit of fire anger, hatred and envy [nuclear weapons],
Under the olive tree [Israeli-Egyptian Peace Treaty] for a long time hidden,
The Crocodile [Egypt] has hidden on the land,
That which was dead, will then be alive. [State of War between Israel and Egypt].
____________________________________________________________________________________________
Greg Hunter, Jeff Rense, and Steve Quayle, how are those Web Bot Prophets and those Remote Viewers working out? All I have to do here is cut and paste from my books. My readers already have it figured out.
Are you EWO Ready?


____________________________________________________________________________________________
FOR SALE $10.00
THE MOST PRECISE AND COMPLETE BOOK OF NOSTRADAMUS PROPHECIES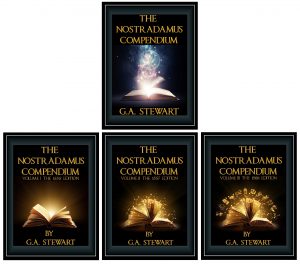 G. A. STEWART'S
NOSTRADAMUS COMPENDIUM
____________________________________________________________________________________________