October 28, 2022
In Stunning Strategy Reversal, Pentagon Will No Longer Rule Out Use Of Nuclear Weapons Against Non-Nuclear Threat
…The Pentagon's new National Defense Strategy rejects limits on using nuclear weapons long championed by arms control advocates (and, in the not too distant past, by Joe Bide) citing burgeoning threats from Russia and China.

"By the 2030s the United States will, for the first time in its history face two major nuclear powers as strategic competitors and potential adversaries," the Defense Department said in the long-awaited document issued Thursday. In response, the US will "maintain a very high bar for nuclear employment" without ruling out using the weapons in retaliation to a non-nuclear strategic threat to the homeland, US forces abroad or allies.
October 23, 2022
Russia Tells UN It Would View 'Dirty Bomb' Attack in Ukraine As 'Nuclear Terrorism'
Russian Ambassador to the United Nations Vassily Nebenzia in a letter to Guterres urged him "to do everything in his power to prevent this heinous crime [a dirty bomb provocation] from happening," RIA Novosti reported.

"We will regard the use of a 'dirty bomb' by the Kyiv regime as an act of nuclear terrorism," he said.
October 23, 2022
Russia Warns Of 'Dirty Bomb' False Flag Plot In Flurry Of Rare Calls To Western Leaders
PAR MORT SENILE
TRANSLATION
DEATH THROUGH SENILITY
IF YOU LIVE IN THE U.S. THAT MEANS YOU
THE ISLAMIC EMPIRE USURPED BY THE THIRD ANTICHRIST
THE SENILE LEADER STARTS NUCLEAR WAR

Nostradamus Quatrain III-59
Barbare empire par le tiers vsurpé
La plus grad de son sang mettre à mort:
Par mort senile par luy le quart frapé,
Par peur que sang par la sang en soit mort.
Nostradamus Quatrain III-59
Barbarian [Islamic] Empire usurped by the third [Antichrist]
The greater part of his blood being put to death:
By senility [madness] death through him a fourth [USA/or the world] smitten,
By fear that blood for blood is acceptable death.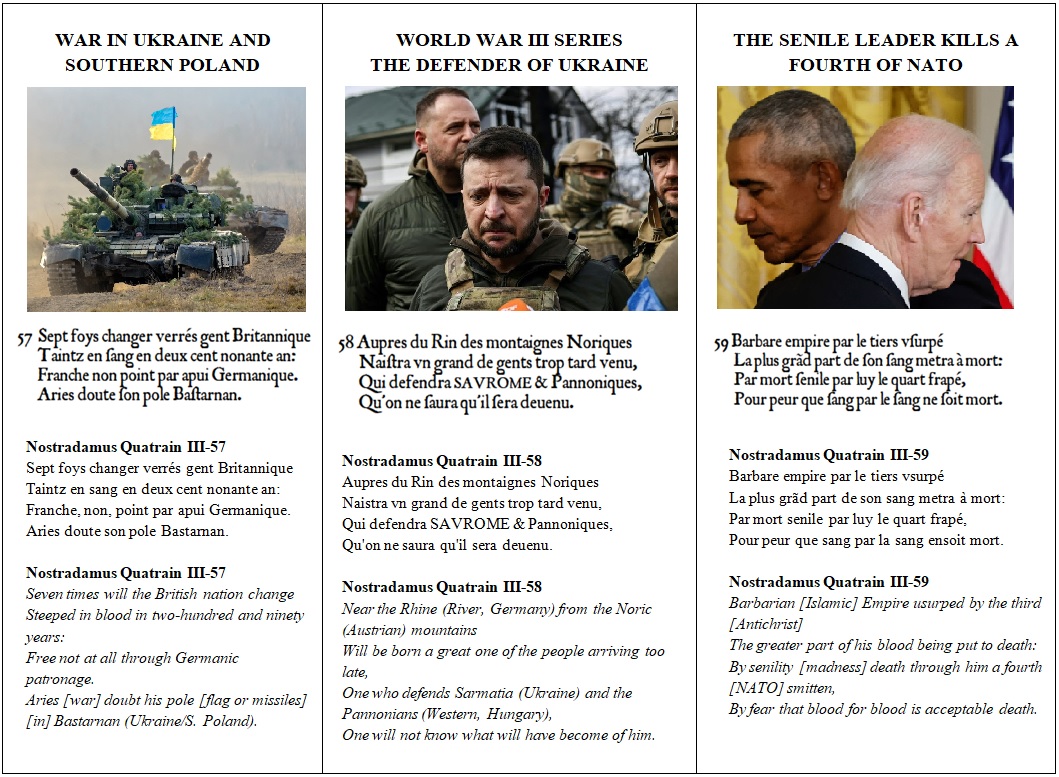 ____________________________________________________________________________________________
Revelation 6:8 (King James)
And I looked, and behold a pale horse: and his name that sat on him was Death, and Hell followed with him. And power was given unto them over the fourth part of the earth, to kill with sword, and with hunger, and with death, and with the beasts of the earth.
____________________________________________________________________________________________
2022, THE PURSUIT OF FIRE
NUCLEAR WEAPONS JEALOUSY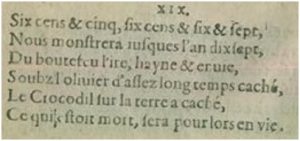 Nostradamus Sixain XIX (16)
Six cents & cinq, ƒix cens & fix & ƒept,
Nous monƒtrera iuƒques l'an dixƒept,
Du boute feu l'ire, hayne & enuie,
Soubz l'oliuier d'aƒlez long temps caché,
Le Crocodil ƒur la terre a caché,
Ce qui eƒtoit mort, ƒera pour lors en vie.
Nostradamus Sixain XIX (16)
Six Hundred and five [1605-2010], six hundred and six [1606-2011] and seven [1607-2012],
It will show us up to the year seventeen [1617-2022],
Of the pursuit of fire anger, hatred and envy [nuclear weapons],
Under the olive tree [Israeli-Egyptian Peace Treaty] for a long time hidden,
The Crocodile [Egypt] has hidden on the land,
That which was dead, will then be alive. [State of War between Israel and Egypt].
____________________________________________________________________________________________


____________________________________________________________________________________________
FOR SALE $10.00
THE MOST PRECISE AND COMPLETE BOOK OF NOSTRADAMUS PROPHECIES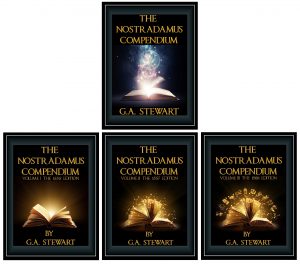 G. A. STEWART'S
NOSTRADAMUS COMPENDIUM
____________________________________________________________________________________________