____________________________________________________________________________________________
IMPORTANT POSTSCRIPT 12/18/2021
I have found Hal Turner's leads to be correct. He was the only person reporting that on Lent, March 5th, 2014, Russia was ready to use nuclear weapons to defend Crimea from the NATO coup d'éta underway in Ukraine.
This was how I solved Sixain XXVIII. See my previous Post.
In 2015, Russia's President, Vladimir Putin, also Nostradamus' Griffin, verified that this was correct. We are down to the serious parts of this prophecy regarding The Physician of The Great Disease from Brussels who will set fire to the olive branch.
December 17, 2021
We Are in Danger. US/EU/NATO v. Russia . . Ukraine
December 17, 2021
Russia Orders Two Strategic (Nuclear) Missile Complexes to "Combat Duty"; Closes Northern Sea Route in Arctic Over NATO Activities
____________________________________________________________________________________________
I will make a bet with all of the big players in the Alternative Media, when Barack Obama is made Secretary General of the United Nations or a United Nations Special Envoy to broker a peace between NATO and Russia, along with Pope Francis and the Vatican, most of the Alternative Media phonies will claim that they had predicted Barack Obama was The Antichrist all along.
That would be those who are still alive…
In life there are the "Trekkies" and the "Trekkers".
My chances are slim, and I am quite sure that I will not be around to write, "I told you so."
December 16, 2021
Russia marches one step closer to war –Ukraine opens bomb shelters after World War 3 alert
UKRAINE has opened bomb shelters in Kyiv as Russia looks set to spark a global conflict following a World War Three warning.
And so just in case that happens like a bolt out of the blue, consider this my, "I told you so."
Barack Obama is my Mount Everest, I got there first and everybody else is looking at the flag that I planted and have been flying on this Website since 2009. For over eleven-years now, my view has not changed.
Some people are even climbing the wrong mountain and despite the obvious, the lemmings follow.
This is a repost of material that I have been selling here for a long time, but I thought I would plant this marker just to remind people who got there first, because we are coming up on some important events.
On December 10th, 2009, after seeing pictures of the Norway Light Spiral the previous night, I knew that Barack Obama's Nobel Peace Prize ceremony was really a coronation of The Antichrist. It was too coincidental and highly theatrical, a sign of Nostradamus' Pagan Sect of New Infidels, along with my immediate recognition and solving of the famous Samarobryn anagram in Quatrain VI-5; it confirmed my fears.
They also confirmed Nostradamus Commentators Anatole Le Pelletier and Edgar Leoni's suggestions about the anagram inside the word Noir when used as a noun; it could be taken as Roi Noir, meaning Black King.
Nostradamus was well-known for the double-meanings in his poems, his letters, and in the public inscriptions that he was asked to write and that were dutifully carved into stone, standing to this day.

SOLVING THE SAMAROBRYN ANAGRAM
BARACK OBAMA IS IDENTIFIED AS THE BLACK KING
The Age of Desolation, G. A. Stewart, 2010, Page 228

Nostradamus Quatrain VI-5
Si grand famine par vnde pestifere,
Par pluye longue le long du pole arctique:
Samarobryn cent lieux de l'hemispere,
Viuront sans loy, exempt de politique.
Nostradamus Quatrain VI-5
So great a famine by a pestilent wave,
By rain extending the length of the Arctic Pole:
Samarobryn one hundred leagues [135 miles] from the hemisphere,
Living without law exempt from politics.
OBAMA IS EASILY EXTRACTED FROM SAMAROBRYN
LEAVING OBAMA S RRYN
RULES OF ANAGRAMS – ADD OR CHANGE ANY LETTER
Y CAN BE CHANGED TO I
CHANGE R TO O AND REPLACE Y WITH I
FIRST EXTRACT
OBAMA S ROIN
REARRANGE
OBAMA S NOIR
EXTRACT ROI FROM THE SECOND ANAGRAM NOIR
OBAMA S ROI NOIR
OBAMA [I]S BLACK KING
____________________________________________________________________________________________
BARACK OBAMA'S NOBEL PEACE PRIZE

THE WEST ANOINTS THE BLACK KING
The Age of Desolation, G. A. Stewart, 2010, Page 241

Nostradamus Quatrain X-71
La terre & l'air geleront si grand eau,
Lors qu'on viendra pour ieudy venerer,
Ce qui sera jamais ne fut si beau,
Des quatre parts le viendront honorer.
Nostradamus Quatrain X-71
The earth and air will freeze a great [jet] stream,
When they will come to venerate Thursday [Thursday, December 10, 2009],
He who is not at all is not so nice [peaceful],
From the four parts [of the world] they will come to honor him.
____________________________________________________________________________________________
What does all this breakdown to in easy to digest bits? As soon as The Antichrist reveals himself, his opposition reveals himself. The opposition, of course, is God.
As I repeatedly mention on this Website and have pointed out in my books, I believe that those in the know of The Global Elite are gaming prophecy, not only Nostradamus' prophecies, but those in multiple religions, primarily Christianity and Islam, with some Zoroastrianism thrown into the mix too.
It is called, Immanentizing the Eschaton. Consider what is found in 2 Thessalonians.
Nostradamus and The Third Age of Mars, The Prophecies of World War III,
G. A. Stewart, 2019, Page 523
Readers should also take note of the Vatican's role in Immanentizing the Eschaton. In other words, Nostradamus Pagan Sect of Infidels are helping to engineer The Apocalypse. This is certainly seen through George Soros funding of the Islamic refugee invasion of Europe. Following George Soros' trail leads directly to the late Peter Sutherland and the Vatican.
The Vatican is involved in most of the West's nefarious affairs, especially regarding money and banking.
Page 115
The desire to bring about the end of the world to usher in utopia is to want to Immanentize the Eschaton. It is a political philosophy that the Catholic Church associates with the Antichrist.
Therefore, President Donald J. Trump's recent decisions and actions regarding Israel have fallen in line with what I have written in Chapter Thirteen regarding Nostradamus' Temple.
Page 173
This concept leads to the political and religious philosophy of trying to Immanentize the Eschaton. What is it that Freemasons have ritualized: death and building? Are the Freemasons trying to build Utopia?
It is perhaps this inside information that explains the secret identities in 2 Thessalonians 2:3 and Revelation 19:11.
I believe the "Faithful and True" king in Revelation 19:11 is tied to 2 Thessalonians 2:3 and the "falling away first …that man of sin be revealed, the son of perdition".
2 Thessalonians 2:3 (King James)
Let no man deceive you by any means: for that day shall not come, except there come a falling away first, and that man of sin be revealed, the son of perdition;
2 Thessalonians 2:6 (King James)
And now ye know what withholdeth that he might be revealed in his time.
2 Thessalonians 2:7 (King James)
For the mystery of iniquity doth already work: only he who now letteth will let, until he be taken out of the way.
2 Thessalonians 2:8 (King James)
And then shall that Wicked be revealed, whom the Lord shall consume with the spirit of his mouth, and shall destroy with the brightness of his coming:
The "Faithful and True" king who "had a name written, that no man knew, but he himself" will reveal the "man of sin". Could the "Wicked be revealed" relate to The Podesta-PizzaGate Scandal? I suspect that this is The Great Scandal predicted by Nostradamus.
My take on one of Revelation's four horsemen is that the King on the White Horse is related to the Catholic prophecy of The Last Holy Roman Emperor. He is God's cleanup man, preparing the way.
We already see the split in the Catholic Church and we may see the big revelation of secrets from Vatican insiders regarding The Great Scandal. Archbishops are in open revolt against Pope Francis, expect some powerful Cardinals to follow.
From my take on the material that Steve Quayle posts on his website, these authors go right to the 19th century version still imagining a European Antichrist arising from the Catholic Church and a United European government. These writers are clearly not in tune with the reality of how the Vatican is working its plan.
Honestly, that spin is straight out of Hollywood, because that is what Hollywood adopted. Why would Hollywood adopt that model?
Nostradamus had a different opinion.
THE THIRD ANTICHRIST WILL NOT BE EUROPEAN
Nostradamus Quatrain X-75
Tant attendu ne reviendra jamais,
Dedans l'Europe, en Asie apparoistra,
Un de la ligue yssu du Grand Hermes,
Et sur tous Roys des Orients croistra.
Nostradamus Quatrain X-75
Long expected he will never return,
Inside Europe in Asia appearing,
One issued from the league of Great Hermes,
And over all the Kings of the Orient he will grow.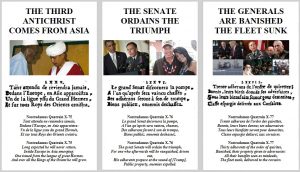 Why did Nostradamus include this prophecy in his Triplicate Series with two prophecies related to Roman-Politician Generals known as Quirites in Quatrains X-76 and X-77? Perhaps when the Fleet is Sunk and the Generals Banished we will see a return of Barack Obama.
Readers should also consider the chart that I made up of cycles of "a thousand two hundred and threescore days" based on Barack Obama's Nobel Coronation date.
Nostradamus and The Third Age of Mars, The Prophecies of World War III,
G. A. Stewart, 2019, Page 633
In conjunction with the December 10th, 2009 date, I began thinking about the number of days associated with The Two Witnesses in The Book of Revelation. They would, "prophesy a thousand two hundred and threescore days".
1) December 10th, 2009: Barack Obama was crowned with a Nobel Peace Prize
2) December 10th, 2009 + 1,260 Days = May 23rd, 2013: Edward Snowden Scandal.
3) May 23rd, 2013 + 1,260 Days = November 3rd, 2016: Podesta-PizzaGate Scandal. Donald J. Trump becomes the 45th President of the United States.
4) November 3rd, 2016 + 1,260 = April 16th, 2020: Global Economic Collapse and War, The Reign of The Antichrist.
5) April 16th, 2020 + 1,260 = September 28th, 2023: The False Peace.
6) September 28th, 2023 + 1,260 = March 11th, 2027: The Rise of Al-Mahdi.
7) 3/11/2027 – 8/22/2030 – 2/2/2034 – 7/16/2037 – 12/27/2040
The revelation of The Podesta-PizzaGate Scandal almost matched my date of November 3rd, 2016 as well as Donald J. Trump's election to the Presidency on November 6th, 2016.The March 11th, 2027 date is interesting and close to dates in Islamic prophecy that herald the appearance of Al-Mahdi.
The only dates when Al-Mahdi's appearance meets the proper criteria according to Islamic prophecy and that fit within Nostradamus' prophecy timeline are the Ramadan days that begin on February 8th, 2026 or on November 23rd, 2033.
I wrote that in 2017, when Donald J. Trump was still in the first year of his Presidency. How did I know that Senile Joe Biden would win the Presidency and be the sock puppet for Barack Obama?
Nostradamus.
We can add Election Scandal to the year 2020.
On March 11th, 2020, the World Health Organization (WHO) declared The COVID-19 Pandemic. That is an interesting and coincidental date to chose for conducting a genocide.
I have long identified 1-1-3 Days as Ritual Killing Days by Nostradamus' Pagan Sect of New Infidels.
Why is 1-1-3 so important? Look at the date when The Rise of Al-Mahdi begins.
Consider Biblical Prophecy and Nostradamus:
November 3rd, 2016 + 1,260 = April 16th, 2020 = Joe Biden, next President of the United States, a fake election, and the puppet strings reach back to Barack Obama and the grand opening of the COVID-19 Pandemic.
____________________________________________________________________________________________
June 16, 2018
Leaked Image of Barack Obama Dressed as Satan Goes Viral
A disturbing image of former President Barack Obama dressed as Satan has emerged online.
The image first appeared when it was uploaded to Instagram by an artist named Annemarie Hope who is known for illustrations of Satanic churches.
The fact that Miss Hope doesn't appear to have obtained this image elsewhere, and that she couldn't have faked the image, suggests that she took the photo herself.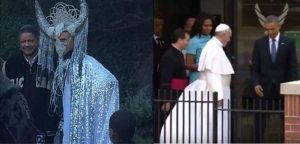 The Q PYSOP was part of the ruse and release of information on who Barack Obama really is and who he was raised and groomed to be, the United Nations' One World Leader. The picture on the left of Barack Obama in a Satanic headdress is most likely real. In the background appears to be former Congressman Artur Davis from Alabama smiling and looking on.
December 4, 2021
QAnon acolyte calls movement a 'Deep State operation'
December 4, 2021
Michael Flynn appears to have called QAnon 'total nonsense' despite his links
Trump ally reportedly says conspiracy theory a 'disinformation campaign' created by CIA and the left, apparent recording reveals
Nostradamus' Pagan Sect of New Infidels telegraphs its punches, apparently because of some twisted code or ritual. The Q PYSOP was giving everybody the truth, but that truth became unbelievable when Donald J. Trump was turned into a buffoon along with ANONS.
Do you think that could have been on purpose?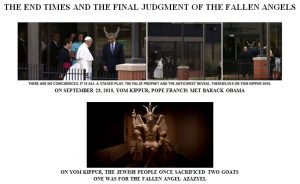 THE BLACK KING HOLDS HARD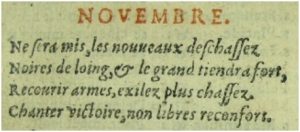 1560


1566
Nostradamus Presage 56 (78) November 1560
Ne sera mis, les nouveaux deschassez
Noir es de loing et le grand tiendra fort,
Recourir armes, exiléz plus chasséz.
Chanter victoire, non libres réconfort.
Nostradamus Presage 56 (78) November 1560
He shall not be placed, the new [ones] expelled
Black [King] from far away and the great hold hard,
Recourse to arms. exiles further expelled.
Reassured chanting victory, not liberty.
Nostradamus and The Third Age of Mars, Volume I,
G. A. Stewart, 2017, Page 429
I did get this one wrong on my website… sort of. I knew Donald Trump would win the election, I just did not believe that he would be sworn in as President. However, Hillary Clinton and Barack Obama are certainly colluding with Democratic leaders to overthrow Donald Trump.
As I keep writing, we now know that this applied to Donald J. Trump's reelection. Note how Nostradamus describes the prediction exactly. "Black [King] from far away and the great hold hard".
What does the appearance of another Revelation related piece of global artwork mean, especially at the United Nations, someone is coming soon; "except there come a falling away first, and that man of sin be revealed, the son of perdition."
I get many Emails asking when do I think Nostradamus' hero Henri Selin and Edgar Cayce's hero John Peniel show up?
The answer is in 2 Thessalonians. If I am right, then Barack Obama has one more move and we will see him fly his true colors. The pirate flag will go up when his cannons are in range. That will come after Joe Biden makes his Big Mistake.
____________________________________________________________________________________________
ALMOST THERE
THE MOST PRECISE AND COMPLETE BOOK OF NOSTRADAMUS PROPHECIES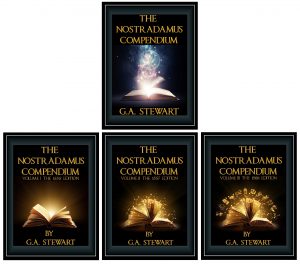 G. A. STEWART'S
NOSTRADAMUS COMPENDIUM
____________________________________________________________________________________________