MY COVID-19 JOURNAL – STEP 2 ARRIVES
November 10, 2021
With 7.4 billion COVID shots deployed in arms, Bill Gates declares that 'we need a new way of doing the vaccines'
When I saw this number, I realized that I am part of a very small minority, this would be the new social class now designated "The Unvaccinated". I also realized that the Point of View for all humanity is now and forever going to be based on this manufactured status of Vaccinated or Unvaccinated.
That applies to the audience of this Website. Many of you are probably vaccinated; however, I imagine that a large majority of this Website audience shares my sentiments about Vaccine Mandates and personal freedom.
My personal beliefs about vaccines in general precede COVID-19; therefore, I am just following through with some personal life choices that I have maintained for over forty-years now. Since that has worked out for me, I see no need to change course after having just turned 65.
Time Is On My Side now, because I have the option of not giving a shit.
What I do professionally, I really believe in; it is a Star Trek-kind of reality. It is part of humanity's first steps toward greater things; and at its philosophical core is the Constitution of the United States, which was written to protect personal freedoms.
In 1979, as much as I hated being drafted into what would be called The Iranian Expeditionary Force, my Commanding Officer flatly said, "You're too good, you're coming with us…" And off I went to the Persian Gulf, despite only a few months remaining on my enlistment.
Here it is the end of 2021, and two-generations later, I have the history and resume to back up what I was told on that flight deck forty-two-years ago. I have almost that many years in the game.
The Great Game, of course, is run by The Military-Intelligence-Industrial Complex. This is a western monolithic institution intimately connected to all NATO allied nations.
Russia is about to get very upset with NATO's intrusion into Ukraine. China is about to get very upset over U.S. Marines in Taiwan.
I have been a brick in this institutional wall for most of my life. The Chinese even have my resume.
June 5, 2015
Chinese breach data of 4 million federal workers
Hackers working for the Chinese state breached the computer system of the Office of Personnel Management in December, U.S. officials said Thursday, and the agency will notify about 4 million current and former federal employees that their personal data may have been compromised.
Yes, I was notified that my personnel file was compromised.
The Western Military-Intelligence-Industrial Complex has been outplayed by China.
September 15, 2021
Joint Chiefs of Staff defend Milley's call to China promising to warn of possible attack
These great historical moments will come to haunt the United States' current military leadership both active and retired.
The American side of The Military-Intelligence-Industrial Complex is managed by retired O-6s. I call it The Colonel's Club. If you are Navy that is the rank of a Captain. These people retire with sizable pensions, get cushy jobs with Fortune 500 Defense Contractors that come with very sizable salaries, they sell their souls, and that is how The Never-Ending War For Government Contracts is fought.
And the shit never works as advertised… ever!
If readers have seen the 1983 movie, Deal of the Century, this defense industry grift has not changed in almost thirty-eight-years. If it did not involve genocide and global social engineering, it would all be a laughable comedy.
From my recent perspective and my forty-two-year history, I am writing and filming my own mini-movie; I am calling it Pounding The Law. Yes, I have spoken to the Morgan and Morgan Law Firm several times since 2013.
The stakes are high for everyone, especially Americans. The Billionaire Business Model is what drove American manufacturing to China and everybody was good with the Human Rights abuses, because slave labor certainly helps increase the Bottom Line. So, the United States is now a captured country as the shortage of computer chips and other important essential goods has now proven.
Since I sell Nostradamus here, I will take his view of the future; there will be no way back for the United States.
Twice in my life I have had to retrain in another career-field because of a collapsing manufacturing sector. It does not take a rocket-scientist to figure out that when you start buying Russian rocket engines, your space program becomes a prisoner of the Russians.
July 17, 2014
US too dependent on Russian rocket engines, experts tell lawmakers
My upcoming video is going to point out some serious flaws in the American military's strategic vision and the lack of accountability.
There is a code to life, and that is the narrow path that The Bible speaks of and that we each must walk. Sometimes you have to tell senior leadership to go fuck themselves, especially when there are no good role models. I was not afraid to do that in the United States Navy forty-two years ago, and I am certainly not now.
October 9, 2021
Stuart Scheller court martial for Afghanistan pullout is double standard
I like being a grunt. In today's world, grunts are not ground-pounding infantry; they are fixing shit that keeps the front-line moving. Grunts move the world. After my military service, I used that training to get my FAA Airframe-Powerplant Licenses and then a degree in electronics. My resume includes space shuttles, rockets, airplanes, and helicopters. My specialty is American military aircraft. Space Propulsion Mechanic is one of my favorite job titles on my resume.
For the last twenty-three-years, I have been a very minor element in the strategic and tactical doctrine that supports the deluded thinking of today's Military-Intelligence-Industrial Complex. It is a hollowed out system with one very big critical weakness.
Strategic Doctrine is planning to have enough F-22 fighters in place. Tactical Doctrine is how many of those aircraft are operational and can get out of the way of an approaching hurricane.
October 15, 2018
More Than a Dozen F-22s May Have Been Damaged or Destroyed by Hurricane Michael
October 15, 2018
The Decimation Of Tyndall Air Base's F-22 Fleet Couldn't Have Come At Worse Time
Tyndall is home to 55 F-22 Raptor fifth-generation fighter jets, at least 33 of which were dispatched to Wright-Patterson Air Force Base in Ohio ahead of Michael's landfall, the New York Times reported on Oct. 11, suggesting that some 22 fighters may have been deliberately left behind.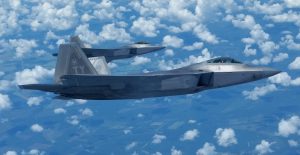 WINGMAN FOR THE BEST
October 19, 2021
KC-46, F-35 Provide Lessons for Future Testing, Pentagon Nominee Says
The Air Force has identified six Category 1 deficiencies in the KC-46…
The F-35, meanwhile, has had its share of issues as well. In July, Defense News reported that the Joint Strike Fighter's list of critical deficiencies was down to seven, after hitting 13 in 2019.
May 3, 2020
A fix for the KC-46 is already a year late… The service is now targeting a 2023-2024 timeframe
March 7, 2019
KC-46 Tanker Problems Could Delay Retirement of Older KC-135s
I have watched this process go unchanged from my days at the Rocket Factory and those eight-hundred-dollar hammers, to the same stupid process that I must deal with today. Only those are not eight-hundred-dollar hammers anymore.
The only thing that is going to fix this system is its complete and utter destruction by the Chinese and Russians after World War III starts.
March 11, 2021
Simulated war games over China threat reportedly warn of likely defeat
American war-gamers have the hubris to believe that a war with China and Russia will stop with an American defeat in Taiwan or in Ukraine. The boundaries of that upcoming war will be set by battlefield inertia and wherever American and NATO forces can stop any further advances, or until nuclear war stops everything in its tracks.
When this war begins and the inevitable Western losses begin to mount, I suggest readers closely question the actions of all those people involved in the chain of reducing America's military forces through the COVID-19 Vaccine Mandate and then shipping critical industries to China in the first place. That might begin to look like treason.
Unfortunately, my professional situation at the moment has consumed much of my time as I prepare the ground for unemployment and the legal fight that will follow. I am now in contact with the legal arm of The Star Chamber Commission that has been reviewing my Religious Waiver for the last two-weeks. I have asked for a quick response so I can begin making some tangible plans.
Hero to Zero does not work well with me. My family history has prepared me for such moments, it is just a matter of shifting gears, but the old clutch is getting stiff. I have never been good with bullies and my reputation for that is well-known.
Since G. A. Stewart is in the The Military-Intelligence-Industrial Complex system, and now also the Chinese system, it will be interesting to see how the decision on his Religious Waiver goes.
If it is all about The Business Model, G. A. Stewart should get his Religious Waiver with a Soviet-style Rubber Stamp, because that is the cheap and profitable way out for all parties, unless grudges come into play.
Let me be clear, as a System Rat, G. A. Stewart has looked at his own bank transactions sitting on a desk across from him during security interviews. G. A. Stewart is a well-known commodity. When G. A. Stewart's popularity began to seriously rise after his 2013 book, Nostradamus and The Age of Desolation, his security cameras would record white SUVs stopping in front of his house.
G. A. Stewart has some anecdotal 9/11 stories regarding Internet Dating Websites and how closely everyone is monitored, and that was twenty-years ago.
Once I lose the job, I am off the leash, and I will have more to say. Currently, I have been testing out a method of presenting my material on Nostradamus in a series of YouTube videos. My test green-screen videos have been very successful, and this will be the format of a video series that I am currently outlining that will eventually include pieces of my COVID-19 Journal as I travel through The Antichrist System.
I have been encouraged by the support shown after my last Post. I would like to thank all those readers who wrote and contributed. Rarely do I drop comments on websites anymore, because it all seems so pointless. However, I have discovered that a few of my comments exposing Internet frauds like Neon Revolt and QANON found a receptive audience, and some people have become Regular Readers of this Website.
"Lead, follow, or get out of the way", that is something I can still hear in my head after being raised by my Army Drill Instructor father.
November 9, 2021
Where Gravity Used to Reign…
We have to fight, we have to put up a friction, and we have to be guided by social indignation in a world that lost its compass of honor and valor.
Social Media is where I will be taking my fight. By the time I lose my job, I hope to have at least three videos completed as well as my Nostradamus Compendium, which has stalled in place since dealing with this COVID-19 Vaccine Mandate.
Frankly, I never thought it would get down to firing thirty-percent of the U.S. military; I find it hard to believe that those retired O-6s would let anything interfere with their Business Model. Then again, neutering is an employment condition of The Military-Intelligence-Industrial Complex; and so this will have to be where I get off the train.
What I am encountering is surreal. If the Religious Waiver does not fly, they will be calling my termination a Voluntary Resignation. That is about as 1984 as a civilization can get. That spells out Doom.
Might I make a suggestion to every pilot and aircraft mechanic maintaining the fleets of private jets of the world's billionaires; when that day comes, tell these fuckers to go to hell, and load your own families up on those airplanes and get out of town.
As I wrote in my last Post, Nostradamus' Quatrain VIII-65 suggests that Biden will last until August 2022. Nostradamus' Quatrain III-59 suggests that a Senile Leader will be in power when a Nuclear War starts.
December 6th is Saint Nicholas Day, and that pertains to Nostradamus' Quatrain IX-30 and what I interpret as the destruction of elements of NATO's 6th Fleet in the Adriatic Sea. This can be found on page 732 of Nostradamus and The Third Age of Mars, The Complete Prophecies of World War III. The most important quote in that section is, "It is difficult to delineate if there are two major naval engagements in the Adriatic Sea or whether these are different events."
That uncertainty remains to this day. Clearly, events are happening in Eastern Europe. The timeline in Nostradamus and The Third Age of Mars, The Complete Prophecies of World War III is still valid, readers will know how to fit the pieces together. As I wrote in 2019, Barack Obama would be in power now, and he is through senile Joe Biden and the puppeteer, Susan Rice.
The following reports are of concern for me.
November 13, 2021
Pentagon Denies "Hollow" Media Reports On Impending Russian Invasion Of Ukraine
November 12, 2021
Kremlin: Putin is concerned about NATO maneuvers in the Black Sea
November 12, 2021
UK Deploys Troops To Poland To "Fortify Border Fence" With Belarus
November 12, 2021
Russia Deploys Paratroopers To Belarus After Blasting Increased NATO Reconnaissance In Region
November 12, 2021
EU Official Calls US Warships Near Russia's Coast "Clearly" An Unncessary "Provocation"
November 11, 2021
US Says It's Briefed European Governments On Possible Russian "Military Invasion" Of Ukraine
November 11, 2021
Baltic States Warn Of Military Clash Over Belarus' "Deliberate Escalation" Of Migrant Crisis
November 11, 2021
Romania Wants More US Troops In Black Sea Region To Deter "Russian Aggression"
If readers are wondering what my thoughts on La Palma Cumbre Vieja Volcano are, they still follow my Edgar Cayce Checklist. Clearly, the conditions have appeared that match this list of signs.
April 9, 2021
Volcano erupts on Caribbean's St. Vincent as thousands flee danger zone
Mount Pelée in Martinique did not erupt, but St.Vincent is just over a hundred-miles away.
Nostradamus and The Third Age of Mars, The Complete Prophecies of World War III,
G. A. Stewart, 2019, Page 650
Edgar Cayce Reading 311-8
When there is the first breaking up of some conditions in the South Sea (that's South Pacific, to be sure), and those as apparent in the sinking or rising of that that's almost opposite same, or in the Mediterranean, and the Aetna [Etna] area, then we may know it has begun.
Edgar Cayce Reading 3976-6
…For there shall the breaking up be, until there are those in every land that shall say that this or that shows the hand of divine interference.
Edgar Cayce Reading 270-35
If there is the greater activities in the Vesuvius, or Pelee then the southern coast of California and the areas between Salt Lake and the southern portions of Nevada may expect within the three months following same, an inundation by the earthquakes.
Edgar Cayce Reading 1152-11
Los Angeles, San Francisco, most all of these will be among those that will be destroyed before New York even.
Edgar Cayce's Checklist:
1) A large Earthquake in South Pacific will occur.
2) There will be sinking and rising of land near Mount Etna.
3) In March, Mount Vesuvius in Italy, or Mount Pelée in Martinique erupts.
4) In May, an Earthquake in Los Angeles, California may occur (Nostradamus).
5) Then the destruction of New York City by war and flooding follows.
Readers should also consider that pieces of the La Palma Cumbre Vieja Volcano might break off first, causing smaller events.
Regular Readers should also take note that after I publish an Update, sometimes I am inclined to add a postscript to that Update; therefore, readers should check back to a recent Post that they might have already read.
____________________________________________________________________________________________
ALMOST THERE
THE MOST PRECISE AND COMPLETE BOOK OF NOSTRADAMUS PROPHECIES
G. A. STEWART'S
NOSTRADAMUS COMPENDIUM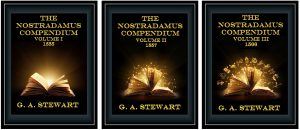 ____________________________________________________________________________________________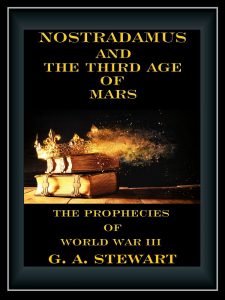 12644
19
0
cookie-check
MY COVID-19 JOURNAL – STEP 2 ARRIVES