HURRY, HURRY, STEP RIGHT UP AND SEE THE NUCLEAR WAR SHIT SHOW HERE NOW!!!
ARE YOU EWO READY?
This website has been around since December 10th, 2007. I have given readers the exact lay of the ground that we now all stand upon. When the Shit Hits The Fan, the Shit Shows dole it out… And I mean the Mainstream and Alternative Media disaster circus.
I saw Hal Turner's website this morning and his "I told you so"… And then I saw it all throughout the Alternative Media. I am having a good laugh at that; because awhile back I wrote that when that day came all the experts would come out of their closets and say "I told you so."
If you want a sign that nuclear war is coming, there it is!
Over the years, I have put out my own I told you so's and warnings. The Q PYSOP was the most obvious.
August 3, 2019
G. A. STEWART
Protected: ANONS AND Q FANS, I TOLD YOU SO
September 16, 2022
'The storm is coming': Trump openly embracing QAnon conspiracy theories
Former president posting dozens of Q-related posts and amplifying others who do as well, in contrast to 2020 when he claimed to not know what it was
June 26, 2022
G. A. STEWART
Protected: RIGHT AGAIN! THE RETURN OF Q
Novembert 23, 2020
G. A. STEWART
Protected: I TOLD YOU SO
Most of those masters of the Alternative Media have gotten it so wrong over these last years because they openly embraced the Donald J. Trump camouflage. Where were those I told you so's regarding the Trump coup d'état and Barack Obama's return?
You can find it in my books. I do not remember any Alternative Media website claiming that Barack Obama was coming back, but now many of you out there call it the O'Biden Administration or Obama's Third Term, and now the Masters of Disasters are all saying, "oh gee, by the way, watch out for Armageddon."
My readers have reached that point step by step long ago. It is all right there in my 2017 and 2019 books.
I might finish my update to Nostradamus and The Third Age of Mars, The Prophecies of World War III and my corrections to The Nostradamus Compendium this weekend, but somehow, since we are all on borrowed time, I have come to think of this chore as a monumental waste of my time. Considering that it is going to be a really nice, sunny weekend, I think everybody gets the message by now; there certainly will not be too many more of these carefree days left.
…And it does beat prepping and unprepping for hurricanes, but with my emergency gear still out from Hurricane Ian, maybe the universe is sending me a message to get those tweaks and fixes to my gear done, which I noticed last week.
Readers should consider that it is not everyday that a U.S. President warns that Armageddon is coming next.
In the process of updating my 2019 book, I could not help notice how much that I got right. I am down to the last few chapters, and if I work hard this weekend I could get those books out. But hey, the Masters of Disasters in the Alternative Media have it all covered, and for me that Florida sunshine sure does look inviting.
I am still going with Joe Biden leaving the Presidency very soon. As Regular Readers know that is a recent prediction; therefore, when I write soon, I mean within a couple of weeks. This would legitimately fit within the slop of the time period mentioned in Quatrain VIII-65. If it does not happen, maybe we can breath a sigh of relief until next Spring, but I think not.
If Joe Biden goes, this will most likely happen after a nuclear weapon is detonated somewhere in the world. Regular Readers know about the one dated prophecy for 2022 that I long ago associated with the use of nuclear weapons. This may be tied to the prophecies that I have called The Two Blows of Steel.
It has been an amazing journey watching all these pieces fit into place over the years.
U.S. Navy 6th Fleet in the Adriatic Sea, please be cognizant of any packages by way of Egypt.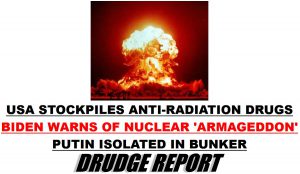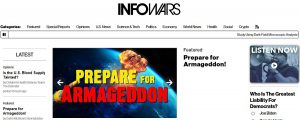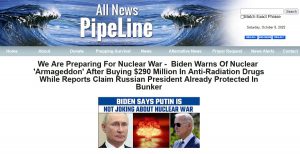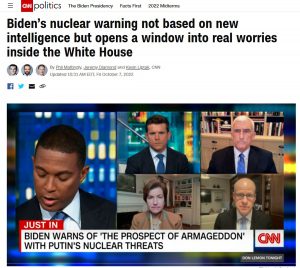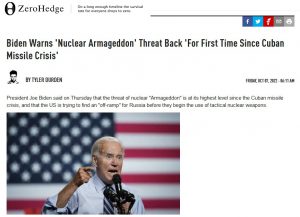 Here is the way I saw it awhile back. Welcome to The Apocalypse.
WORLD WAR III SERIES
THE ISLAMIC EMPIRE USURPED BY THE ANTICHRIST
THE SENILE LEADER KILLS A FOURTH OF NATO
PAR MORT SENILE

Nostradamus Quatrain III-59
Barbare empire par le tiers vsurpé
La plus grãd part de son sang metra à mort:
Par mort senile par luy le quart frapé,
Pour peur que sang par la sang ensoit mort.
Nostradamus Quatrain III-59
Barbarian [Islamic] Empire usurped by the third [Antichrist]
The greater part of his blood being put to death:
By senility [madness] death through him a fourth [NATO] smitten,
By fear that blood for blood is acceptable death.
____________________________________________________________________________________________
A FOURTH KILLED WHILE SLEEPING

Presage 12 October 1555
Venus Neptune poursuiura l'entre prinse,
Serrez pensifs, troublez les opposans,
Classe en Adrie. citez vers la Tamise,
Le quart bruit blesse de nuict les reposans.
Presage 12 October 1555 (2022)
Venus [Islam] Neptune [Naval Fleet] prosecute the enterprise,
Confined pensive, the opponent troubled,
Fleet in the Adriatic, summoned toward the Thames (River, England),
A fourth wounded by noise sleeping at night.
____________________________________________________________________________________________
THE HERALD COMMISSIONED TO CRY OUT

Nostradamus Quatrain II-86
Naufrage a classe pres d'onde Hadriatique:
La terre esmeuë sus l'air en terre mis:
Egypte tremble augment Mahommetique
L'Herault soy rendre à crier est commis.
Nostradamus Quatrain II-86
A fleet of ships sunk [by a] pressure wave [in the] Hadriatique [Adriatic Sea]:
The earth stirred up in the air and placed on land:
Egypt trembles Mahomet [Islam] augmented
The Herald surrendering commissioned to cry out.
Nostradamus and The Age of Desolation, G. A. Stewart, 2013, Page 570
This may refer to the sinking of a fleet in the Adriatic, since Russia has now moved its Black Sea Fleet into the Mediterranean.
Nostradamus and The Third Age of Mars, The Prophecies of World War III, G. A. Stewart, 2019, Page 735
I believe that this Quatrain is either providing the description of thermobaric ordnance used in a naval battle or a nuclear weapon. Nuclear naval battles in the Adriatic Sea will most likely be preceded by a series of nuclear naval battles in the Black Sea and the Aegean Sea.
____________________________________________________________________________________________
JOE BIDEN – HUNTER BIDEN – BARACK OBAMA
BIDEN OUT BY AUGUST 2022


1568


1566-1700
Nostradamus Quatrain VIII-65
Le vieux frustré du principal espoir,
Il parviendra au chef de son empire,
Vingt mois tiendra le regne à grand pouvoir,
Tiran cruel en delaissant un pire.
Nostradamus Quatrain VIII-65
The old man frustrated by his principal hope,
He attains to chief of his empire,
Twenty months he will hold rule with great force,
Tyrant cruel in giving way to one worse.
____________________________________________________________________________________________
POSTSCRIPTS TO KEEP COMING
Here are two more hucksters who were at the very top of my list of Nuclear War Circus Ring Masters. No, they did not get there first; and for the most part, I think they have it wrong.
If you have not figured out who the Antichrist is by now, you are a lost little sheep.
October 8, 2022
The First Shots of Nuclear War Have Been Fired: Steve Quayle Issues Emergency Warning
Here is how right my material has been.
Nostradamus and The Third Age of Mars, The Prophecies of World War III, G. A. Stewart, 2019, Page 521
Russia cannot sustain a long war, even with China's help. If Russia becomes entrenched in a long war, Phase I could end with nuclear war…
Fighting in northern Europe for Kaliningrad would no doubt occur simultaneously. Russia has moved nuclear-armed Iskander-M short-range hypersonic missiles into Kaliningrad. Prophecies outside of Nostradamus' work predict that initially the war will go badly for the Russians in northern Europe.
____________________________________________________________________________________________
FOR SALE $10.00
THE MOST PRECISE AND COMPLETE BOOK OF NOSTRADAMUS PROPHECIES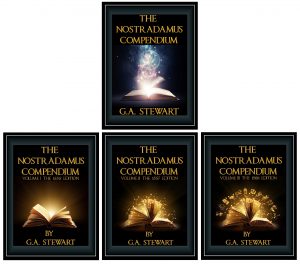 G. A. STEWART'S
NOSTRADAMUS COMPENDIUM
____________________________________________________________________________________________