NO, I WILL NOT DIG IN YOUR DIRT
Many people ask me how I became interested in prophecy and Nostradamus. The cover picture tells the story. I took it in 1979 in-between flight operations somewhere in the Arabian Sea outside of the Persian Gulf and off the coast of Iran.
Two of my shipmates can be seen sitting on a pallet of ordnance. Only a few days before, I was sitting on another pallet exactly like it and two other friends had introduced me to the Book of Revelation and The Apocalypse. That was something I must have missed in Sunday School during my parent's transition from the Catholic Church to the Church of England.
We all have our spiritual beliefs, but I found the idea of prophecy similar to time travel. It brings up the age old debate regarding fate and inevitability.
Joe Biden announcing that Armageddon is near is about as real as it gets. What do you think the Russians and Chinese are thinking?
October 17, 2022
NATO Kicks Off Nuclear War Games On Monday
Don't think this shit isn't real and that they will not use it.
We have reached the height of insanity when an astrophysicist can get on global television and claim that there is very little radiation in today's nuclear weapons.
July 8, 2022
Nuke War In Ukraine? No Big Deal, Says Biden Ally
…Neil deGrasse Tyson, a Harvard-trained science and "science communicator." said on the October 15 show
Modern nukes don't have the radiation problem … it's a different kind of weapon than Hiroshima and Nagasaki … in the way that we used to have to worry about with fallout and all the rest of that.
My answer to this Harvard-trained moron is that today's nuclear weapons are not as dirty as the Hiroshima and Nagasaki bombs. But just what is an acceptable level of ionizing radiation for the unfortunates downstream?
Here is something that I am very familiar with; readers should follow the trial against Pratt and Whitney and The Acerage Cancer Cluster in West Palm Beach, Florida.
July 8, 2022
G. A. STEWART
THE BULLY PULPIT
October 17, 2022
G. A. STEWART
WHO IS THE ENEMY?
July 18, 2022
G. A. STEWART
Protected: NUKED BY MY OWN COUNTRY?
We all have a responsibility to know what we are hip deep into and to stand our ground.
People's common sense is being neutered by idiots like Neil deGrasse Tyson who say things like, "…Except for the boom, tactical nuclear weapons are safe."
Forty-years ago at Pratt and Whitney, I was continually told that it was safe, and when I finally understood that I was dealing with idiots, I had the courage to say, "fuck you… I will not dig in your dirt."
____________________________________________________________________________________________
FOR SALE $10.00
THE MOST PRECISE AND COMPLETE BOOK OF NOSTRADAMUS PROPHECIES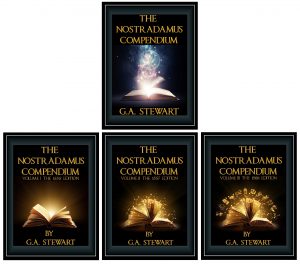 G. A. STEWART'S
NOSTRADAMUS COMPENDIUM
____________________________________________________________________________________________