THE PESTILENT WAVE – PART II
I have rearranged Part II and Part III. Part II will be a technical look at the Magnetic Field, which is so important to life on Earth. Part III will be my conclusions and since most of this material is relegated to pseudoscience and you get called crazy for asking questions, that will be password protected for friends of this Website.
As readers can tell from the photograph, my first attempt at Ferrofluid Lens Photography was very productive.
Good on Google and YouTube AI, one of Ken Wheeler's YouTube videos was in my queue of associated videos, and I watched several. I knew a great deal of what he was talking about and so I read his book.
Uncovering the Missing Secrets of Magnetism: Exploring the nature of Magnetism
February 18, 2018
Ken Wheeler – The Missing Secrets of Magnetism – Theoria Apophasis
I guess Google AI has me sized up.
Ken Wheeler did not discover Ferrofluid Lens Photography, I am really not sure who did, but I like his theory for what we are seeing. From Wheeler's citations, it appears that Timm Vanderelli developed the Ferrofluid Lens. He has an important video, and I will point to a couple of screenshots regarding his explanation of why the Ferrofluid nanoparticles work further below, because Mr. Timm Vanderelli has essentially created a sectional slide of Dr. Harold Aspden's Continuum.
At 4:42 in the video below, Timm Vanderelli will explain how the Ferrofluid is created. In the graphic below his picture is on the left mine is on the right. The Ferrofluid is created with a positive charge. This means electric repulsion will keep them separated. This is exactly what happens in Dr. Harold Aspden's Continuum of Fractional Charge. One Cube of Positive Continuum equals One Sphere of Negative Charge.

If either Timm Vanderelli or Ken Wheeler object to me using several of their photographs to point out a possible explanation, please use my contact information.
I can only say that the stunning results from my first attempt at Ferrofluid Lens Photography certainly validates their work. I did not even break out the expensive camera; it is just a simple set up and my phone camera.
Timm Vanderelli has created the modern-day version of a Cloud Chamber. The lines that you see in these Ferrofluid Lens Photographs are really vapor trails of circulating Aether. It is a cold, mass-less plasma, and the atomic crystal structure of the magnetic material is able to pump energy from The Active Vacuum.
Magnets and Batteries depend on Energy Density.
Dr. Harold Aspden was well known in the Alternative Energy community, and the head of IBM's European Patents Office. His Doctoral thesis was based on Magnetic Theory. Dr. Harold Aspden's Continuum is what Physicists today call The Active Vacuum. He called it by its 19th century name, The Aether. All particles spring from The Active Vacuum.
There are nuclear decays happening around us all the time. I know that generally there will be seventeen events every minute on an average day. Cosmic Rays may strike anywhere around us and begin a chain reaction, or particles from the nuclear meltdowns in Fukushima, Japan may blow into our houses through an open window. The trail of particles left in their wake as they decay are interacting with The Active Vacuum, just as the atoms and molecules within every human being emerge from The Active Vacuum. It is the well-spring of Physical Reality.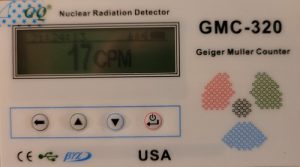 Also involved in Ferrofluid Lens Photography research is Michael Snyder.
Michael Snyder
University of Louisville · Department of Physics and Astronomy
Master of Science, University of Louisville
Since I have just learned about Ferrofluid Lens Photography, I have no idea who broke ground on this research, so I mention these gentlemen in conjunction with Dr. Harold Aspden, because Dr. Aspden's Quon Cubic Lattice, which is an infinite Cubic Lattice of Virtual Electrons spread throughout the universe, can explain what The Active Vacuum is in terms of Ken Wheeler's Dielectric Plane.

THE ASPDEN LATTICE FORMS TWO REFERENCE FRAMES
THE GRAVITATIONAL/INERTIAL FRAME (GREEN) AND THE ELECTRIC FRAME (RED)
According to Wheeler, there are centripetal and centrifugal magnetic flows. Before I came across Wheeler's work, I was already familiar with a similar principle that can easily be seen everywhere in Nature, especially in the Sunflower and the Pine Cone.

Life is math and numbers. Many years ago, I learned this from a great book.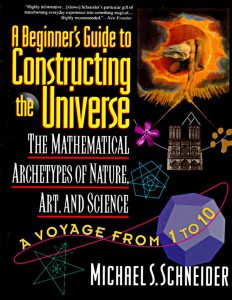 The Beginner's Guide To Constructing The Universe is one of my favorite all-time books. Every parent should buy this book before their children take Middle School math. It will help them understand and visualize how math and numbers work in Nature. Chapter Five, Regeneration and The Pentad are appropriate to what I write about here.
Ken Wheeler mentions Spirograph, the set of geared stencils used to create various mathematical roulette curves like hypotrochoids. Honestly, until I read Wheeler's concept of The Dielectric Plane as an Inertial Plane, I never thought of Spirograph as representative of a rocket launching into space. I will show readers a simple two-dimensional example below.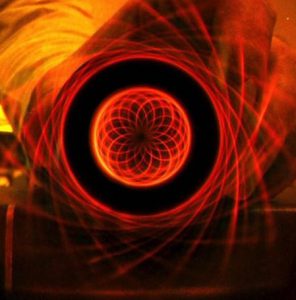 THE MAGNETIC FLUX LINES OF A RING MAGNET
Uncovering the Missing Secrets of Magnetism, Ken Wheeler, 2014, Page 112
Fundamentally it is easiest to remember the three H's. The magneto-dielectric system is a hyperboloid, which is preceded by a hyperbolic disk of dielectric inertia, which creates the hyperboloid formation, which is the 'magnet'. Lastly the reciprocating magnetism creates a hypotrochoid ('spirograph'-like) of divergent and convergent pressure mediation. Hyperbolic disk, the magnetodielectric hyperboloid, and lastly the vectorized hypotrochoid formation.
Wheeler believes that this is what Nikola Tesla was talking and writing about when he mentioned he had discovered the Rotating Magnetic Field. Tesla was not talking about his Polyphase Motor. Thus, every Magnetic Field in the universe seems to be rotating about some central axis at a certain speed. In systems that rotate that translates as frequency.
The very excellent video below will describe to readers Ken Wheeler's Theory on what is going on inside a magnet. Magnets are pumps; consider the modern notions of The Active Vacuum. The Active Vacuum is essentially a cold plasma that flows through all of space.
March 26, 2016
MAGNETISM PARTICLE DYNAMICS
I believe that this plasma is the flowing Continuum in Dr. Aspden's Theory, and this is the Space-Time Metric. As I will quote from my last Post:
The elegance to Dr. Aspden's theory is that his Virtual Electrons, the Quons, orbiting around a Graviton define time and space eternally. Every Quon in the universe is locked at the same phase angle in its rotation with every other Quon, defining time, and at the center of every orbit stand the Gravitons marking space, sentinels since the beginning of time.
Aspden's version of The Active Vacuum is the blueprint to the Master Clock of physical reality.
A Continuum of fractional charge flows through this ethereal cubic lattice throughout the universe. There have been some signs that this Active Vacuum Polarization can be detected in the movement and rotation of Galaxies, including some of the well-known controversies regarding Redshift.
Ferrofluid Lens Photography has many people associated with the research, and I have been trying to nail down the innovator, so if I have missed anyone my apologies.
I wanted to verify some of this material for myself. Therefore, I set out to duplicate many of the Ferrofluid Lens Photographs that people have posted on the Internet and YouTube.
I was surprised how quickly I was able to do that. The pictures below are my first and I was able to replicate the main points of Wheeler's Theory with ease, so we can use my photographs.
For the last few months, I have been researching and reading, and I decided to build a quick and cheap setup to verify what you see in the video above.
The Ferrofluid Lens is tricky to create; however, I pushed the imperfections to the edges of the lens and then created the light box. There are plenty of videos on how to make one along with many theories on how they work. Readers can pick and chose their favorite.
What I have done is use three Neodymium N52 Magnets in series. In these first two photographs, the North Pole is represented by the top magnet, the South Pole by the bottom magnet and the Bloch Wall is represented by the middle magnet. The Bloch Wall is Ken Wheeler's Dielectric Inertial Plane.
I also believe that this is the late Dr. Harold Aspden's Quon Orbit Plane.
It is exactly what Ken Wheeler says it is; The Aether creates all modalities of Physical Reality that we know, magnetism, electricity, gravity, and the nuclear forces. The source and sink is Wheeler's Dielectric Inertial Plane.
There are, of course, the critics. I recognize that there is a lot going on here, including refraction from the oil that I mixed with the ferrofluid nanoparticles accounting for color shifting, as well as internal reflection from the two pieces of glass; however, I have replicated the main points of Wheeler's Theory. And if there are three-flows in a Magnetic Field, that lends itself to engineering.
I am reminded of John Worrell Keely's Three Aetheric Flows.
November 12, 2019
G. A. STEWART
FREE ENERGY – THE KEYS TO THE KINGDOM
That Update provided some of my work on Dr. Aspden's theories. Below are the pictures from my first Ferrofluid Lens experiment. As can be seen easily enough, the magnets produced the same hypotrochoid shapes seen in the video.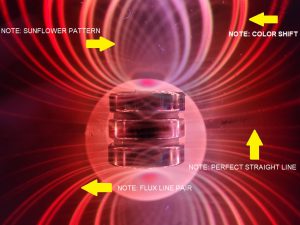 These are the calculations for the Energy Density of N45 Magnets and N52 Magnets. The reason I enjoy MathCad so much is that when I change the units, the answer automatically adjusts. I show the results for cubic-meter and cubic-millimeter.

Since I have turned three N52 Neodymium magnets into one big magnet, the magnetic field automatically adjusts, this is why the middle magnet is now the center and contains the Bloch Wall. One can see directly over the Magnet Poles the tear-drop high-pressure magnetic flux.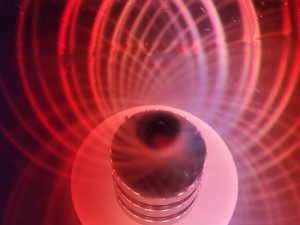 The black spot was visible from every angle. It may be a zone of destructive interference.
In the next picture, I replaced the three Neodymium magnets with a ceramic magnet.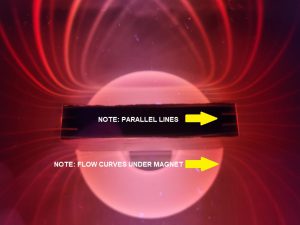 This standard ceramic ferrite-barium magnet is approximately 3,000 gauss, while the Neodymium were approximately 14,000 gauss each. Clearly, readers can see the lower magnetic flux density.

These are the approximate calculations for the Energy Density of one Ceramic Magnet.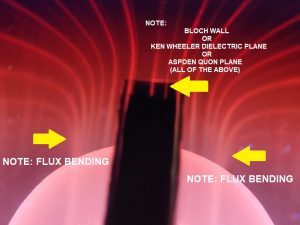 In other words, the static magnets on everybody's refrigerators are actually elements that have captured and stored the energy of The Active Vacuum; and I suspect, circulate a continuum of fractionally charged particles in streams at very high speeds through the magnet's atomic lattice.
Magnets are Nature's little pumps, and obviously, they supply us with electricity. The modern world, both biologically and technologically depends on magnets, and yet I am convinced that we still do not understand what magnets are doing.
Wheeler's Model reminded me of the vast Magnetic Loops on the Sun.

August 17, 2017
Why are the loops in the sun's atmosphere so neat and tidy?
There is also one structure that Ken Wheeler forgot to mention in his book, and that is the Heliospheric Current Sheet.

Heliospheric Current Sheet
Certain elements and crystal structures seem to be able to trap this Magnetic Flow, and we can use them to transmit this energy. I have always been very interested in Magnetism. It is God and Nature's riddle to all-things.
I am by no means an expert in biology, chemistry, or anything really… but I have taken and passed college level physics, chemistry, astronomy, and electronics courses, and that would be in 20 th century colleges. My first physics professor was your stereotypical Austrian physics professor; you were not allowed to use calculators on his tests, only slide-rules.
And I certainly know my way around a Magnetic Field down to the Bohr Magneton and the Muon Gyromagnetic Ratio, not in the intuitive sense, but enough to play with the equations in MathCad. I have been curious about all-things Magnetic for a long time.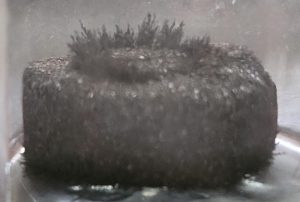 A TORRID MAGNET IN A BOTTLE OF IRON FILINGS
IT HAS BEEN ON MY BOOK SHELF FOR OVER 30-YEARS,
SETTLING INTO THIS CONFIGURATION
I remember grinding a piece of iron bar down to create those filings to study the Magnetic Field. Today, you go on YouTube and see what is new and then just click to Amazon… as I have just done.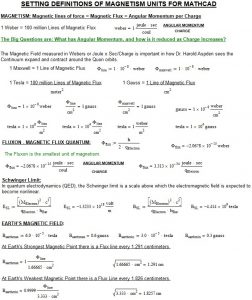 MAGNETISM BASICS
Almost two-decades ago, it was Dr. Harold Aspden's research that made me ask deeper questions about what we do know about electricity and magnetism. Three-decades ago, it was the research of Tom Bearden that inspired me to go back to college. That is how that magnet wound up in a bottle encrusted with iron filings.
Dr. Harold Aspden earned his PhD studying the eddy currents in electromagnet cores; therefore, his specialty was understanding Magnetic Fields. He came to believe in an all-pervading Luminiferous Aether. The 19th century concept of a medium in which light propagated was ultimately discounted after the 1887 Michelson-Morley Experiment. However, the 19th century Luminiferous Aether has been replaced by the 21st century Active Vacuum.
Only Dr. Aspden's theory has been able to produce the essential constants of physics. Critics have called his math work Number Play. I disagree.
G. A. STEWART
DR. HAROLD ASPDEN'S MASTERPIECES
Obviously, this brings into question the calculations for a Magnet's H Field, which is in oersteds, a Magnet's B Field, in teslas, and a Magnet's A Field, which is in tesla x meter. Much of Tom Bearden's work center on an explanation of a Magnet's A Field.
The best understanding of a Magnet's A Field comes from Akira Tonomura's book, The Quantum World Unveiled By Electron Waves.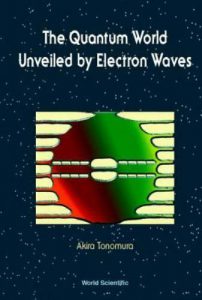 Akira Tonomura proved the Magnetic A Field is not a mathematical construction. He had at his disposal state-of-the-art imaging equipment to map all aspects of the Magnetic Field, and these images are available in that book.
Ken Wheeler discusses the Electron Microscope Lie in his book, Uncovering The Missing Secrets of Magnetism, and I understand his position on particle polarity and actual particles.
All particles are born from the energy of The Field and they all have Virtual Lifetimes. The Field is The Local Active Vacuum for each particle entity.
Below is Ken Wheeler's breakdown of the Magnetic Flows. A ring magnet is being used. I must now reread Akira Tonomura's book and watch some more of Ken Wheeler's videos.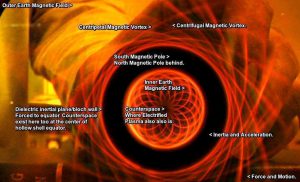 THE KEN WHEELER MODEL OF THE MAGNETIC FIELD
Wheeler also posits that Magnetism is another modality of The Aether, which is the old name for what physicists today call, The Active Vacuum. Wheeler also suggests that Magnetism is the result of "Dielectric Currents" in The Aether.
As I have gone through some of Ken Wheeler's research, I have also been going through some of the comments of his critics. I will be honest, the idiots are the most brutal. Yes, Wheeler has his own terminology in his videos, and yes, he is filming what is called The Bloch Wall in magnets. Critics seem to agree on that; but what is The Bloch Wall; why does this section of every magnet in the universe have a magnetic domain without any orientation? What are the physics involved behind the formation of this Bloch Wall?
Domain wall (magnetism)s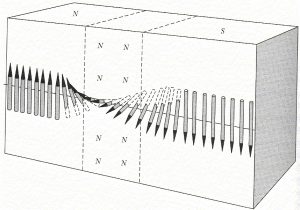 THE TEXT BOOK DESCRIPTION OF THE BLOCH WALL
I do not know if Ken Wheeler ever read the work of Dr. Harold Aspden, but I immediately knew what Wheeler was talking about, because I did some of the math over a decade ago. The Active Vacuum is a cubic lattice of Virtual Electrons, with the nucleus of all the Atoms in the Periodic Table spanning up to 6.5 Aspden Cells.
The image below is a Hydrogen atom drawn to scale with The Aspden Quon Lattice. Each square seen represents a 3x3x3 Aspden Photon, therefore for the First Bohr Orbit, 83.021 Aspden Single Cells would fit within that distance between the Proton and the first Electron Orbit.
The Electrons' existence appears to be very transitory.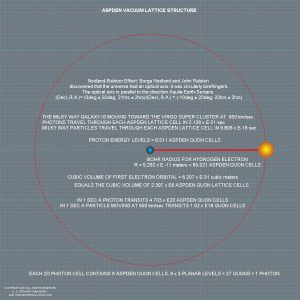 EACH CELL EQUALS A 3x3x3 CELL OF QUONS
THE FIRST BOHR ORBIT OF A HYDROGEN ATOM TO SCALE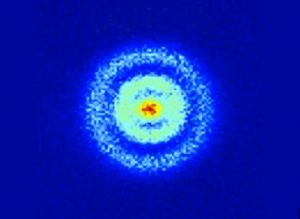 REAL IMAGE OF HYDROGEN WAVEFUNCTION
Of course, Dr. Harold Aspden's Theories were completely rejected by the scientific establishment. As I was reading some of the Ken Wheeler critics comments, I found it interesting that people criticized the use of his term, the Dielectric Inertial Field. Where are dielectrics mostly seen? There is a dielectric medium between the plates of a capacitor and it has a dielectric constant rated for its particular use. Capacitors are rated in farads.
The universe is also a huge capacitor and here is the math that defines that fact. A single Aspden Lattice Cell is rated at 7.09 E-23 farad.

In fact, when taking various science and electronics classes in High School and College, students are taught to use Permittivity and Permeability constants without a thought as to what they are.
The Speed of Light, The Einstein Standard defining physical reality, is a product of Permittivity and Permeability.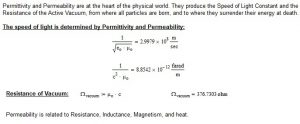 Capacitance depends on Permittivity. Basically, the movement of the Electric Field is attenuated by the physical and chemical nature of the medium in which the Electric Field is propagating.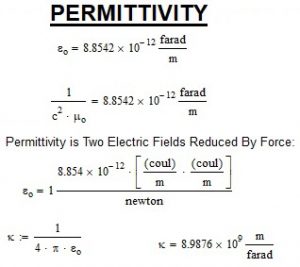 Magnetism depends on Permeability. Basically, the movement of the Magnetic Field is attenuated by the physical and chemical nature of the medium in which the Magnetic Field is propagating.

What I also discovered examining the Permeability Constant was that this is where the universal Magnetic A Field was located.

Readers can see that the Magnetic A Field is built into the Permeability Constant in the form of tesla x meter. Notice how the tesla x meter simplifies to 1 newton of force per 1 amp of current.

Breaking the units of dead scientists down in MatchCad allows you to see what the units really are and what they are doing. One of my greatest epiphanies was discovering that Permittivity and Permeability have an inverse relationship to force.
I also see how Permittivity and Permeability are results of Aspden's Quon Orbit Rotation.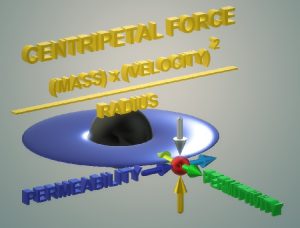 We live and die in the middle of nested Electric and Magnetic Fields.
After working out some of Dr. Harold Aspden's math, I discovered that his equations only derive the Gravitational Constant, the Fine Structure Constant, the Proton-Electron Mass Ratio, and other constants of physics when the radius of his Quon Orbit equaled that of a Virtual Electron.

Applying college physics and the Boltzmann Constant to Aspen's Theory was easy enough; since Dr. Aspden derived The Quon's Mass in its orbit around his hypothetical Graviton, it was easy to calculate what temperatures we should see if this part of The Active Vacuum did exist. I was shocked. It was 30-million degrees Kelvin.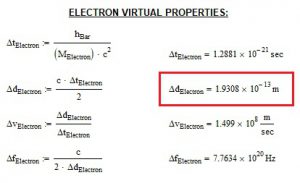 ASPDEN DERIVED VIRTUAL ELECTRON CONSTANTS
The Red Box is the Virtual Electron Wavelength. The Active Vacuum shows its structure through temperature. The Quon Orbit Radii shrink from Aspden's Nominal Virtual Electron Wavelength State.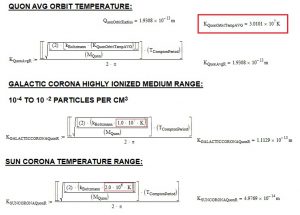 These were my calculations for the radii of the Quon Orbits with the known temperatures of the Galactic Corona and the Sun's Corona. I have come to the conclusion that Galaxies and Solar Systems form through some type of Adiabatic Cooling of The Active Vacuum.
Every Magnetic Field in the universe has a North and South Pole and a Bloch Wall. Here are various pictures of that Magnetic Flux, the first line of photographs are from various researchers, the rest are from my recent experiments.

VARIOUS RESEARCHER'S PICTURES OF THE BLOCH WALL

MY PICTURES ON SECOND DAY AFTER MAKING FERROFLUID LENS – THE LENS DEGRADED

MY PICTURES OF NORTH MAGNETIC POLE IN RED – GREEN – BLUE – WHITE

MY PICTURES OF NORTH POLE IN WHITE LIGHT FROM VARIOUS ANGLES

MY PICTURES OF NORTH POLE IN VARIOUS COLORS OF BLUE-GREEN

MY PICTURES OF DIFFERENT MAGNET CONFIGURATION – NOTICE BLOCH WALL HAS MOVED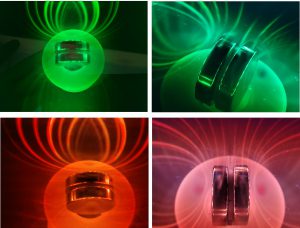 MY PICTURES OF TWO NEODYMIUM N52 MAGNETS – NOTICE BLOCH WALL HAS MOVED TO ADJUST
Note that other researchers have also photographed this dark zone above the Magnetic Poles. This is Wheeler's Dielectric Voidance. I suspect that it speaks to what is at the center of Wheeler's Dielectric Orbit and at the heart of every Aspden Quon Cell.
This is a great Ferrofluid Lens Photograph that I found on the Internet of the three-dimensional nature of the centrifugal and centripetal magnetic flows from Wheeler's book along with his zone of Dielectric Voidance.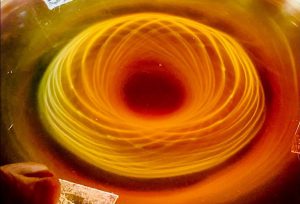 BRAIDED MAGNETIC FLOWS AROUND THE POLE OF A MAGNET
Wheeler's theory includes a great deal of Walter Russell's theories on The Nature of Reality. Wheeler also mentions this in one of his videos; though apparently he disagrees with some aspects of Russell's work.
The Universe On Science and Philosophy
I have only watched a couple of Wheeler's videos and pieces of others; so I have to find the time to dive into more of Wheeler's work, because I believe that he is certainly on to something here.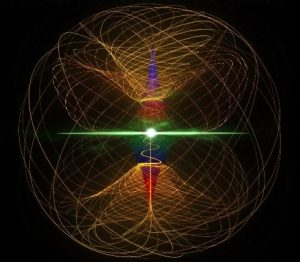 IS THIS THE REAL MAGNETIC FIELD?
This is essentially the structure of the Magnetic Field that Wheeler has mapped. Readers should note the thin green line at the center of the field. This is Wheeler's Dielectric Inertial Field.
Consider what Wheeler has written on his Dielectric Inertial Field. His critics believe that this is a made up phrase or concept. I can assure them, according to Dr. Harold Aspden's math, Wheeler appears quite correct.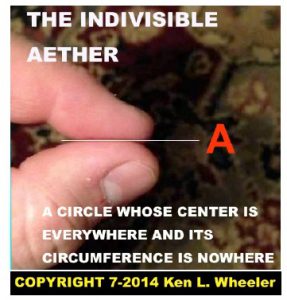 What Wheeler seems to be suggesting is that the Dielectric Inertial Field is two-dimensional.
Consider what I have written regarding the work of Dr. Harold Aspden and his particle The Quon, which mathematically is a Virtual Electron.
In my simple 3D drawings that are essentially updates of Aspden's drawings, I modeled the Aspden Continuum as noise. The Aspden Continuum is continually flowing and taking different shapes like three-dimensional Chladni Figures. One Negative spherical Aspden Quon equals One Positive Cube of Aspden Continuum.
Since Ken Wheeler was doing most of his research in 2014 and my models of Aspden's theories were already built, I find that amazing corroboration.

MY MODEL OF THE ASPDEN QUON-GRAVITON SYSTEM
BASED ON THE MATH OF DR. HAROLD ASPDEN
Now, I have used Magnetic Film before to map the Magnetic Field, but I never put my model and what I had seen together until reading Wheeler's book.
If Aspden is correct and that all Quons in the universe are locked at the same phase angle. This means that Quons must be locked into two-dimensional orbits, or at least into orbits that keep them locked into the same phase angle as every other Quon in the infinite sea of Quons.
I suspect that Aspden's Quons anchor The Multiverse. The universes within The Multiverse must be synchronized by The Conservation of Energy Principle. Aspden's Space Domain Theory would be the interlocking principle that allows The Multiverse to exist with its own set of physical constants.
Dr. Aspden was able to derive the basic physical constants of Nature, including The Gravitational Constant. However, I discovered that there was a rub; it was the average temperature of the universe; there was a big difference between Aspden's math and reality.
In two of my Posts, I examined some well-know theories in Alternative Energy. The word pseudoscience is my measuring tool for the people who use it.
G. A. STEWART
AXIS MUNDI
PRACTICAL APPLICATIONS – PART I
G. A. STEWART
AXIS MUNDI
PRACTICAL APPLICATIONS – PART II
I have expanded on Dr. Aspden's original drawings for ease of understanding. Essentially, Aspden believed in a form of Dirac Sea infinitely spread throughout the universe. His particle is The Quon and mathematically it exists in a cubic lattice of two-dimensional planar orbits with a radius of a Virtual Electron.
Gravitons exist at the center of those orbits, and they vary in size depending upon the energy moving through that section of the cubic lattice; this determines the radius of the Quon orbit in each cell.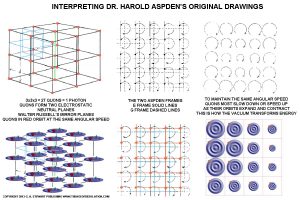 Readers should note the dwindling number of Particles that exist in space at higher temperatures, which is apparently explained by Electromagnetic Radiation, a transverse wave needing some medium to transverse.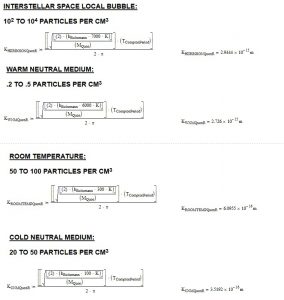 Aspden's Quon and Continuum of Fractional Charge are essentially a form of Dirac Sea of Electrons and Positrons, which I believe is a closer description than the ambiguous Active Vacuum.
The Nominal Quon Orbital Radius is The Virtual Electron Wavelength. Therefore, as I mentioned above, If every Quon in the universe existed at, and maintained that radius or that Virtual Electron Wavelength, the universe would be 30-million-degrees Kelvin.
At first I thought that Aspden must be wrong. However, I discovered that the only place that we would see anything close to those kinds of temperatures would be in Galactic Coronas and the Sun's Corona.
Consider this image, a lone Aspden Quon orbits around a lone Aspden Graviton at a certain distance relative to the energy that is within the cubic space of that orbit. Charge changes with the velocity of a Particle.
AIDS, Biological Warfare, Tom Bearden, 1988, Pages 192-193,
Fractional Charges, Magnetic Monopoles, and, Magnetic Currents
Fifteen years ago, a most distinguished gathering of physicists occurred in Trieste, Italy to review the physicist's conception of nature and how it developed. Seven Nobel Laureates were in the prestigious audience. The key note address, appropriately was given by P.A.M. Dirac, and – appropriately – was entitled "Development of the Physicist's Conception of Nature."

Dirac called attention to the possibility of fractional charges, and unexpectedly presented some of the data from experiments done long before by Felix Ehrenhaft.

Years earlier Felix Ehrenhaft, former director of the Physical Institute at the University of Vienna, had reported a number of experiments where – purportedly – he easily obtained fractional electric charges.
Neil's Bohr is out of date, but the math still works. I prefer the billiard ball view of the universe.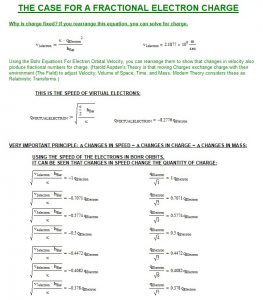 An Aspden Lattice Cell is in a state of constant flux trying to maintain Charge Neutrality. In Aspden's Model, the Quon is -1, the same as a Virtual Electron. Therefore, the cubic cell of fractional Positive Continuum must equal +1. However, you can rearrange the Bohr equations and discover that charge varies with an Electron's change in speed, as I have shown above.
Below are the essential geometric structures involved in Dr. Aspden's theory. I have included the Interlace Tetrahedron, because of its prominence in R. Buckminster Fuller's theory and that of Richard Hoagland and the geometry of a regular tetrahedron inscribed in a sphere.
However, I believe that this is where the Antimatter resides; it is Aspden's Dimuon.

The changing radius of the Aspden Quon orbit as it speeds up and slows down with the change in energy is what pumps Aspden's Continuum of Fractional Charge. I have long suspected that Aspden's Continuum of Fractional Charge might be Magnetic Lines of Flux and that since Quons rotate, Magnetic Lines of Flux must also rotate.
What I found interesting in Wheeler's Uncovering the Missing Secrets of Magnetism book is the idea of Magnetic Field lines as hyperboloids carrying away inertia, from his Dielectric Inertial Field.
What does that mean? Basically, it is the cycle of Potential Energy becoming Kinetic Energy, and returning to Potential Energy.

Imagine the Spirograph example as a two-dimensional rocket launch.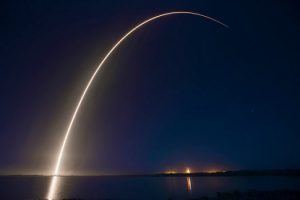 A rocket takes the Potential Energy in the chemical rocket fuel and turns that into Kinetic Energy. The chemical rocket fuel will supply enough Kinetic Energy for the rocket to reach a maximum height. If that is still within the Gravitational Field of the Earth, the rocket will exhaust its Kinetic Energy and then slowly convert the Potential Energy of Gravity back into Kinetic Energy as the rocket falls back to Earth.
Now imagine a rocket that resupplies its chemical Potential Energy as it reaches Earth and starts the cycle all over again. From my example and the gearing I used in Spirograph, it takes four of these energy cycles for the rocket to travel 360-Degrees.
Here is an interesting connection to the work of Paulo and Alexandra Correa at Aetherometry. Dr. Harold Aspden collaborated with them on some of their research.
Aetherometry and Gravity: An Introduction
4. Cycloids and gravity
In 1696 mathematician Jean Bernoulli offered a reward for the solution of the following problem: What shape is the curve on which a body subjected only to the force of gravity will slide (without friction) between two points in the least possible time? He and his brother Jacques, along with Leibniz, Newton, Huygens, and others, found the curve of fastest descent (or brachistochrone) to be part of an inverted cycloid, i.e. a curve generated by a point on the circumference of a circle that rolls along a straight line.
I have tried to understand the work of Paulo and Alexandra Correa and Aetherometry, however, their books are very expensive, and going through a number of books to grasp the basics of the theory was not cost productive. I have at least four-dozen Alternative Energy books on my shelves. What I look for is validation.
Tom Bearden's 1980s speculation about the Magnetic A Field and The Aharonov-Bohm Effect were verified by Akira Tonomura and recounted in his 1998 book, The Quantum World Unveiled By Electron Waves.
With Ken Wheeler's Theory, I see how important parametric equations become, and I would suggest that whatever is orbiting in his Dielectric Inertial Field is moving at the Compton Frequency.
What I find most interesting is my crude 3D modeling of Aspden's Theory juxtaposed with the model that Ken Wheeler presents. I had never heard of Ferrofluid Lens Photography until a few months ago. I find this remarkable validation of Dr. Aspden's Theory.

I do not have that much luck with magnetic film, but you can see Wheeler's Dielectric Plane emerge from the Bloch Wall and then fold around the magnet.

The similarities in Wheeler's experiments were striking matches to what I had modeled following Dr. Aspden's equations and drawings.
Below are Wheeler's experiments with Magnetic Film and broken magnets.

I had ignored the halo that bends around the magnet when I was doing my own experiments years ago, but when I saw these pictures in Wheeler's book and compared them to my simple 3D drawings, it suddenly reminded me of what a Black Hole would look like from our perspective.
April 10, 2019
First Images of a Black Hole from the Event Horizon Telescope

Most importantly, I did not quite know how to model Dr. Aspden's chains of Electrons and Positrons, given the absence of Antimatter in the universe.
I find it interesting that Michael Snyder at the University of Louisville and Ken Wheeler have noted these binary lines of Magnetic Flux. It almost reminds me of DNA.

After reading Ken Wheeler's theory and rereading Chapter Five in Michael S. Schneider's book, The Beginner's Guide To Constructing The Universe, I can see how various plants take certain shapes within Earth's Magnetic Field.
Consider the main nutrient channels in plants, the xylem and phloem. These are directional channels.
Xylem and Phloem
The xylem and the phloem make up the vascular tissue of a plant and transports water, sugars, and other important substances around a plant. What is commonly referred to as 'sap' is indeed the substances that are being transported around a plant by its xylem and phloem.
All of us live within Earth's Electric and Magnetic Field. Consider that all organic life exists within the huge waveguide that is formed by the planet Earth and the ionosphere. This is why The Schumann Resonance is important.

The Schumann Resonances of 7.83 Hz and its overtones are created by the lightning strikes across the planet Earth.
The Earth and the Ionosphere form a huge capacitor, and the atmosphere is the Dielectric Medium. When thunderstorms form, so much Electric Charge builds in the air that it exceeds the Dielectric Constant of the air. Capacitors do not like current, which are moving Electrons. Once the Dielectric Constant of the atmosphere is breached by accumulating charge, the dam bursts and a current forms and seeks its ground, like the tree in somebody's backyard.
Every living organism on planet Earth lives and breaths inside a Capacitor. Once a current forms, a Magnetic Field is created.
BEINGS OF FREQUENCY IS AN EXCELLENT VIDEO DESCRIBING HOW IMPORTANT THE SCHUMANN RESONANCE IS TO LIFE
Consider the video that I embedded from my previous Post.
July 18, 2021
Creating Monsters by Manipulating the Electrical Fields
Consider these unknown aspects of the Magnetic Field in this Post.
COSMIC CORE
Article 55: Number – The Pentad – Part 4 – Spirals & Helices
I am quite sure that many readers are aware of the Metaphysical implications of this new look at the Magnetic Field. Consider my warnings back in 2018.
July 10, 2018
G. A. STEWART
THE NEW SCIENCE OF WEAPONS
If you watch the video on Ken Wheeler's Magnetic Field motion and if readers look at my photographs, the Vesica Piscis is easy to see within the Magnetic Field.
COSMIC CORE
Article 21: Number – The Dyad – Part 4 – The Vesica Piscis

IN MY PHOTOGRAPHS THE VESICA PISCIS IS APPARENT
I am not going to go too far afield in this Post. In Part III, I will make my correlations of this new look at the geometry of a Magnetic Field with some of the geometrical patterns seen in Nature and some of the patterns chosen by various religions and how they pertain to spiritual beliefs.
POSTSCRIPT AUGUST 16, 2021
Here is one more suggestion that I would like to put out to the Alternative Energy Community, and particularly those researchers experimenting with crystal batteries. I suspect that the reason why the Magnesium Cores are being pushed out of the batteries and the Copper Vessels have been fracturing is because of the interplay of forces between the Aspden Quon and the Aspden Graviton. This would happen along Ken Wheeler's Dielectric Inertial Plane.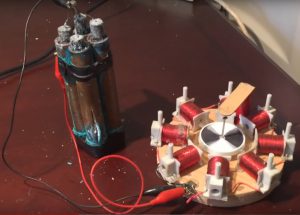 October 30, 2015
Crystal Cells Have Been Going for 4+ Years! – Crystal Cells Duration Testing Update
The radii of all the Aspden Quons are constantly changing. That is what the Temperature and Radii Equations above indicate. As readers can see, they do not move very much. When they do, the pressures will increase or decrease. These are not discrete changes in the Quon Orbit Radii, but most likely changes along a curve.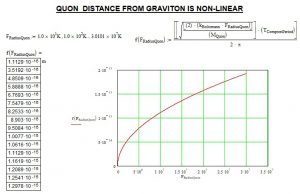 Here is one last clue on what is happening in those batteries.
Hadronic Journal, by H. Aspden, v. 10, pp. 167-172 (1987)
THE PHYSICS OF THE MISSING ATOMS: TECHNETIUM AND PROMETHIUM
Abstract: Technetium (Z=43) and promethium (Z=61) are by far the least abundant of all atoms below the radioactive elements (Z=84 onwards). Their scarcity confirms theoretical predictions emerging from a theory of the photon derived from synchronous lattice electrodynamics. This theory has given precise theoretical values for the fine-structure constant α and the constant of gravitation G and is now shown in this paper to indicate resonant interactions between the vacuum lattice oscillations and technetium and promethium. In the case of promethium there is strong reason for believing that this atom can assume supergravitational or antigravitational properties, accounting for its scarcity. This paper not only adds support to the earlier theoretical work on the photon and gravitation, but suggests a research route that might lead to new technology based on controlled interactions with gravity fields.
____________________________________________________________________________________________
NOT COMING SOON ENOUGH
G. A. STEWART'S
NOSTRADAMUS COMPENDIUM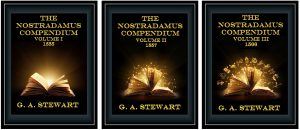 ____________________________________________________________________________________________