WHEN IT ALL COMES CRASHING DOWN
The United States and countries of the West are over-extended, and this is what a financial crash really means. And it will greatly affect the body America.
I am also a little over-extended, so I am reordering some professional priorities, reworking this website, and finishing up my last book on Nostradamus' prophecies. Remember who got you there first.
1) The Ferryman Across the River Styx – 2011 (Libya), 2014 (Ukraine), 2019 (COVID-19)
2) Donald J. Trump would win in 2016.
3) Donald J. Trump would be overthrown in a coup d'état.
4) Barack Obama was coming back.
5) QANON was a PSYOP.
6) The Great Scandal – (Jeffrey Epstein).
7) The Great Plague in 2020 (COVID-19).
8) The Physician of the Great Disease.
9) The Games of Slaughter – (Two Olympics under COVID-19)
10) Nuclear Weapons Envy in 2022 (Russia invades Ukraine).
11) Two major earthquakes in Turkey before war.
12) Global Economic Collapse (SVB Collapse)
Nostradamus' prophecies come with dates, descriptions and names. Nobody comes close.
I will add these very salient points to readers' personal philosophies about history. Whether they be called Fourth Turnings, Second Depressions, or whatever, cycles within history are certainly predictable. This statement appears in Nostradamus' Epistle to Henry, and I find confirmation by those researchers who come up with the same numbers that Nostradamus talks about.
Nostradamus' predictions span centuries and most humans never make it to one century, so we are in a difficult position to judge his work.
What I have provided in my books and this website are the fine details of the current historical epoch. What I wrote in 2007 matches the news events of today.
Admittedly, after their arrival on the world stage, I found the names of Barack Obama, Donald J. Trump, Turkish President Tayyip Erdogan, and Hungarian Prime Minister Viktor Orbán in anagram form within Nostradamus' prophecies. After categorizing all 1,321 Nostradamus' prophecies by 2007, I was able to build a timeline of this current epoch. Nostradamus constructed this timeline in a manner that allows readers to spot the clues to the arrival of events.
The double earthquakes in Turkey followed by Global Economic Collapse have been on that timeline in my books and on this website since 2007.
I believe Nostradamus saw it all. There are no errors or misses in his work. It is we, the readers, who are incapable of knowing these fine details of history and future history, because his writings will outlive us all.
Here is what I just wrote to a friend.
"I would think that The False Peace has to come this year, that would mean a short dirty war, but the next dated prophecies are in 2024.
So, maybe Israel-Iran go at it for a few months, the 42 Nation Sunni Alliance Assembles, a Financial Collapse, Martial Law, A Biden-Trump Arrest, Obama Comes Forth, Dissidents Arrested sequence leading to a full-blown Second American Civil War. That comes with The False Peace and Viktor Orbán going to the Vatican to plead for a ceasefire."
March 17, 2023
***** FLASH ***** RUSSIA TO "PRACTICE" SUB-LAUNCHED NUKE STRIKE AGAINST U.S.A. FROM SUBS IN PACIFIC OCEAN
March 22, 2023
China Gives US Advice On Ukraine After Xi, Putin Pledge To Shape New World Order
Xi Jinping: "Change is coming that hasn't happened in 100 years and we are driving this change together"

Putin: "I agree"
I described the circumstances of this moment in exact detail in 2007.
That is about as concise a summary of the future as I can make; and soon Trump will be arrested, a financial collapse is underway, and war with Russia is close at hand.
March 18, 2023
Trump says he expects to be arrested, calls for protest
I have written in my posts that Donald J. Trump's arrest was inevitable.
August 9, 2022
G.A. STEWART
Protected: TRUMP WILL BE ARRESTED
Why did I write that I was certain of Trump's arrest? That is a very detailed story. Do readers want a sound bite click-bait explanation or an in-depth analysis? Chapter Eleven in Nostradamus and The Third Age of Mars 2023 is all about Donald J. Trump.
Donald J. Trump is Nostradamus' Sabine King. He has been setup from the beginning, and Nostradamus hints that he has been ignorant of this fact. Donald J. Trump's ego and emotions have been played and it will not go well for him.
August 9, 2022
G.A. STEWART
Protected: THE TRAGEDY TO COME
It was not my intention to make this a long post; however, Donald J. Trump's arrest will be historic, and the true beginning of The Second American Civil War. The social engineers have won.
I told readers that Donald J. Trump's arrest signals an approaching war with Russia, China, and Iran. Below, I will present quotes from several of my books, including my soon-to-be published 2023 edition. I have bullet-pointed key events so readers can get a sense of the concise facts, especially regarding events in 2016.
The question I asked is Donald J. Trump for real or just controlled opposition?
Like most Americans, Donald J. Trump is a debt juggler.
Nostradamus and The Third Age of Mars 2023, G.A. Stewart, Page 674
After the failure of The Trump Shuttle, Donald J. Trump moved on to completing the Taj Mahal by financing the rest of the construction with $675 million in junk bonds at a 14% interest rate.
When Trump could not make the bond payments, his future Secretary of Commerce, Wilbur Ross, who was then the senior managing director of Rothschild & Co. stepped in and kept Trump afloat. Working for the bankruptcy advising team representing the bondholders of Trump's three casinos, Ross convinced Trump to sell 50% of the Taj Mahal for better terms on the debt while leaving Trump in control.
Trump and Wilbur Ross have a very close relationship and are neighbors in both New York and Florida. As well as being a member of Skull and Bones, Ross also worked for Rothschild & Co., a multinational investment bank. Therefore, for a man who wanted to "Drain the Swamp", we see that Trump is very much a part of the swamp.
Nostradamus and The Third Age of Mars, The Prophecies of World War III, G.A. Stewart, 2019, Page 465
The first fact that people need to know about Donald J. Trump's Presidency is that he staffed his administration with known Yale Skull and Bonesmen and old insiders. In Chapter Four, I presented a general history of two centuries of Skull and Bonesmen, and what stands out is that these men's specialties covered all areas of social engineering.
As President, Trump appointed Steve Mnuchin as his Secretary of the Treasury, Wilbur Ross as his Secretary of Commerce, Ben Carson as his Secretary of Housing and Urban Development, Billionaire Stephen Schwarzman sat on Trump's Strategic Policy Forum, and Billionaire Frederick Wallace Smith sat on Trump's Jobs Council.
I suppose there are some people who can ignore these very disturbing connections, but it was Wilbur Ross who saw the potential in the flamboyant and telegenic Donald J. Trump. Thus, we have the source of more disturbing Trump Team choices like John Bolton and special envoys like Elliott Abrams.
Nostradamus and The Third Age of Mars 2023, G.A. Stewart, Page 669
My questions about Donald J. Trump come from the individuals who Trump interviewed and hired to be in his administration. Some of these people were Bush I ex-Iran-Contra felons with Presidential pardons, like Elliott Abrams, who became Trump's Special Envoy to Venezuela.
Trump's Attorney General, William Barr, is a top intelligence agency insider who was used by Bush I to clean up messes like The Iran-Contra Scandal. His father, Donald Barr, hired Jeffrey Epstein as a teacher at the Dalton School.
Work in the intelligence world is sometimes a family tradition. Mystery Money is a good indication of people and corporations connected to the intelligence world. Business losses never seem to affect them.
Nostradamus and The Third Age of Mars, The Prophecies of World War III, G.A. Stewart, 2019, Page 497
In February of 2017, General H. R. McMaster became President Donald J. Trump's new National Security Advisor and then proceeded to fire the staff of his predecessor, General Michael Flynn.
H. R. McMaster began to fill positions with former General David Petraeus' protégés and from Petraeus' inner circle.
Nostradamus and The Third Age of Mars, The Prophecies of World War III, G.A. Stewart, 2019, Page 716
I will show how a series of predictions points to David Petraeus as a central figure to future events. He leads a group of retired and disgraced United States' Generals who may be directing the opposition against President Donald J. Trump.
Nostradamus and The Third Age of Mars, The Prophecies of World War III, G.A. Stewart, 2019, Page 496
Caught up in the David Petraeus and Paula Broadwell Scandal was Tampa Socialite Jill Kelley. She liked to "Collect Generals".
"Everyone thinks you're a Rock Star!" Kelley gushed in a 2012 e-mail to Marine Gen. James N. Mattis, then commander of all U.S. military forces in the Middle East. "We agreed how amazing it must be that you're single-handedly re-writing history."
It was Jill Kelley's Emails to the future Secretary of Defense, James Mattis, and her interest in Petraeus' affair, that would eventually lead to Petraeus' undoing… or apparently not. President-elect Donald J. Trump was considering him for a top job despite his conviction for mishandling classified material.
It should be remembered that General David Petraeus' November 9th, 2012 firing as Barack Obama's Director of the CIA was preceded by the September 11,th, 2012 Benghazi, Libya American embassy attack and the deaths of Ambassador Christopher Stevens and three others.
Do note here is another great example of Pagan Sect Ritual Date symmetry:
9-11-2012 – Benghazi, Libya American Embassy Attack.
11-9-2012 – CIA Director General David Petraeus Fired.
Nostradamus and The Third Age of Mars, The Prophecies of World War III, G.A. Stewart, 2019, Page 498
Former Secretary of Defense General James Mattis supposedly resigned over President Trump's announcement to draw down troops in Syria and Afghanistan. His resignation letter was made public.
Former Marine General Mattis has also allegedly said that "Trump had the understanding of a fifth or sixth-grader", according to accounts in Bob Woodward's book, Fear: Trump in the White House.
Former chief of staff John Kelly has allegedly called President Trump "an idiot".
Apparently, the former Marine General saw himself "as the lone bulwark against catastrophe, curbing the erratic urges of a president who has a questionable grasp on policy issues and the functions of government."
After chief of staff General John Kelly resigned, former Republican Congressman Mick Mulvaney became the acting chief of staff. He has been video recorded calling Trump "a terrible human being".
In Nostradamus and the Third Age of Mars, Volume I, I called Mattis and Kelly The Jill Kelley Generals since they were in the loop of The David Petraeus Scandal. With the later addition of H. R. McMaster; General David Petraeus' inner circle completely surrounded President Donald J. Trump.
Frankly, I do not understand how losing Generals can consider themselves "Rock Stars" and "Warrior Philosophers" when they are responsible for the longest war in United States history. To a man, these ego driven fools think they are brilliant. Each of them is ready to go head-to-head with Russia and China and to double down on World War III.
President Donald J. Trump dressed all of them down in a public news conference. The facts as President Trump simply stated are that with world's largest defense budget, America's Generals and Admirals lost to the Taliban in Afghanistan. This enemy has no Navy, Air Force, or Space Program.
These would be the same Barack Obama Generals who wanted NSA Director Admiral Michael Rogers removed from his position for going to meet with Donald J. Trump at Trump Tower on November 17th, 2016.
These would be the same Generals responsible for putting 300,000 NATO troops on Alert on November 6th, 2016, two days before the Presidential Election.
These would be the same Generals responsible for launching the E6B Doomsday Plane on November 17th, 2016, nine days after Donald J. Trump won the election.
Nostradamus and The Third Age of Mars, The Prophecies of World War III, G.A. Stewart, 2019, Page 497
In April of 2018, McMaster was fired and John Bolton became the new National Security Advisor, and then he supposedly cleaned out the National Security Council of General David Petraeus' protégés.
I wonder if this might be related to the National Security Contractor who was arrested at the White House on June 5th, 2018 for murder charges. The time-frame coincides with First Lady, Melania Trump's 20-day disappearance.
On March 13th, 2019, President Donald J. Trump had to address the rumors that Melania Trump had a body-double.
The following is a timeline of key events prior to Donald J. Trump's inauguration.
Nostradamus and The Third Age of Mars 2023, G.A. Stewart, Page 657
These were the headlines in the news.
1) June 30, 2016: Bill Clinton meeting with Loretta Lynch.
2) July 5, 2016: FBI Director James Comey Recommends No Charges for Hillary Clinton's Email violations.
3) November 6, 2016: NATO put 300,000 troops on 'HIGH ALERT' amid fears of all out confrontation with Russia.
4) November 7, 2016: FBI has found no criminal wrongdoing in new Clinton emails, says Comey.
5) November 8, 2016: Donald Trump Is Elected President in Stunning Repudiation of the Establishment.
6) November 17, 2016: "Mysterious" plane circling over Denver was "just" an E-6B Mercury "doomsday" plane.
7) November 17, 2016: Spy chief James Clapper resigns.
8) November 17, 2016: NSA Director Admiral Michael Rogers meets with Trump at Trump Tower in New York.
9) December 19, 2016: Russian Ambassador to Turkey Andrei Karlov shot dead in Ankara, Turkey.
10) December 25, 2016: Singers in Russian Military Choir Among 92 Feared Dead After Plane Crashes Into Black Sea.
11) April 12, 2017: Trump told China's President Xi of Syria strikes at banquet.
12) May 20, 2017: Trump arrives in Saudi Arabia in first foreign trip.
Nostradamus and The Third Age of Mars 2023, G.A. Stewart, Page 657
The former Director of the National Security Agency, Admiral Michael Rogers, had been working with U.S. Attorney John Durham since 2019.
SOURCE:

December 20, 2019
Bad News For Coup Crew – Former NSA Director Mike Rogers Working With John Durham For Several Months…
(We now know that Special Counsel John Durham's investigation was a fraud to protect the FBI)
In early 2016, Admiral Rogers became aware of violations of the Foreign Intelligence Surveillance Act, (FISA), Section 702(17) surveillance. This is what was going on behind the scenes:
1) An NSA compliance officer identified several strange 702 "About Queries" were being conducted.
2) Section 702 – Item #17 "About Queries" are specifically the collection of electronic messaging, emails and upstream phone call surveillance data of U.S. persons.
3) Rogers suspecting FISA 702(17) surveillance activity was being used for reasons he deemed unlawful, in mid 2016 Rogers ordered the NSA compliance officer to run a full audit on 702 NSA compliance.
4) As an outcome of the notification, Rogers initiated a full compliance audit and then blocked all contractor access to the NSA database on April 18th, 2016.
5) On October 26th, 2016, full FISA court assembled, NSA Director Rogers personally informed the full FISA court of the 702(17) violations.
6) The heads of the Pentagon and the nation's intelligence community recommended to President Obama that the director of the National Security Agency, Admiral Michael S. Rogers, be removed.
7) On November 17th, 2016, NSA Director Admiral Mike Rogers went to see President-Elect Donald Trump in Trump Tower, New York. – Director Rogers never told his boss Director of National Intelligence (DNI), James Clapper or anyone else in the intelligence community.
8) November 17th, 2016: Director of National Intelligence, James Clapper resigns.
9) The information the FBI collected, and the material Fusion GPS was creating via Christopher Steele, was used to create the Russian Narrative and also to manipulate the FISC into giving them a FISA warrant.
10) On November 18th, 2016, the Trump Transition Team announced they were moving all transition activity to Trump National Golf Club in Bedminster, New Jersey, where they interviewed and discussed the most sensitive positions to fill.
Nostradamus and The Third Age of Mars 2023, G.A. Stewart, Page 659
Clearly, with the heads of the Barack Obama Pentagon and intelligence agencies recommending that Admiral Michael Rogers be fired, we can see that the treason against Trump was deep and extensive.
And as can be seen from my list above, after Donald J. Trump's election victory, there then ensued the most bizarre and ruthless incidents committed against Russians. It seemed like someone was trying to start a war.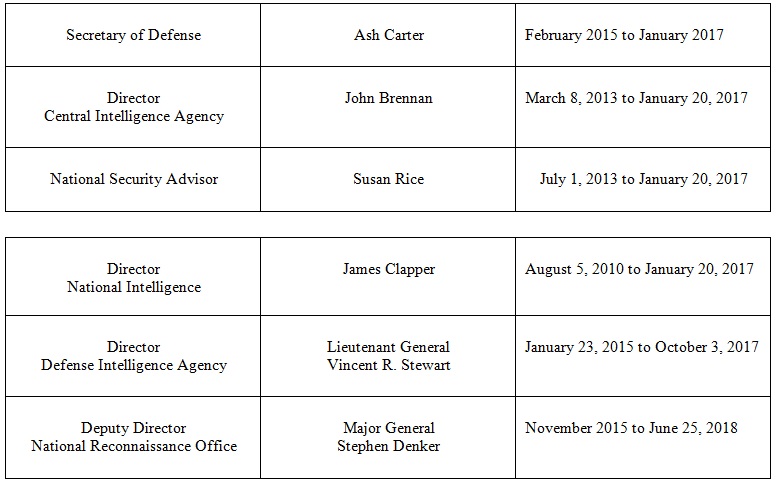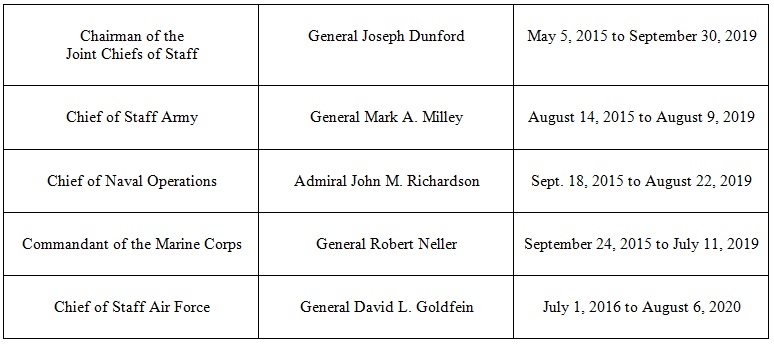 May 13, 2021
Grenell calls Susan Rice the 'shadow president' and 'no one is paying attention'
Rice is one of the many officials from the Obama administration that landed jobs in the Biden White House
When you overlay the timeline of The Steele Dossier onto the timeline of events at the NSA involving Admiral Michael Rogers, you can see that it was most likely a Clinton hired contractor who had access to the NSA database.
This is a primary example of how intelligence agencies are using private contractors to break the law.
Nostradamus and The Third Age of Mars 2023, G.A. Stewart, Page 676
We know from the chronology of the investigation that on April 18th, 2016, NSA Director Admiral Michael Rogers halted contractor access to the NSA's database.
1) September 2015: Fusion GPS is hired by The Washington Free Beacon to do opposition research on all Republican presidential candidates.
2) April 2016 until October 2016: The Perkins Coie Law Firm, on behalf of the Hillary Clinton 2016 presidential campaign and the Democratic National Committee, retained Fusion GPS to continue the opposition research on Donald J. Trump.
3) Early in 2016: NSA Director Admiral Michael Rogers becomes aware of "ongoing" and "intentional" violations of Foreign Intelligence Surveillance Act (FISA).
4) April 18th, 2016: NSA Director Rogers is notified of the FISA 702(17) violations, and then blocks all contractors' access to the NSA's database.
5) May 26th, 2016: Donald J. Trump secures 1,237 delegates to guarantee his nomination.
6) June 2016 to December 2016: Fusion GPS subcontracts to Christopher Steele, who writes what is known as The Steele Dossier.
7) June 30th, 2016: Bill Clinton Tarmac meeting with Loretta Lynch.
8) July 5th, 2016: FBI Director James Comey recommends no charges against Hillary Clinton.
Nostradamus and The Third Age of Mars 2023, G.A. Stewart, Page 659
This entire charade reveals how deep The Deep State goes and why Attorney General William Barr, Special Counsel John Durham, and The Q PYSOP were just diversions. If we examine the actions of the Director of the NSA, Admiral Michael Rogers, we can see the "Big Picture".
With Special Counsel John Durham's complete failure, once again, we find that The Q PYSOP was nothing more than a shell game of misdirection. Small elements and shadows of the truth are called Limited Hangout by intelligence services; enough truth is offered as bait to draw in the target and then deliver The Big Lie.
May 31, 2022
John Durham lost because he treated the FBI as a dupe — rather than a Clinton collaborator
Durham has banked his investigation on the premise that the FBI was a victim — an innocent dupe manipulated by the wily Clinton campaign. On Tuesday, this misplaced faith led to the acquittal of Clinton lawyer Michael Sussmann.
September 29, 2022
Durham Prosecutes FBI Informants, While Protecting Their Handlers
In the latest example, critics point to a flurry of pretrial motions in Durham's case against former FBI informant Igor Danchenko, the primary source for the false claims regarding Trump and Russia advanced by the opposition research paid for by Hillary Clinton's campaign known as the Steele dossier.
A COUP D'ÉTAT BY ANY OTHER NAME
These many documented historical facts of the coordinated actions taken by U.S. military leaders, U.S. intelligence agency leaders, the Department of Justice, and the Court System against a newly elected and sitting President between 2016 and 2020 are blatant examples of a coup d'état.
March 28, 2022
Spies who lie: 51 'intelligence' experts refuse to apologize for discrediting true Hunter Biden story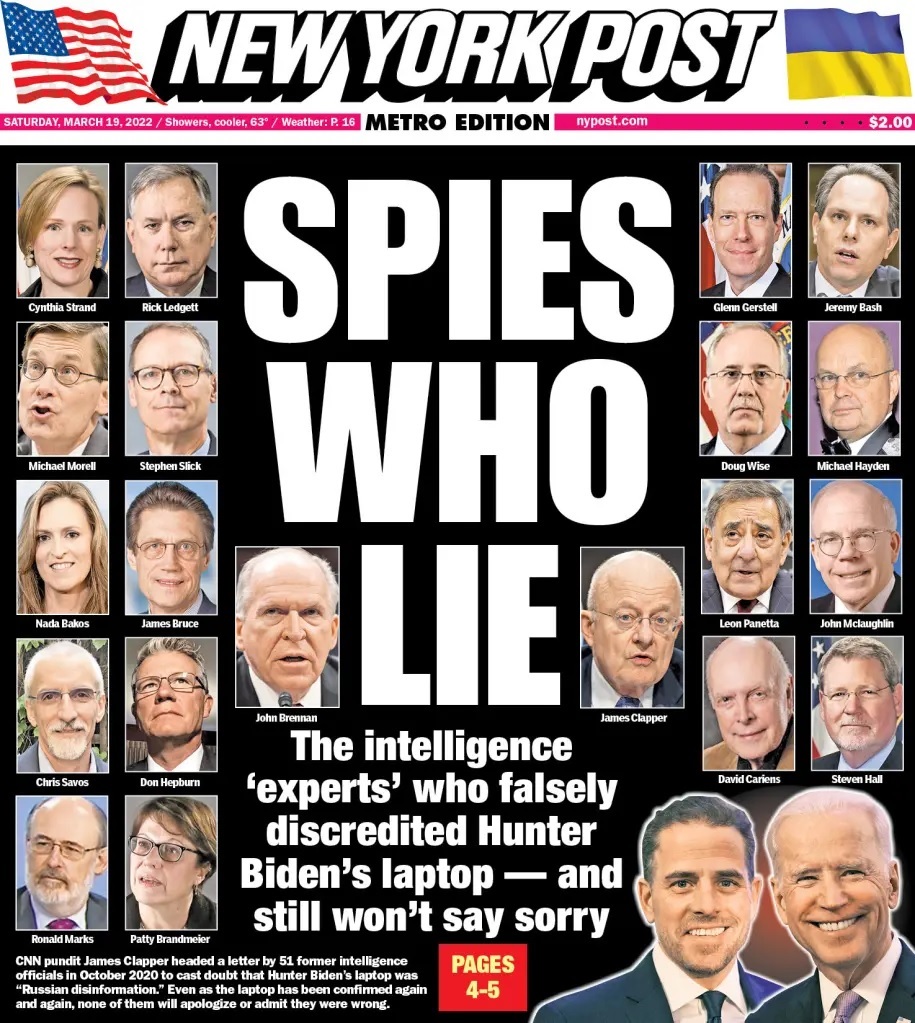 AMERICAN TRAITORS
And so the following Nostradamus Presage turned out to be true. And what comes next is not good, and I think people sense that.
PRESIDENT DONALD TRUMP CHASED OUT OF OFFICE
THE BLACK KING HOLDS HARD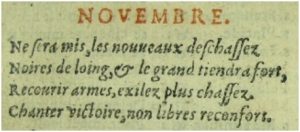 1560


1605
Nostradamus Presage 56 (78) November 1560
Ne sera mis, les nouveaux deschassez
Noir es de loing et le grand tiendra fort,
Recourir armes, exiléz plus chasséz.
Chanter victoire, non libres réconfort.
Nostradamus Presage 56 (78) November 1560
He shall not be placed, the new [ones] expelled
Black [King] from far away and the great hold hard,
Recourse to arms. exiles further expelled.
Reassured chanting victory, not liberty.
____________________________________________________________________________________________
DISSIDENTS ARRESTED SUDDEN JOY
TO SUDDEN SADNESS

Nostradamus Quatrain X-78
Subite ioye en subite tristesse
Sera à Rome aux graces embrassées.
Dueil, cris, pleurs, larm. sang excellent liesse:
Contraires bandes surprinses & troulsées.
Nostradamus Quatrain X-78
Sudden joy to sudden sadness,
At Rome the graces embrace,
Grief, cries, tears, weeping, blood, excellent mirth:
Contrary bands surprised and trussed up.
March 18, 2023
Law enforcement agencies are prepping for a possible Trump indictment as early as next week
Multiple agencies are discussing potential security plans for in and around the Manhattan Criminal Court in case Trump is charged in connection with an alleged hush money payment to Stormy Daniels.
____________________________________________________________________________________________
Nostradamus and The Third Age of Mars, The Prophecies of World War III, G.A. Stewart, 2019, Page 505
As you can read in the Appendix from the complete Epistle to Henry, the paragraph that applies strictly deals with the history of the United States.
The Rise of the American Empire starts in Paragraph 26 and then leads into the September 11th, 2001 terrorists' attacks, The Second Thrasybulus, The Great Scandal, The Global Economic Collapse, and then World War III and The Great Plague.
I suspect that Donald J. Trump's future is tied to The Second Thrasybulus prophecy.
August 18, 2018
G.A. STEWART
Protected: THE QUIET COUP – Q AND THRASYBULUS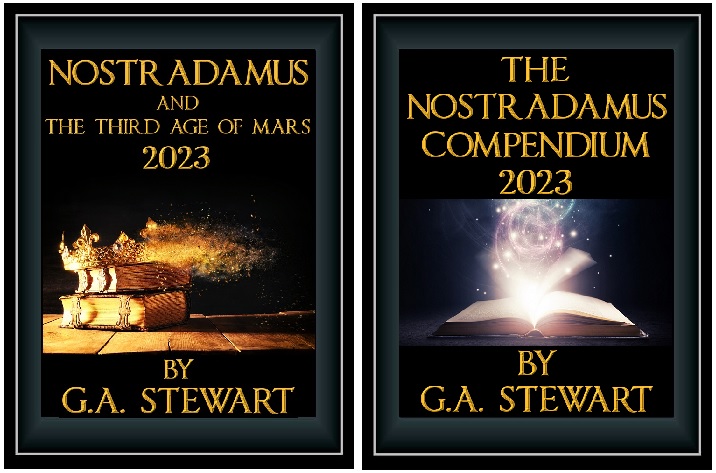 If you are going to the Alternative Media looking for tomorrow's news, good luck with that. Look but don't touch. Sandy Hook, The January 6th Capitol Riot, and Bitcoin are where they lead.
I will add that there is a terrible trap set when Donald J. Trump's arrest goes down. There is a good chance that he will be denied bail and that Martial Law will follow on its heels. Beware of the social engineers and the inciters; measure the facts.
I trust what I have written so far. As I have mentioned, my latest book Nostradamus and The Third Age of Mars 2023 is more of a history book than a book about the future. There is a great deal that I got right and now we have the really fine details, as I presented above. There is actually much more in the new book. Hopefully, I will be able to finish it before chaos ensues and we are beyond caring.
Therefore, Prudence is the operative word dear readers, know what you are getting into, and good luck.
G.A. STEWART
SUCCESSFUL INTERPRETATIONS & BENCHMARKS
RUSSIA SINKS GREAT BRITAIN
March 15, 2023
Russia will use a Poseidon underwater missile to wipe Britain off the map with a 1,000ft-high radioactive tsunami if NATO troops put boots on the ground in Ukraine, Putin's propagandists claim
May 2, 2022
G.A. STEWART
Protected: ENGLAND HALF-SUNK TO THE BOTTOM
GLOBAL ECONOMIC COLLAPSE
March 12, 2023
G.A. STEWART
Protected: EARTHQUAKES IN TURKEY AND ALL-THINGS ECONOMIC
April 10, 2020
G.A. STEWART
Protected: WHEN GOLD AND SILVER DISAPPEAR
TURKEY EARTHQUAKES
February 8, 2023
G.A. STEWART
Protected: THE LAST SIGNPOST
NATO WAR WITH RUSSIA
January 15, 2018
G.A. STEWART
Protected: THE GRIFFON PREPARES FOR WAR – 2013
January 12, 2018
G.A. STEWART
Protected: THE THIRD AGE OF MARS
January 13, 2018
G.A. STEWART
Protected: NATO HEADQUARTERS DESTROYED
January 24, 2022
G.A. STEWART
Protected: WHY RUSSIA WILL TAKE ALL OF UKRAINE
April 17, 2021
G.A. STEWART
Protected: UKRAINE – A NATO BRIDGE TOO FAR
March 27, 2021
G.A. STEWART
Protected: EASTER BUNNIES AND MADMEN
NATO WAR WITH CHINA
January 20, 2018
G.A. STEWART
Protected: WAR IN THE ORIENT
THE PLAGUE OF 2020
February 5, 2020
G.A. STEWART
Protected: THE PHYSICIAN OF THE GREAT DISEASE
January 26, 2020
G.A. STEWART
Protected: DOOM AND GLOOMIN'
THE TRUMP COUP D'ÉTAT
January 13, 2018
G.A. STEWART
Protected: PRESIDENT DONALD TRUMP CHASED OUT OF OFFICE
THE JANUARY 6th, 2021 CAPITOL RIOT
January 2, 2021
G.A. STEWART
Protected: HARD TRUTHS
THE JEFFREY EPSTEIN SCANDAL
January 14, 2018
G.A. STEWART
Protected: THE GREAT SCANDAL
THE QANON PYSOP FRAUD
May 13, 2018
G.A. STEWART
Protected: THE CULT OF Q
August 11, 2018
G.A. STEWART
Protected: WATCH THE HARDWARE
September 1, 2018
G.A. STEWART
Protected: BEWARE THE CON
January 25, 2019
G.A. STEWART
Protected: Q AND THE TRUMP SETUP
THE DISASTROUS WITHDRAWAL FROM AFGHANISTAN
August 28, 2021
G.A. STEWART
Protected: THE EAGLE RETREATS
THE COLLAPSE OF NATO AND THE GROUP OF SEVEN NATIONS
November 26, 2022
G.A. STEWART
Protected: THE COLLAPSE OF THE HOUSE OF SEVEN
____________________________________________________________________________________________
FOR SALE $10.00
THE MOST PRECISE AND COMPLETE BOOK OF NOSTRADAMUS PROPHECIES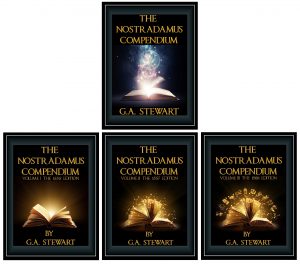 G. A. STEWART'S
NOSTRADAMUS COMPENDIUM
____________________________________________________________________________________________