FREE ENERGY – THE KEYS TO THE KINGDOM
As readers can tell from my last Post, I feel that I have run the gamut on Nostradamus Doom and Gloom commentary.
From my first reading of all of Nostradamus prophecies in 1979, including The Sixains published 50 years after his death, I realized that The 1500, 1600, and 1700 Series of prophecies, as I call them, held some form of dating code and thus linked many prophecies. This meant Nostradamus had a plan and these were not just 1,170 random poems.
Some 15 years ago, when I finally solved that dating code, I was naïve enough to believe that everybody would instantly recognize my discovery, and I would become The Hogueian Hegemon of all-things Nostradamus.
Unfortunately, the ambiguity of Nostradamus' prophecies arises from the subtlety of his metaphors. Throw in references to literature, history, and some word play, and this can generate underwhelming interest, especially with a marginally educated society.
I grew smarter studying Nostradamus' writings.
About 10 years ago, I realized the television Nostradamus Gurus like John Hogue didn't know what they were talking about.
Almost 5 years ago, when I was able to get a dozen of the oldest published copies of Nostradamus' prophecies, I realized nobody on Earth knew what they were talking about when it came to Nostradamus' writings.
My interest has not been on who Nostradamus was and what his history entailed, it has been on focusing on every letter, vowel, and word of the published Nostradamus Record.
By 2007, I had Nostradamus' basic outline formed, all I had to do was start plugging in the characters when they appeared on the news. And then came The Norway Light Spiral on December 9th, 2009 and Barack Obama's Nobel Peace Prize the following morning on December 10th, 2009. It all fell into place.
I remember seeing a picture of The Norway Light Spiral and thinking that could not possibly be real. At the same time that The Norway Light Spiral was appearing, CERN reached its first record setting particle collision. I found it too coincidental, and I wondered if somehow CERN was coupled to the ionospheric heaters surrounding the Arctic Pole through Quantum Entanglement.
EISCAT
(European Incoherent Scatter Scientific Association) operates three incoherent scatter radar systems, at 224 MHz, 931 MHz in Northern Scandinavia and one at 500 MHz on Svalbard, used to study the interaction between the Sun and the Earth as revealed by disturbances in the ionosphere and magnetosphere.

BLACK HOLES OVER NORWAY
THE BEGINNING OF FIMBULVETR AND RAGNARÖK

I believe that the coiling blue beam of light at the center of the spiral is Cherenkov Radiation, which means that high energy particles were traveling faster than the speed of light in the local medium that was created by the ionospheric heaters.
What followed after the creation of what appeared to be a black hole was the coldest winter on record. This is Nostradamus' Pestilent Wave and I recognized it immediately after I discovered that the pictures of The Norway Spiral were all real. I went home and right to prophecy VI-5 and solved the anagram Samarobryn in about 30 minutes.
THE PESTILENT WAVE

Nostradamus Quatrain VI-5
Si grand famine par vnde pestifere,
Par pluye longue le long du pole arctique:
Samarobryn cent lieux de l'hemispere,
Viuront sans loy, exempt de politique.
Nostradamus Quatrain VI-5
So great a famine by a pestilent wave,
By rain extending the length of the Arctic Pole:
Samarobryn one hundred leagues [135 miles] from the hemisphere,
Living without law exempt from politics.
SAMAROBRYN is an anagram for Obama [i]s Black King. Barack Obama was in Norway on Thursday, December 10th, 2009 to receive his Nobel Peace Prize.
OBAMA IS EASILY EXTRACTED FROM SAMAROBRYN
LEAVING OBAMA S RRYN
RULES OF ANAGRAMS – ADD OR CHANGE ANY LETTER
Y CAN BE CHANGED TO I
CHANGE R TO O AND REPLACE Y WITH I
FIRST EXTRACT
OBAMA S ROIN
REARRANGE
OBAMA S NOIR
EXTRACT ROI FROM THE SECOND ANAGRAM NOIR
OBAMA S ROI NOIR
OBAMA [I]S BLACK KING
The Norway Light Spiral that appeared in the skies on December 9th, 2009 is the "Pestilent Wave". It was a live demonstration of a NATO Directed Energy Weapon destroying a Russian submarine launched missile to validate the hubris of Barack Obama's Nobel acceptance speech justifying Might For Right. It has been the battle cry of every dictator since humans first stood upright.
Since that day, I have come up with many solutions to Nostradamus' word and dating puzzles, but coming up with the solution to the SAMAROBRYN anagram is my favorite. It changed my world and I realized humanity faces a pretty scary and tough enemy.
The solution to the dating code crept up on me over a period of 2 years. Solving the anagram Samarobryn was instant and visceral.
I felt I understood the basic physics behind The Norway Light Spiral. At the very least, I knew that it was the result of a Directed Energy Weapon. When Richard Hoagland published his findings a few days later, I found myself in agreement.
But there are spookier aspects to The Norway Light Spiral. The Active Vacuum is the sea of virtual particles that constantly reform the atoms and molecules in our bodies. Biology and every cell in our bodies depend on chemical bonds and quantum physics. When you alter The Active Vacuum of the space around our bodies, the particles in our bodies must dip from the sea of altered virtual particles.
Since Nostradamus called this a Pestilent Wave, we can presume that altering The Active Vacuum with these weapons will cause mutations to humans and crops.
The Schumann Resonances are the main frequencies within the waveguide that is formed by the Earth and the ionosphere. I believe these are the fundamental frequencies of existence either alive or dead as we share the Human Earth connection through time.
The Schumann resonances
A set of spectrum peaks in the extremely low frequency (ELF) portion of the Earth's electromagnetic field spectrum. Schumann resonances are global electromagnetic resonances, generated and excited by lightning discharges in the cavity formed by the Earth's surface and the ionosphere
The Spookier Aspects that I mentioned have to deal with the physics of the dead. What is The Afterlife Realm; what are The Afterlife Laws of Physics? The naysayers of any afterlife continually refuse to accept that immutable law of physics that energy never dies.
Energy is information; every human thought ever experienced carries information.
Like electronic noise, Robert Monroe constantly encountered a noise layer of all human thought as he began his nightly travels through the astral realms. Based on Biblical texts and the work of Edgar Cayce, I believe that humans are spiritually wed to the Earth until some Karmic Threshold is reached. What that Karmic Threshold might be I can only guess at since there are thousands of years of religious scripture to chose from.
One of my readers in Australia wrote me a while back to ask about what we could do against these Directed Energy Weapons that are being used to purposely reshape The Active Vacuum around all of us. I described the basics as I saw them in the following Post I wrote last year.
G. A. STEWART
THE NEW SCIENCE OF WEAPONS
In the year since, I have finally realized that I should have had a better answer. I started my Metaphysics Website last year. In the black menu bar at the top, you will find the basics of how I am integrating the work of Dr. Harold Aspden, Tom Bearden, and many other lesser known Alternative Energy scientists, engineers, and tinkerers.

G. A. STEWART'S METAPHYSICS
As I mentioned in my last Update, I am suspending or perhaps ending providing more Updates. It has just become a matter of time management versus ROI, Return On Investment.
With nearly 12,000 Returning Readers, it would certainly make my day if everyone purchased a book. Exposure is not the issue here. Therefore, I do not need to attract more readers if less than 200 people have bought the book. What I need to do is get the other 99% of this Website's returning readers to buy a book. Clearly, the interest is already there.
However, this takes too much effort. I am not a salesman, and I do not care to be. Stop writing Updates, and the freeloaders stop coming, and the statistics start dropping. I am not here to create a Nostradamus business model or to join the Nostradamus Circus, and I am certainly not good with haranguing 99% of the people who repeatedly come here to give it up and buy a book.
I have freely posted some important discoveries regarding Nostradamus prophecies, and hopefully they become part of the historical record.
The few hundred people who have donated over the years or bought one of my books deserve an explanation on why I will be throttling back this Website. Many people have sent me some really heartfelt and inspiring Emails. It has been a pleasure to communicate with all of you. Each of you has contributed to my view of the world.
I am also deleting my Facebook page. After I gave someone my telephone number, who does not know G. A. Stewart, I suddenly saw her appear on Facebook's suggested friends list. That means Facebook is stealing all phone data and mapping people's personal social networks.
It is getting scary out there. For those readers who care to know the exact reason for my need for time management, it comes with this year's release by the Navy of four very important patents allegedly based on UFO technology.
I find it interesting that the inventor is Salvatore Pais. Salvatore is Savior in Italian, and País in Spanish is land or country; therefore, Savior of the Country.
October 9, 2019
Scientist Behind The Navy's "UFO Patents" Has Now Filed One For A Compact Fusion Reactor
August 2, 2019
Navy's Advanced Aerospace Tech Boss Claims Key 'UFO' Patent Is Operable
June 28, 2019
Docs Show Navy Got 'UFO' Patent Granted By Warning Of Similar Chinese Tech Advances
THE INVENTIONS OF SALVATORE PAIS
The Navy Patent accessible to garage shop inventors is the creation of a superconducting material or circuit configuration. The following patent is what I am devoting my time to, and the reason is obvious from what is written in the patent.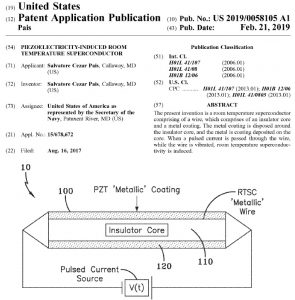 The achievement of room temperature superconductivity (RTSC) represents a highly disruptive technology, capable of a total paradigm change in Science and Technology, rather than just a paradigm shift. Hence, its military and commercial value is considerable.
Piezoelectric and Perovskite materials have some very interesting properties.
I believe they are amenable to energy production because the molecular structure is a macroscopic fractal copy of Dr. Harold Aspden's Quon Lattice. I proved this to myself last night as I was examining the molecular structure of various Perovskite materials used in piezoelectric generation.
I am getting ready to build a piezoelectric generator and I am in the process of choosing the right material for my design. I am happy to share with the world how I believe PZT-type materials work. This information has been on this Website and my Metaphysics Website for years, as I will gladly explain to those readers seriously interested in saving the world.
First, I will explain the basics of Dr. Harold Aspden's Theory through simple pictures.
DR. HAROLD ASPDEN'S BASICS

THE ASPDEN QUON IS A VIRTUAL ELECTRON.
THE QUONS FORM AN INFINITE CUBIC LATTICE THROUGHOUT THE UNIVERSE.

IDEALLY, THE NEGATIVE QUON SITS IN A CONTINUUM OF
BALANCING FRACTIONAL POSITIVE CHARGE.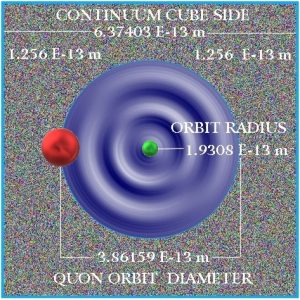 DR. HAROLD ASPDEN'S QUON IS MATHEMATICALLY EQUIVALENT TO A VIRTUAL ELECTRON.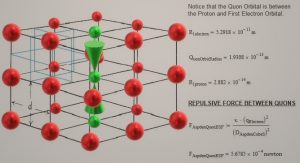 27 QUONS IN A 3X3 ARRANGEMENT EQUAL 1 PHOTON
THE CENTER THREE QUONS DETERMINE PHOTON SPIN.
THE CONTINUUM FLOWS THROUGH THE QUON LATTICE SEEKING TO BALANCE CHARGE.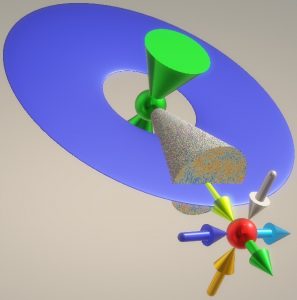 THE QUONS ORBIT GRAVITON FORMATIONS.
THE QUON ORBIT RADIUS AND THE SIZE OF THE GRAVITON CHANGE WITH ENERGY MOVEMENT.
GRAVITONS AND PARTICLES ARE TRANSIENT FORMATIONS ARISING FROM THE FLOWING CONTINUUM.
G. A. STEWART'S INPUT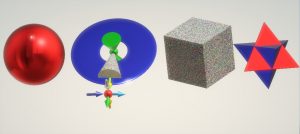 THE BASIC ASPDEN GEOMETRY IS THE NEGATIVE QUON, THE QUON'S ORBIT SIZE,
AND THE GRAVITON. MY ADDITION: I BELIEVE ASPDEN'S IMPORTANT DI-MUON
CAN BE REPRESENTED AS TWO INTERLACED TETRAHEDRON (POSSIBLE MATTER-ANTIMATER).(MESONS ARE TIME'S DNA)
THE DYNAMICS OF KEEPING THE OVERALL CHARGE NEUTRAL DETERMINES SPACE-TIME GEOMETRY
BY BALANCING A CUBIC SYSTEM OF FLOWING FRACTIONAL POSITIVE CHARGE.
READERS SHOULD NOTE THAT A CUBE IS COMPOSED OF TWO INTERLACED TETRAHEDRONS.
I PROPOSE THAT THIS INTERLACED TETRAHEDRON IS ASPDEN'S IMPORTANT DI-MUON.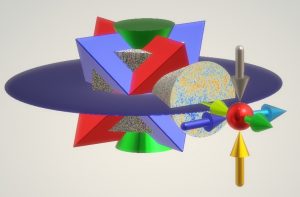 THE ASPDEN QUON COMPLEX IS CONSTANTLY CHANGING SHAPE.
BUCKMINSTER FULLER SUGGESTED THAT A PHOTON COULD BE DIVIDED
INTO SMALLER TETRAHEDRONS THROUGH TESSELATING GEOMETRIC STRUCTURES.

REMOVE FOUR SMALLER TETRAHEDRON FROM EACH OF THE INTERLACED TETRAHEDRONS,
IT FORMS AN OCTAHEDRON.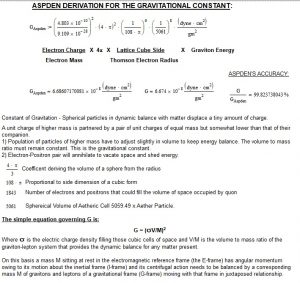 THIS IS DR. HAROLD ASPDEN'S DERIVATION FOR THE GRAVITY CONSTANT.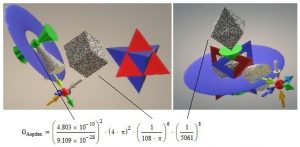 FROM HIS FORMULA, NOTE THE NUMBERS RELATED TO VARIOUS GEOMETRIC FORMS.
THE CRYSTAL STRUCTURE OF POPULAR PEROVSKITE MATERIALS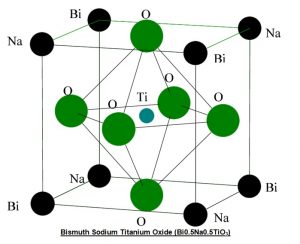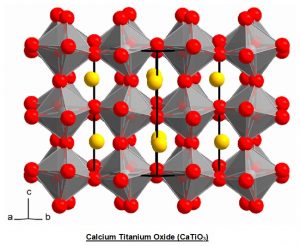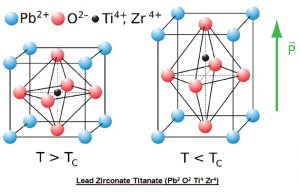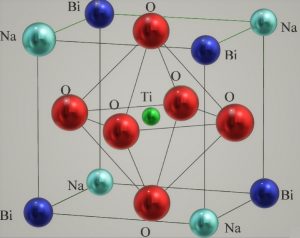 THE BISMUTH SODIUM TITANATE MODEL ALIGNS
WITH DR. HAROLD ASPDEN'S MODEL OF THE VACUUM
THE BISMUTH AND SODIUM POSITIVE CATIONS FORM
ON THE VERTICES OF THE INTERLACED TETRAHEDRON
THE NEGATIVE OXYGEN ANIONS FORM
ON THE VERTICES OF THE OCTAHEDRON
THE TITANIUM ATOM RESIDES WHERE THE GRAVITON RESTS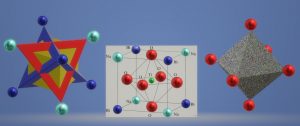 THE SECRET BEHIND PZT MATERIAL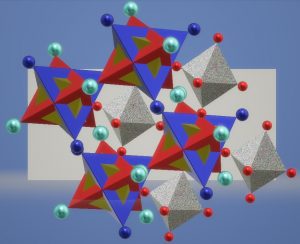 I SUSPECT THE ASPDEN GRAVITATIONAL SPACE-TIME METRIC
CAN BE MODELED AFTER A PEROVSKITE CRYSTAL
1 PROTON WOULD FIT INSIDE 1 ASPDEN LATTICE CELL

THE QUON SYSTEM IS WITHIN EACH OCTAHEDRON
NOTE THE CUBIC FACE-CENTERED ALIGNMENT OF THE OCTAHEDRON
I ALSO SUSPECT THAT EVERY 90 DEGREE ROTATION OF THE QUON
IS INVOLVED IN PARTICLE CREATION.
MESONS ARE MATTER/ANTIMATTER QUARKS (TIME'S DNA)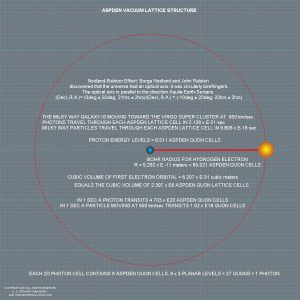 EACH CELL EQUALS A 3X3 CELL OF QUONS
THE FIRST BOHR ORBIT OF A HYDROGEN ATOM TO SCALE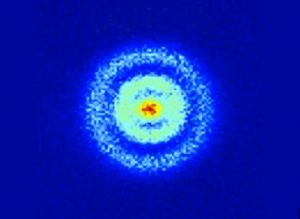 THE IMAGE OF A REAL HYDROGEN WAVEFUNCTION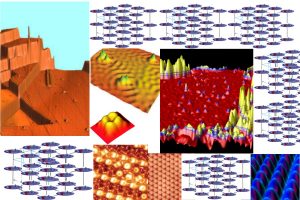 IMAGES OF ATOMIC CRYSTAL STRUCTURES AND THE ASPDEN QUON LATTICE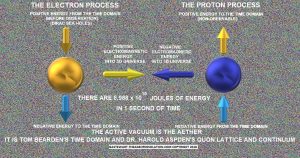 I AM INTEGRATING DR. ASPDEN'S WORK WITH THE WORK OF TOM BEARDEN
ASPDEN'S CONTINUUM OF POSITIVE FRACTIONAL CHARGE IS TOM BEARDEN'S TIME DOMAIN
DR. ASPDEN ALSO BELIEVED THAT ELECTRIC CHARGE WAS AN ASYMMETRY IN TIME
MY PATH FORWARD
The key to finding a Room Temperature Superconductor is knowing what radius Dr. Harold Aspden's Quon's must orbit. Using Dr. Aspden's equations, I applied some recognized physics and the Boltzmann Constant to derive the best orbital range for Aspden's Quons. The Quon Orbits can be changed by any energy input or output. Energy has many transformations, but at the foundation are Aspden's Quon Orbitals.
Superconduction depends on the production of Cooper Pairs, where electrons that should normally repulse one and other because of having the same electric charge, instead pair up because of the phonon dynamics within the positive metal crystal lattice that free electrons are traveling through. I suspect phonons are Buckminster Fuller's tiny tetrahedrons.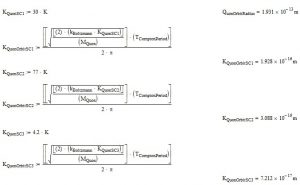 I am sure that this was way too much information for the average reader, but piezoelectrical generating systems will be the key to future free energy systems, and I coincidentally worked out the math some time ago. I thank the Navy for pointing me in the right direction. Who ever authorized the release of these patents this year is a friend to humanity.
I could delve into the esoteric and mention Edgar Cayce's description of Atlantis and Lemuria being powered by crystal generating stations. Of course, I believe that there is some validity to the New Age concept of the energy generating and the energy consuming power of various crystals.
Lasers and Light Emitting Diodes are examples of using crystals to aid in the manipulation and amplification of energy.
The Great Pyramid in Egypt was once covered with limestone… calcium. Coral Castle in Florida is built from coral… calcium. Calcium Titanate Oxide is also used in piezoelectric materials.
There is the simple example of finding physical relief in a warm bath of Epsom Salt, a crystal brought through a phase transition by the temperature of the water. It is interesting that Bismuth and Sodium can be used as chemical constituents in piezoelectric materials. Many ancient seekers believed that The Philosopher's Stone was some form of sodium product. Salt's basic cubic structure is the ideal crystal framework of The Active Vacuum.
Edgar Cayce gave readings on the use of a regenerating ray produced by certain crystals. Today, Doctor's are using Low-Level Laser Therapy and photobiomodulation to cure certain ailments.
As readers can tell, I have a great deal of research time invested in so-called Free Energy production and science. If I had 50 acres of East Texas or Florida Outback, a good shop, an electronics bench, I would also include a kiln and cryostat in my research to develop various compounds to use in crystal formation.
Crystal growing is a unique art and science. There were little crystal growing kits advertised in the back of comic books when I was a kid. I taught a friend's young son how to do it.
Manipulating the Aether, (Active Vacuum) can also be done with sound. So, certain prayers, incantations, and chants are also methods of moving energy. This leads to the infamous John Worrell Keely who allegedly bilked investors out of what today would be many millions of dollars.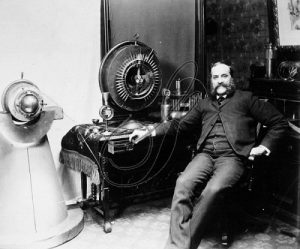 JOHN WORRELL KEELY IS A SYMBOL OF A FAMOUS FREE ENERGY CON MAN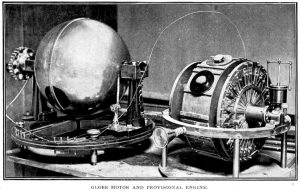 KEELY BUILT ELABORATE MACHINES
HE CLAIMED TO MOVE THE AETHER (ACTIVE VACUUM) WITH SOUND
I believe John Worrell Keely had discovered something. He produced and manipulated great energy and forces in front of many investors and witnesses, later blamed on secret high-pressure tubing found in his lab after his death. The energies Keely was dealing with would require high-pressure tubing.
I know, because everything about testing a rocket engine involves high-pressure; the hardware is big, thick, and requires lots of torque.
So, my energies and available time will be spent delving into this area of research. A device that can generate a superconducting circuit essentially takes the governor off of how much energy you can produce. A superconducting generator leads to antigravity devices and ion drives for spaceships, so it is the first step.
I have already been part of a team that has sent many ships into space, so I need to exercise those talents.
I know many readers are into the Gloom and Doom aspects of my research. Reading and rereading Nostradamus' prophecies started as a puzzle-solving problem. After I accepted their validity, the spiritual conundrum for me became a belief in prophecy requires surrendering ideas of free will. It also means time-travel of some sort is possible, and so that aspect of Nostradamus' work has always appealed to my interest in physics.
Frankly, it has become a very depressing labor to go to some of my favorite news aggregate websites to note that some news story applies to a trending Nostradamus' prophecy that I have had in the back of my mind, and then trying to put that into an Update to convince an interested readership. The subtleties in the news story related to a Nostradamus prophecy are sometimes so ephemeral, that it takes me 5,000 words just to make the connections, and there goes another weekend.
Since 2010, I have been watching a slow-motion train wreck, but other people are reporting on it too.
I can generally read the title of an article linked on the Drudge Report, Zerohedge, Steve Quayle, Steve Rense, or What Really Happened, and know who the author is, so the Doom and Gloom Market has become a great echo chamber. Many of the authors and I are on the same page regarding the future, and we will all be bunk mates in Hillary Clinton and Barack Obama's Reeducation Camps.
In the mean time, I need to turn my interests in a more positive direction. I found myself ignoring the news while I was researching the piezoelectric material I will be using in my generator. It is a healthier way to live.
My extra money is also going into this project, moving out of my apartment, and actually looking for a place where I can setup a kiln, a cyrostat, a shop, and maybe play my drums again without practice pads on the heads.
This Website has gotten quite expensive to maintain since it was hacked, and in the future, there might be a simpler marker here of my research on Nostradamus' prophecies so I can cut down on the maintenance costs.
If Trump does not make it through 2019 or 2020, the impeachment process did began in 2019, and so that would count as The Nostradamus Butterfly Effect, and that would be another correct prediction on my part.
My deadline marker for big fireworks is when the Tokyo Olympics start… buy the book, if you don't know what I am talking about.
And to those people who have bought my latest book, if we get to the Tokyo Olympics in 2020, and Trump sails through 2019 to run again in 2020, then you will know that I was absolutely wrong and full of shit. I hope this is the outcome, because it gives me more time to work on the Piezoelectric Generator.
Sadly, I have been getting it right for the last 12 years, so I am also working through my coming options. My biggest fear is a false-flag attack before the end of 2019, leading to a big market crash. That sets up events for what I see next Spring, leading to the Tokyo Summer Olympics.
I presented a few personal experiences in my last Update, because I think they are good life-lessons. When you learn to trust nobody, you learn to tread water and have a back up plan. I duked it out with my father at 18, lost and joined the Navy, and I have made my own way here. As I quoted before, there are people who are religious because they are afraid of going to hell, and there are people who are spiritual because they have already been there.
In a great many ways, I am grateful for the events in 2016 and my Near-Death-Experience. To this day, I am not sure if the lessons made me fearless or just apathetic.
Over the last years, I have had some people under my charge and in my family with very serious problems. You see the path they are following, and you know it does not end well. I prepare by trying to know what the blast radius will be when they crash. You can't help anyone if they take you out.
When they were family or close friends, I tried to plan how I was going to get the EMTs in there when it inevitably happened. For the great majority of troubled people who have passed through my life, there was no amount of good advice that you could give that they would accept and act upon to alter their path. People will yes you to death, and then you must do a balancing act between tough love and survival.
More than ever, I get that feeling today. Everybody is being yessed to death. The great example is the murder of Jeffrey Epstein. The Jeffrey Epstein suicide/murder meme proves how powerless everybody is, and how the sheep let the wolves get away with it. Not one shepherd of the sheep has the courage to stand up, so it has been turned into a Conspiracy Theory joke.
Yeah, murder, mayhem, and war are a huge joke Hillary.
Surprisingly, many people are laughing with Hillary, and that spells trouble for people who are believers in Conspiracy Theory. I am personally tired of all Conspiracy Theory, because it goes nowhere.
I will be minimizing my web presence even further, because Trump's apparent powerlessness raises some suspicions, and my rules of distrust certainly apply to him too. The intelligence services certainly have convincing evidence of Epstein's crimes, but the public will never see them, and so people will be led on a leash.
I am not contributing to this shit anymore.
I would much rather allocate my gray matter Main Frame time toward solving the mysteries of the universe rather than political pontification. Buying a book at this point will only support my scientific interests. When that big day comes, with big news, I will certainly provide my perspective on where I see events heading. In the mean time, I will be ducking into my library and my lab for awhile.