WHY ARE MARKETS COLLAPSING – THE Q BOMB HAS DROPPED
Why are markets collapsing? The Q Bomb has dropped.
I think we may be witnessing the real world version of Seven Days in May, a best-selling book and classic movie about a coup d'état in the United States. Only this coup d'état seems to be working in reverse.
Something happened at George H. W. Bush's State Funeral, and that is clearly evident in some very strange photographs and video clips.
As readers may have gathered from previous Posts, I completely accept that Q is real and that President Donald J. Trump is certainly playing a part in The Q Phenomenon. Whether that is in his best interest or not remains to be seen.
First a little bit of Self-Promotion:
On June 28th, 1559, in celebration of two royal marriages, the King of France, Henri II, engaged in a joust with the Captain of the Scottish Guard. Both lances met and splintered, and the broken lance of Count de Montgomery was deflected through the King's helmet and wounded him near his eye. After ten days of agonizing pain, King Henri II of France died on July 10th, 1559.
Nostradamus had predicted it all, and he was hated for it. As soon as the King died, the royalty and reading populace thought of Nostradamus' Quatrain I-35.

Nostradamus Quatrain I-35
Le lyon ieune le vieux surmontera
En champ bellique par singulier duelle,
Dans caige d'or les yeux luy creuera:
Deux classes vne, puis mourir, mort cruelle
Nostradamus Quatrain I-35
The young lion surmounts the old one
A champion warrior through a single duel,
Wearing a cage of gold the eye pierced:
Two fractures [from] one, then dying, cruel death
Reportedly, Count de Montgomery himself recognized the Quatrain after he accidentally killed Henri, as did the general population. Instead of becoming a star, Nostradamus was burned in effigy in the suburbs of Paris, and there were calls for the church to burn him at the stake.
Clearly, no one was paying attention to the prophecy after it had come out in print on May 4th, 1555.
To this very day, no one likes to believe that Nostradamus' prophecies are real and then one day world events unfold right on your front doorstep. I always watch this Website's statistics dramatically increase when world tensions increase.
I certainly understood what was happening in 2014, when Russia sent forces into Crimea and prepared for nuclear war with NATO. On the first day of Lent in 2014, Nostradamus' Sixain XXVIII immediately came to mind. Since it gives two years for the Ferryman of Death to arrive, I wondered then what was coming in 2019.
2019 is almost here, and world events seem to be going the way I wrote in my 2017 book, Nostradamus and the Third Age of Mars, Volume I.
Will there be a Nostradamus and the Third Age of Mars, Volume II? Before I divided the manuscript in half, it had reached 1,600 pages. I still had much more to add, but I ended Volume I with the predictions of The Second American Civil War and The Battle of Armageddon.
Nostradamus and the Third Age of Mars, Volume I filled in the discontinuities to Nostradamus and the Age of Desolation, which came out in 2013.
Two Popes, the Islamic Soft-Invasion of Europe, Barack Obama and his shadow government, they were all twists to the plot to deceive the observant. The deception is meant to blame nuclear war on President Donald J. Trump and let Barack Obama come back as the hero.
Paste the end of Nostradamus and the Age of Desolation to Nostradamus and the Third Age of Mars, Volume I and you will basically have the outline of Volume II.
As some dedicated readers understand, World War III started in 2011 with the NATO invasion of Libya. The part that Western Civilization will recognize as World War III will have three phases. Phase I will include major Western losses in the Middle East and the Persian Gulf, including The Battle of Armageddon and the conquering of Israel. It may begin in Northern Europe near Kalingrad.
How far Russia moves West after it conquers Ukraine is the big question.
China will also be militarily successful in the Far East. Then before the world completely self-destructs, The False Peace will be initiated.
Most of humanity will not make it to Phase II.
Every time I reread Nostradamus' writings, I find something new.
Nostradamus is a hand-me-down myth to most of the global population, even though it is endlessly beat to death on cable television in the United States. Most people do not have a clue how Nostradamus built a prediction into a poem or a piece of prose, hence the need for "Experts". I find it amusing that in Nostradamus' time the literate Common Person on the Street was more capable of deciphering and accepting his predictions than found today.
There are no Nostradamus riots today, and nobody is getting burned at the stake anymore. So, the warnings I Post here are amusing anecdotes until that day arrives.
I know my interpretations of Nostradamus' prophecies are very controversial as well as not politically correct. I have not seen another Nostradamus Commentator predicting the advent of a "Second Thrasybulus", I have not seen another Nostradamus Commentator predicting the advent of The Pagan Sect of New Infidels. I have not seen another Nostradamus Commentator solve the most difficult Anagrams in Nostradamus' writing. Most importantly, I have not seen another Nostradamus Commentator find a dating code in Nostradamus' writing.
All of that is up on this Website to read and accept or reject.
I have tried to explain that I have been expecting The Q Phenomenon as part of The Second Thrasybulus prophecy. The point I need to emphasize is that my interpretation of this prophecy from Nostradamus' Epistle to Henry may be incorrect. Therefore, I disclaim all liabilities if my opinions influence anyone else's opinions or actions. We are all left on our own to figure the universe out.
Also, consider that Nostradamus' prophecies have been around for almost five centuries. Popes and Kings always think that they apply to the other guy or that they can build a work-around. Like all good writers, that is why Nostradamus built in the inevitable plot twist.
The Second Thrasybulus and The Great Scandal prophecies are in The Epistle to Henry and are so important, they have been on this Website for its eleven-year lifetime. They are part of Nostradamus' timeline for a reason. I will repeat to readers that The Q Phenomenon is everything that has been on this Website for eleven years. Whether it is camouflage for the PYSOP that is in play becomes the main question: that has always been part of my warning.
At this point in history, The Q Phenomenon has become so observable that the Mainstream Media is forced to explain the movement and the relevance.
G. A. STEWART
THE QUIET COUP – Q AND THRASYBULUS
G. A. STEWART
NOSTRADAMUS' PAGAN SECT OF NEW INFIDELS
If Q fails or turns out to be a fraud, Trump will fail. The tide has turned and it is getting ugly for Q Acolytes on Social Media. I have been a Conspiracy Wingnut for over thirty-years. You get use to the jokes, especially with the quality of people I work with; so you have to have a tough skin.
The Deplorables are already being labeled Wingnuts. I scan the main Q Twitter Channels. Reading the tweets is like putting your hand on a person's wrist to feel for a pulse. Bozos abound, but there are some really intelligent people out there. However, now that The Q Phenomenon is floundering, the opposition is in a meme posting frenzy. Q must produce, it cannot just dry up now and blow away.
President Donald J. Trump is losing major supporters.
December 7, 2018
Tucker Carlson says Trump is 'not capable' and hasn't kept his promises
December 7, 2018
Napolitano: A witch hunt or investigation by a brutal book?
I am not of the view that Mueller is on a fishing expedition or is about to go home.
As you may have read on this Website, and can read below as I re-post it, Nostradamus Quatrain VII-35 names Trump by anagram and predicts that he will lose supporters. I have always suggested that if The Q Phenomenon had evidence that validates most of what is on this Website, then it was time to put up or shut up, otherwise it would slowly fall apart as it appears to be doing presently.
November 11th, 22nd, and December 5th, 2018 were all supposed to be big Q Reveal dates, yet nothing substantial appeared.
There were a number of Congressional hearings that were cancelled this last week. They were listed in my previous Post.

THIS WAS Q'S RESPONSE
I would say that this is more ethereal Q Bravado, but Q is real and every move counts good or bad for the rest of the world.
December 7, 2018
Trump promises a 'major Counter Report' to rebut Mueller's findings
December 6, 2018
"I Know Where All The Bodies Are Buried": Clinton Foundation CFO Spills Beans To Investigators
December 4, 2018
US Charges Four for Tax Dodges in Panama Papers Probe
One thing that I admire President Donald J. Trump for is his ability to say what he wants and do away with the fake pleasantries. Yesterday's tweet about infamous Conspiracy Theorist Jerome Corsi and his recent legal challenge to Special Investigator Robert Mueller is a play to the Conspiracy Crowd.
December 3, 2018
Conservative writer Corsi files criminal complaint against Mueller, alleges bid to seek false testimony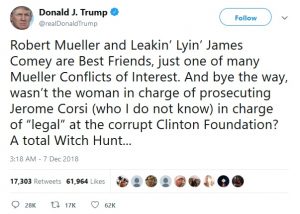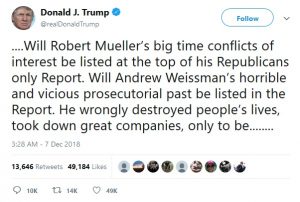 Despite the rhetoric from Trump's handlers and Media pundits, I suggest that Q is back-channeling an apology of sorts. Jerome Corsi and Alex Jones took a beating from the ANON Community as Paytriots.
I have also read that Alex Jones and Jerome Corsi are considered "Zionist Tools" by a sizable segment of the Conspiracy Crowd. I fully understand how a controlled opposition is meant to work, and I did watch live as Sean Hannity interviewed Jerome Corsi on Fox News and Corsi disavowed two of his conspiracy books.
What is the public take on that supposed to be if Jerome Corsi does not really believe in the books he writes? Is this part of the PYSOP to discredit Conspiracy Theorists in general, or does Jerome Corsi have to kowtow to one side of the State?
This is a fight between criminal factions and it is leading to nuclear war, that is just the simplest description. I do believe that some form of Gioele Magaldi's Super Masonic Lodges exist, but for the Common Person on the Street, it is just a matter of the lesser of evils.
A summary of Gioele Magaldi's book "Massoni" (Freemasons)
R. Buckminster Fuller had a theory called Tensegrity. Designing and applying the right amount of tension is the main requirement in architecture and building. Controlled tension might be the two pillars of Freemasonry.
I think that PYSOP camouflage is hiding the fact that the major global crime families are getting ready to brawl openly. I have been listing on this Website strange deaths, accidents, and events that have been going on since the 2016 Presidential Election. I still find it amazing that they can hide the true reasons behind the 2017 Las Vegas Massacre.
I have seen the photographs and YouTube videos of messages an items being passed to the main players at George H. W. Bush's funeral. I will tell you what I think we witnessed, a scene out of the movie The Godfather.
Remember, I disavow The Q PYSOP, I just make my comments and I am willing to accept people's analysis of actual recorded events that I can examine. The current Q Meme is that at George H. W. Bush's funeral members of the Bush and Clinton Crime families received some type of official document as well as exchanged information between themselves.
I would say that this is an accurate assessment.
December 6, 2018
THE FUNERAL OF GEORGE H. W. BUSH
I personally examined over four hours of video coverage to verify what I was finding on the The QANON Twitter pages. There is the link. I have captured some of the important images. I also think that there are mistakes in interpretation across the Twitter debate, so I will forward my own.
THE MESSAGE

THE TWO MEN IN BACK OF GEORGE W. BUSH APPEAR TO BE SECURITY TYPES IN OVERCOATS
THEY HAVE SPECIAL LAPEL PINS AND ARE PROBABLY THE SECRET SERVICE
All of the VIP guests had white Event Folders on their reserved seats. As the Honor Guard carried George H. W. Bush's coffin passed George and Laura Bush, Laura Bush turns down to look at her white Event Folder.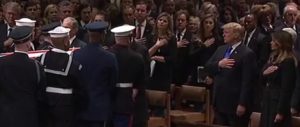 LAURA BUSH BEGINS TO READ WHAT IS IN THE FOLDER
Contrary to what is found on the Internet, these two men do not give Laura Bush the document to read. My best guess is that it was in the Event Folders waiting in the reserved chairs of certain people. The bald Security-Type man does lean over just as Laura Bush begins to read the document. My best guess is that he is just Secret Service checking on her sudden reaction.
As you will see below, behind Dick Cheney and his wife, and behind Joe Biden and his wife were at least five Secret Service agents with the same lapel pins and earphones. There are at least two other men in the aisle seats in the same row who I believe are part of President Trump's own private security detail.
None of the Security types served these individuals any kind of paperwork, but they do seem to glower at the cameras.

THE GRAVITY OF THE DOCUMENT SHE IS READING BEGINS TO SINK IN

LAURA BUSH GROWS ALARMED

LAURA BUSH'S ENTIRE DEMEANOR HAS CHANGED

LAURA BUSH IS STUNNED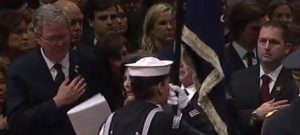 IN SHOCK, LAURA BUSH TURNS THE DOCUMENT TO JEB BUSH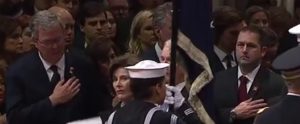 JEB BUSH IS CLEARLY ALARMED; LAURA BUSH TURNS ANGRY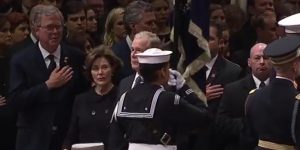 LAURA BUSH APPEARS TO CUT HER EYES AT TRUMP AS JEB BUSH LOOKS AT TRUMP IN SHOCK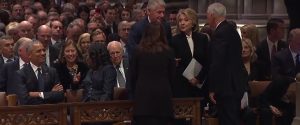 VICE PRESIDENT PENCE COMES OVER TO GREET HILLARY AND BILL CLINTON
WE SEE THE EVENT FOLDER IN HILLARY CLINTON'S LEFT HAND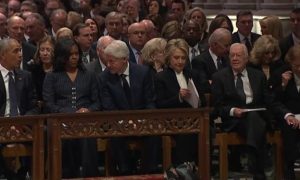 EVERYBODY BEGINS TO LOOK AT THEIR EVENT FOLDER
JOE BIDEN LOOKS OVER TO HIS WIFE AS SHE BEGINS TO READ HERS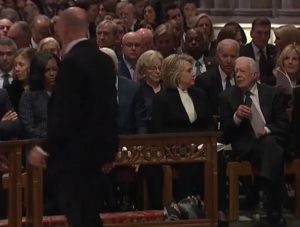 JOE BIDEN ALSO LOOKS SUDDENLY STUNNED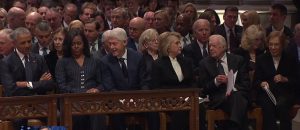 JOE BIDEN HAS THE LOOK OF A STUNNED DEER IN THE HEADLIGHTS
DO NOTE BARACK OBAMA'S SMUG LOOK IN ALL OF THESE PHOTOGRAPHS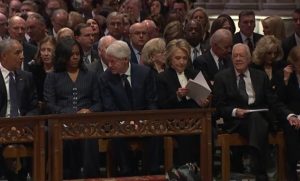 HILLARY CLINTON BEGINS TO LEAF THROUGH HER EVENT FOLDER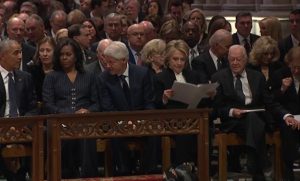 HILLARY CLINTON GETS HER DOCUMENT AS IT SLIDES OUT UNSUSPECTINGLY FROM HER FOLDER
If you watch the video, you can see her begin to leaf through the first few pages in the Event Folder and she does not yet notice that tucked in the middle is the small envelope that important guests seemed to have received.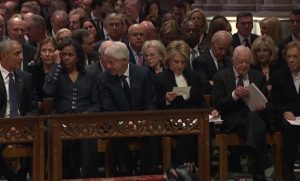 HILLARY CLINTON GETS A STERN LOOK ON HER FACE AS SHE BEGINS TO READ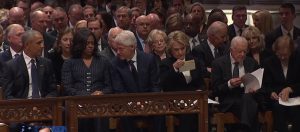 HILLARY CLINTON IS CLEARLY ANNOYED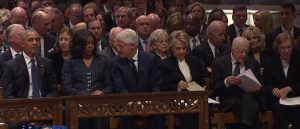 THERE IS ONLY THE SLIGHTEST SIGN OF EMOTION AS SHE MOMENTARILY CURLS HER LIP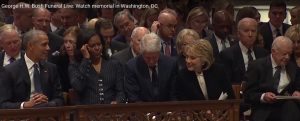 THE FOUR GENTLEMEN THREE ROWS BACK ARE PROBABLY SECRET SERVICE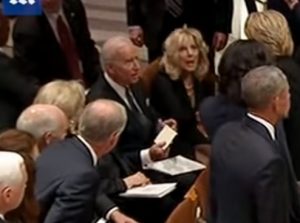 JOE BIDEN ALSO LOOKS STUNNED WITH HIS SPECIAL DOCUMENT AS
HE CONFERS WITH HILLARY CLINTON, DAN QUAYLE, AND DICK CHENEY
THE DOCUMENT IS THE SAME SHAPE AND TYPE AS HILLARY'S
THE BUSH HANDOFF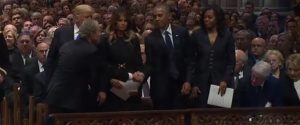 GEORGE W. BUSH SHAKES BARACK OBAMA'S HAND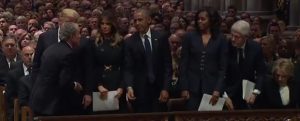 GEORGE W. BUSH PULLS HIS HAND AWAY AND PUTS SOMETHING IN IT WITH HIS OTHER HAND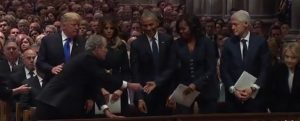 GEORGE W. BUSH GOES TO SHAKE MICHELLE OBAMA'S HAND AND DROPS SOMETHING IN IT

GEORGE W. BUSH FOLLOWS THROUGH WITH A TWISTED HANDSHAKE SO AS NOT TO DROP THE ITEM

MICHELLE OBAMA KEEPS HER HAND CURLED AROUND THE ITEM AND MOVES IT TO HER SIDE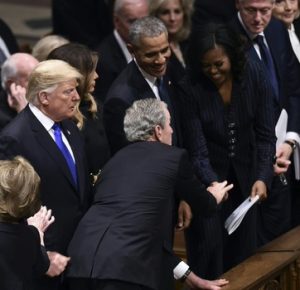 PRESIDENT DONALD J. TRUMP SEEMS TO BE LOOKING ON IN DISMAY AT THE BOLDNESS
From the beginning I have measured The Q Phenomenon in conjunction with the Neo-Conservatives that have found their way in or passing through the Trump Administration. This is why I refuse to fully trust what we are witnessing and being led to believe. The Neo-Conservatives are on their own Jihad for empire.
December 7, 2018
U.S. Flies Recon Plane Over Ukraine In Provocative "Warning" To Russia
December 7, 2018
China Prepares Retaliation To Huawei CFO Arrest
It is getting pretty hostile out there, and I do not understand the saber-rattling when you are trying to defeat an internal enemy. It might be that Russia and China smell the blood in the water and are waiting to see which side wins. There also may be questions and fears of lack of positive control of certain military elements. Readers should question every news story.
December 7, 2018
White House Chief of Staff John Kelly is 'expected' to resign as soon as TODAY after Trump completely stopped speaking to him – and Pence chief of staff will replace him
July 28, 2018
Russia slams US general, says he 'discredited' Trump
The Russian Ministry of Defense slammed US Gen. Joseph Votel Tuesday, accusing America's top military commander in the Middle East of discrediting President Donald Trump's position after Votel expressed hesitancy about working with Russia in Syria.
"With his statements, General Votel not only discredited the official position of his supreme commander-in-chief, but also exacerbated the illegality under international law and US law of the military presence of American servicemen in Syria…
G. A. STEWART
AMERICAN COUP D'ÉTAT – PART I
G. A. STEWART
AMERICAN COUP D'ÉTAT – PART II
As I have said, I have never gone to War College, but I have played a lot of Risk. Something is clearly going on behind the scenes. Ohio Governor John Kasich said on a CNN News interview that John McCain was put to death.

SEPTEMBER 5th, 2018
So, there is movement, but in which direction are events heading? I am not changing my interpretations for 2019.
THE ELECTORATE REJECTS DONALD J. TRUMP

Nostradamus Quatrain VII-35
La grande pesche viendra plaindre, plorer
D'auoir eƒleu, trompés seront en l'aage:
Guiere auec eulx ne vouldra demourer,
Deceu sera par ceulx de son langage.
Nostradamus Quatrain VII-35
The great fishery come to moan, cry,
At having elected, [Trump] or [deceived] will be in the age:
Scarcely with them not wanting to stay on,
They will be deceived by those of their own language.
Just as we read in Quatrain X-75, although "trompés" means, "deceived", it also works very nicely as "Trump". As I have mentioned, there is a superposition of meaning here, especially in regard to, "at having elected, [Trump/deceived] about the age".
"Scarcely with them not wanting to stay on" suggests that major members of Trump's administration are going to defect.
It is another Quatrain regarding trouble with the election of a new leader. Since we have an indication in line two that this involves an elected leader, we can then be certain that "la grande pesche" is "pêche" meaning "fish" or "fishery" and not "Peach".
Taken from a Christian religious perspective, "the great fishery" is the public, the masses, the electorate.
"Guiere" becomes problematic. Is it "guère", meaning scarcely or is it "guerre", meaning war or conflict? Is this another hint at the multidimensionality of certain Nostradamus words? "Demeurer" can also mean abide or support besides the usual translation of "stay on"or "remain". With those possibilities in mind, an alternative to line three could therefore read, "War they will not abide or support".
I have used various movie metaphors on this Website, the one that applies today is from The Godfather.
ANONS, you should expect and accept nothing less.