The one thing to note about my interpretation of Nostradamus' May 10th earthquake prediction that I described in the last two Updates is the slop in the date.
The sign Taurus is from April 20th to May 20th. There are 30 degrees per astrological sign, therefore at 20 degrees Taurus it is May 10th. However, the question becomes are we dealing with the Gregorian calendar conversion? In October 1582, Pope Gregory XIII did away with the Julian calendar. This happened sixteen-years after Nostradamus' death.
Nostradamus recognized this change and predicted it in Quatrain I-42, "The tenth of the Calends of April in Gothic Count".
G. A. STEWART
Protected: BLOODY APRIL 19th AND APRIL 20th
To derive April 20th and the Hitler's Birthday interpretation, it was necessary for me to make that conversion from the Julian Calendar to the Gregorian Calendar. That could also pertain to Quatrain IX-83, even with the astrological dating scheme.
The oldest version of Quatrain IX-83 is found in a 1566 edition, as well as Quatrain X-67; therefore, we can convert the past Julian May 10th, Sun twentieth of Taurus [May 10th], to the the current Gregorian date.
Julian Calendar Past Date: May 10th, 1566
Gregorian Calendar Current Date: May 20th, 2020
"Sun twentieth of Taurus [May 10th]" also has a unique signature, because the actual conversion aligns with May 20th. If, for instance, you were to convert the Julian date of May 10th, 1499, the conversion would be May 19th, 2020.
May 15, 2020
6.5 magnitude earthquake hits Nevada near Area 51; quake felt from Utah to California
May 15, 2020
Four earthquakes rattle Tennessee less than 10 hours apart, USGS reports
MAY 10TH, THE GREAT THEATER
COMPLETELY RUINED
THE MAY LOS ANGELES EARTHQUAKE
OR
NUCLEAR ATTACK

Nostradamus Quatrain IX-83
Sol vingt de Taurus si fort terre trembler,
Le grand theatre remply ruynera,
L'air, ciel & terre obscurcir & troubler,
Lors l'infidele Dieu & saints voguera.
Nostradamus Quatrain IX-83
Sun twentieth of Taurus [May 10th] a mighty earth trembling,
The great theater [Hollywood, California] completely ruined,
The air, sky, and land darkened and troubled,
Then the infidel [Islamic Jihadist] invokes God and the saints.
Nostradamus and The Third Age of Mars, The Complete Prophecies of World War III,
G. A. Stewart, 2019, Page 626
Hollywood is certainly "The great theater".
Nostradamus and The Third Age of Mars, Volume I, G. A. Stewart, 2017, Page 485
This Quatrain has always been my main indicator of when war is just beginning in the Middle East. "Then the infidel [Islamic Jihadist] invokes God and the saints" is also a great line for pointing out that Islamic saints are Islamic martyrs.
Since a new North Korean War is a good possibility, I began thinking that this Quatrain may point to warfare and not an earthquake. With Nostradamus, you just never know. Do you take "terre trembler", "land trembling from an earthquake" or as the allusion, "land trembling from explosions"?
THE MAY TREMBLING

Nostradamus Quatrain X-67
Le tremblement si fort au mois de May,
Saturne, Caper, Iupiter, Mercure au boeuf,
Venus aussi, Cancer, Mars en Nonnay,
Tombera gresle lors plus grosse qu'vn oeuf.
Nostradamus Quatrain X-67
The strong trembling in the month of May,
Saturn, Capricorn, Jupiter, Mercury in Taurus,
Venus [Islam] also, Cancer [June 22nd – July 22nd], Mars [War] in Nonnay [Nonay France],
Hail will fall larger than an egg.
____________________________________________________________________________________________
After May 20th and the Summer Solstice in June, I will breath a sigh of relief that there may be some time left on the clock. That would see the three signs I mentioned manifest throughout 2020 and appear sometime in the Spring of 2021.
May 15, 2020
84.5% Implied Inflation: America's HYPERINFLATION
May 15, 2020
Amid Gold Market Turmoil, HSBC Taps Bank Of England For GLD Bars
However, there is still a great deal to worry about. George Ure's analysis of Implied Inflation may explain the shortages appearing in the physical gold market. The insiders know what is going on and they are cashing in or better said, cashing out and bugging out.
May 14, 2020
Burr turns over phone, Feinstein questioned by FBI in possible insider trading probe
Sen. Richard Burr temporarily stepped aside as chairman of the Intelligence Committee amid the investigation.
It looks like Alex Jones might be having his come to Jesus moment with President Donald J. Trump.
May 15, 2020
Trump Mobilizes Military To Deliver COVID Vaccine As HHS/DoD Unveil Massive Contract For "Injection Devices"
May 15, 2020
New US "Vaccine Czar" Says January Is A "Credible Goal"
May 14, 2020
President Trump to Mobilize Military to Give Covid-19 Vaccine – This Is The Worst Idea Ever
WTF is the president thinking?
May 14, 2020
Alex Jones Warns Trump Against Forced COVID-19 Vaccinations
Don't turn against your base, Mr. President
Unfortunately, as I ranted in Part I and Part II of The Conspiracy Theory Clown Show, many Doom and Gloom websites were selling Donald J. Trump along with vitamins, gold, and freeze dried food.
G. A. STEWART
THE CONSPIRACY THEORY CLOWN SHOW PART I
I understand the misplaced trust. I bought into the rhetoric too, but back in 2017, I began bringing up Donald J. Trump's past and the red flags. It became a part of the 2017 and 2019 books, Nostradamus and The Third Age of Mars I and II.
May 14, 2020
Those Times Alex Jones Warned You About Bill Gates, Mark of The Beast, World Government and The Chinese Social Credit Score
The common consensus is that many people are starting to believe that COVID-19 is some form of Biological Weapon. You cannot sell a Biological Weapon without doing some serious critical thinking.
The most important consideration and question everyone needs to ask is, do you want your kids to go out and play on the Biological Battlefield without the proper knowledge or gear?
Sam Rockwell said it best in Galaxy Quest.
Personally, I am not buying any more of the strange coincidences. Event 201 was the October 2019 Pandemic Exercise conducted by the Gates Foundation, the World Economic Forum, and the Johns Hopkins Center. As I have previously written, this cannot happen in a vacuum.
It does not matter whether Donald J. Trump was aware of the Pandemic Exercise; the intelligence services certainly monitored or participated at some level, considering the interaction and participation with the Director-General of China's Center for Disease Control and Prevention, Professor George F. Gao.
Event 201
Friday, October 18, 2019
8:45 a.m. – 12:30 p.m.
The Pierre hotel
New York, NY
About the Event 201 exercise
Event 201 was a 3.5-hour pandemic tabletop exercise that simulated a series of dramatic, scenario-based facilitated discussions, confronting difficult, true-to-life dilemmas associated with response to a hypothetical, but scientifically plausible, pandemic. 15 global business, government, and public health leaders were players in the simulation exercise that highlighted unresolved real-world policy and economic issues that could be solved with sufficient political will, financial investment, and attention now and in the future.
Event 201 Players
Professor George F. Gao is the Director-General, Chinese Center for Disease Control and Prevention; a Professor in the Institute of Microbiology, Chinese Academy of Sciences; President of the Chinese Society of Biotechnology; and President of the Asian Federation of Biotechnology (AFOB).
This is The New World Order's grand play, and I am not getting the warm fuzzies from any political leader.
THE PHYSICIAN OF THE GREAT DISEASE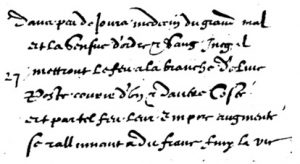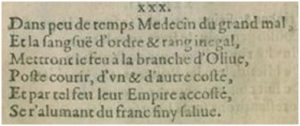 Nostradamus Sixain XXX (27)
Dans peu de temps Medecin du grand mal,
Et la ƒangƒue d'ordre rang inegal,
Mettront le feu à la branche d'Oliue,
Poƒte courir, d'vn & d'autre coƒté,
Et par tel feu leur Empire accoƒté,
Se r'alumant du franc finy ƒaliue.
Nostradamus Sixain XXX (27)
In a short time the Physician of the great disease,
And the leech of unequal order and rank,
They will set fire to the Olive branch,
Positioning driving, one side and another,
And through such fire their Empire accosted,
Reigniting the last of French saliva.
This is the top of the Nostradamus' pyramid. Through my narrative, The Physician of The Great Disease can be traced to Brussels.
Therefore, consider the three most important events in the last decade.
THE IMPORTANT YEARS OF WORLD WAR III 2011 – 2014 – 2019
a) 2011 – NATO destroys Libya – kills Muammar Gaddafi
b) 2014 – NATO supported coup d'état in Ukraine
c) 2019 – COVID-19 released (source to be determined)
THE FERRYMAN ACROSS THE RIVER STYX
The Age of Desolation, G. A. Stewart, 2010, Page 223
Nostradamus Sixain XXVIII (24)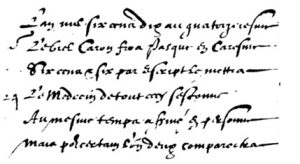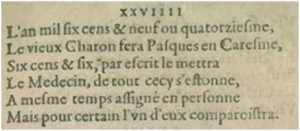 Nostradamus Sixain XXVIII (24)
L'an mil ƒix cens & neuf on quatorzieƒme,
Le vieux Charon fera Paƒques en Careƒme,
Six cens & ƒix, par eƒcrit le mettra
Le Medicin, de tout cecy s'eƒtonne,
A meƒme temps aƒƒigné en perƒonne
Mais pour certain l'vn d'eux comparoiƒtra.
Nostradamus Sixain XXVIII (24)
The year one thousand six hundred and nine [1609-2014] or fourteen [1614-2019],
The old Charon will celebrate Easter in Lent,
Six hundred and six [1606-2011], in writing he will place it
The Physician, by all this is astonished,
At the same time summoned in person
But for certain one of them will appear.
____________________________________________________________________________________________
We know from the connections to related prophecies, that The Physician of the Great Disease is European. In 2011 and 2014, NATO made some very provocative moves that nearly started a war with Russia. For 2019, Nostradamus was certainly pointing to the release of COVID-19.
May 14, 2020
Coronavirus, Vaccines and the Gates Foundation
In October, 2019 the Gates Foundation teamed up with the World Economic Forum and the Johns Hopkins Center for Health Security to enact what they called a "fictional" scenario simulation involving some of the world's leading figures in public health. It was titled Event 201.
Among the selected "players" as they were called, was George Fu Gao. Notably, Prof. Gao is director of the Chinese Center for Disease Control and Prevention since 2017. His specialization includes research on "influenza virus interspecies transmission (host jump)… He is also interested in virus ecology, especially the relationship between influenza virus and migratory birds or live poultry markets and the bat-derived virus ecology and molecular biology." Bat-derived virus ecology…

Prof. Gao was joined among others at the panel by the former Deputy Director of the CIA during the Obama term, Avril Haines. She also served as Obama's Assistant to the President and Principal Deputy National Security Advisor. Another of the players at the Gates event was Rear Admiral Stephen C. Redd, Director of the Office of Public Health Preparedness and Response at the Centers for Disease Control and Prevention (CDC). The same CDC is at the center of a huge scandal for not having adequate functioning tests available for testing cases of COVID-19 in the USA. Their preparedness was anything but laudable.

Rounding out the group was Adrian Thomas, the Vice President of scandal-ridden Johnson & Johnson, the giant medical and pharmaceutical company. Thomas is responsible for pandemic preparedness at J&J including developing vaccines for Ebola, Dengue Fever, HIV. And there was Martin Knuchel, Head of Crisis, Emergency & Business Continuity Management, for Lufthansa Group Airlines. Lufthansa has been one of the major airlines dramatically cutting flights during the COVID-19 pandemic crisis.

All this shows that Bill Gates has had a remarkable preoccupation with the possibility of a global pandemic outbreak he said could be even larger than the alleged deaths from the mysterious 1918 Spanish Flu, and has been warning for at least the past five years or more. What the Bill & Melinda Gates Foundation also has been involved in is funding development of new vaccines using bleeding-edge CRISPR gene-editing and other technologies.
I see too much collusion between China and the West. Western workers in a Chinese Lab given a 3.7 million dollar grant by the United States government. It seems mind-numbing to consider it possible.
But all the signals are there that this just is not China alone.
Steve Watson's article discovering a 2012 European Union funded comic book about a global pandemic is the give away that this is connected to Nostradamus' Pagan Sect of New Infidels and The New World Order.
May 15, 2020
Bizarre EU Funded Comic Book Predicted Pandemic, With Globalists As Saviours
Eerie 2012 document painted eurocrats as saving the planet from a killer virus and draconian lockdowns
Let me also point out the connection of that comic to the bizarre rituals at the 2012 London Summer Olympics.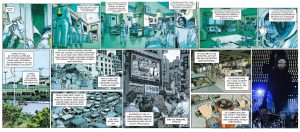 Clearly, in 2012, The Pagan Sect was signaling their intentions.

May 14, 2020
Trump to name vaccine czar; a former executive of a Big Pharma drug giant that admitted to FELONY crimes under $3 billion settlement with DOJ
Considering all the red flags in Donald J. Trump's past, Alex Jones is behind the curve and his plea, "Don't turn against your base, Mr. President", will go unheard.
There are two Quatrains that point to Donald J. Trump playing ball with the Globalists who are the Group of Seven Nations. One Quatrain has already been fulfilled.
DONALD J. TRUMP SERVES UP
59 CRUISE MISSILES AT THE BANQUET

Nostradamus Quatrain V-2
Sept coniures au banquet feront luyre,
Contre les trois le fer, hors de nauire:
L'vn les deux classes au grand fera conduire,
Quant par le mail. Denier au front luy tire.
Nostradamus Quatrain V-2
Seven conspirators at the banquet cause to flash,
Against the three the iron, out of the ship:
The one will have two fleets driven to the great [one],
When by the mail. [The] Denier to the façade draws him [in].
G. A. STEWART
Protected: DONALD J. TRUMP SERVES UP 59 CRUISE MISSILES AT THE BANQUET
G. A. STEWART
TWO FLEETS DRIVEN TO THE GREAT ONE
March 27, 2020
SITTING DUCKS Two US aircraft carriers in the Pacific are 'taken out of action' after coronavirus outbreaks on board
January 1, 2019
Chinese Admiral Wants To "Sink Two US Aircraft Carriers" Over South China Sea
March 30, 2020
Second US Aircraft Carrier Is Facing A COVID-19 Outbreak Among Crew
The importance of this Quatrain is pointing out that President Donald J. Trump and the Group of Seven Nations, the G7, and Nostradamus' "Seven conspirators" are moving in a coordinated effort "Against the three", who are China, Russia, and Iran.
____________________________________________________________________________________________
AMERICA WILL REIGN

Nostradamus Quatrain IV-50
Libra verra regner les Hesperies,
De ciel, & terre tenir la monarchie:
D'Asie forces nul ne verra peries
Que sept ne tiennent par rang la hierarchie.
Nostradamus Quatrain IV-50
Libra [the balance] will see Hesperia [America] reign,
Holding rule over heaven and earth:
The forces of Asia nobody shall see perish
When seven hold the hierarchy in order.
"Seven hold the hierarchy in order" is the Group of Seven Nations; the G7, rule the hierarchy of planet Earth.
Readers should note the use of the same seven in Quatrain V-2, the "Seven conspirators at the banquet". What both of these Quatrains tell me is that it seems China's destruction was in the plans all along.
I should add that this appears to be a coordinated effort by China and Nostradamus' Pagan Sect of New Infidels.
DEATH BY AMBUSHES
Nostradamus Epistle: Paragraph 37:2


Nostradamus Epistle: Paragraph 37:2
And all these Oriental Kings will be chased, overthrown and exterminated, but not altogether by means of the forces of the Kings of Aquilon, and close to the cycle [century], by means of three secretly united in searching for death by ambushes, one against the other;
TRANSLATION: Nostradamus Epistle: Paragraph 37:2
All of China's Middle Eastern Kings will be chased, overthrown, and exterminated, but not all together by the leaders and armies of Aquilon [NATO].
Nostradamus and The Third Age of Mars, The Complete Prophecies of World War III,
G. A. Stewart, 2019, Page 111
There could not be a more appropriate warning then this from Nostradamus about three world powers plotting to destroy each other with ambushes. From the South China Sea to the Black Sea, the world's three most powerful militaries taunt each other.
____________________________________________________________________________________________
With Steve Watson's article on the 2012 EU Pandemic Comic, there is no doubt that COVID-19 is fulfilling the 2012 Predictive Programming symbolism seen at the 2012 London Summer Olympics. This was The 311th Anniversary of The Hanoverian Succession.
I have written extensively about the 3-1-1 Number Combination used in Ritual Sacrifice dates.
The comic book generated this question, was there a specific reason that the 2012 Summer Olympics were chosen to take place in London, the same year as The Mayan Apocalypse?
G. A. STEWART
Protected: THE 2012 MAYAN APOCALYPSE – THE ESCHATON ARRIVES
THE 2012 MAYAN APOCALYPSE – THE ESCHATON ARRIVES

Nostradamus Quatrain VIII-71
Croistra le nombre si grand des astronomes,
Chassez bannis & livres censurez,
L'an mil six cens & sept par sacrées glomes,
Que nul aux sacres ne seront asseurez.
Nostradamus Quatrain VIII-71
A growing number of great astronomers
Chased out, banished their books censured:
The year sixteen hundred and seven [1607-2012] by consecrated assemblies,
Such that none will be assured from the sacred.
Essentially, to Immanentize the Eschaton is to bring about heaven on Earth even if it means slogging it down the hard road of The Apocalypse.
Nostradamus and the Age of Desolation, G. A. Stewart, 2013, Pages 459 and 786
Terence McKenna was an ethnobotantist and philosopher known for his exploration of psychoactive drugs used by indigenous cultures around the world. He came to believe that the human species was moving toward a Great Attractor in time. He called it The Eschaton; it is the point when The End Times begin.
…Terence McKenna's original date of The Eschaton, November 16th, 2012, has also come and gone. On that date Israel bombed the headquarters of Hamas in the Gaza Strip just after a visit by the Egyptian Prime Minister.
…McKenna arrived at his date through a fractal algorithm of time he developed based on the dropping of the atomic bomb on Hiroshima, Japan, which occurred on August 6th, 1945. McKenna's Novelty Theory proposes that history is shaped by periods of novelty – when our regular, mundane days are suddenly reshaped by some novel event, like the dropping of a nuclear bomb somewhere close to where you live…
Nostradamus and the Age of Desolation, G. A. Stewart, 2013, Page 449
The American Presidential election was on 11/06/2012, The Petraeus Scandal erupted on 11/09/2012, and then Terence McKenna's original date for the commencement of The Eschaton was on 11/16/2012.
____________________________________________________________________________________________
COVID-19 has been in The Plan for at least eight-years by the looks of the ritual symbolism.
A great deal happened in 2012 that is important to current events. There was no instantaneous destruction in December of 2012, and there was none in January of 2010, when I wrote that the Norway Light Spiral and Barack Obama's Nobel Peace Prize signaled that Fimbulvetr had arrived and Ragnarök was not far behind.
G. A. STEWART
JANUARY 9, 2010
Just a quick note for today and a glaring omission on my part, I forgot to mention how this all fits perfectly with Norse mythology and the myth of their Apocalypse called Ragnarök. This is the beginning of Fimbulvetr, the three years of winters that lead up to Ragnarök. I touch upon Ragnarök in Chapter Four: The Human Threat.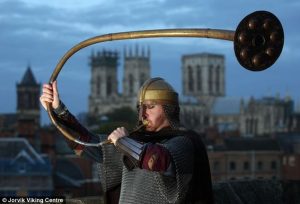 My work and conclusions were validated by the Norvik Viking Center on November 15th, 2013.
In 2013, the Norvik Viking Center determined that Ragnarök would start on February 22nd, 2014.
February 22nd, 2014 was the exact day when NATO aided in the coup d'état that overthrew the elected Ukrainian President, Viktor Yanukovych.
From Event 201 to Operation Warp Drive and President Donald J. Trump ordering the United States military's involvement with a nationwide vaccination program, it is clear that the COVID-19 vaccination will be mandatory. This has New World Order written all over it.
I see the potential for President Donald J. Trump turning into Fearless Leader. I would be very concerned about an election postponement in conjunction with a mandatory vaccine. The evolution from President to Dictator could have been Nostradamus' intention regarding my interpretation of his Presidency ending early.
I do not even believe in Flu Vaccinations. So by the end of 2020, many people will have some very important decisions to make, myself included. I suspect everybody's employment, certainly mine, will demand that we take the shot.
And the smart few of us know what that means.
____________________________________________________________________________________________
POSTSCRIPT (05-16-2020)
May 15, 2020
Jordan's King Warns "Massive Conflict" Coming If Israel Moves To Annex West Bank
With Washington's backing, Israel is planning to move forward on controversial plans to annex a broad swath of the West Bank, particularly the Jordan Valley, as early as this summer. PM Netanyahu last month issued a likely time table of "within two months".

Arab nations, especially in the gulf, have remained uncharacteristically mum about the whole thing as they focus on countering Iran (which has, it should be noted, actually brought Saudi Arabia into a quiet 'covert' intelligence sharing relationship with Israel over the past couple years).

But Jordan on Friday finally went on the offensive, with King Abdullah telling the German magazine Der Spiegel that Israeli annexation of parts of the West Bank "will lead to a massive conflict with Jordan".
Nostradamus and The Third Age of Mars, The Complete Prophecies of World War III,
G. A. Stewart, 2019, Page 378
According to Islamic Hadith and Nostradamus, the 41-Nation Sunni Alliance army will split up into thirds. A third is destroyed, a third deserts, and the remaining third join Al-Mahdi.
The Hashemite king of Jordan in Islamic Hadith will turn on his NATO allies and the 41-Nation Sunni Alliance to attack The Sufyani. That means Jordan will also turn to the side of the Russians and Iranians.
Nostradamus' New Xerxes means a resurgent Persian Empire, which is confirmed in the prophecies of Islamic Hadith, as well as those of Edgar Cayce.
Nostradamus and Sunni Hadith also predict Israel's involvement with the Arab League and the Romans. Both sets of prophecies predict the destruction and overrunning of Israel.
April 26, 2020
US to Give Israel 'Green Light' on Jordan Valley's Annexation Within Months, Netanyahu Claims
President Donald J. Trump, Making Israel Great Again. So, America, how about a dose of Armageddon with your Cornavirus?
POSTSCRIPT (05-17-2020)
I urge readers to follow every high-level death and every official word that the United States makes regarding China. I suspect some major news stories will be coming quickly over the next week. Stories that I think are important I will deposit here as a Postscript with a comment or two.
May 17, 2020
Chinese Ambassador To Israel Found Dead In Home, Sparking Avalanche Of Rumors Amid Tensions With US
May 16, 2020
US 'would lose a war with China fought in the Pacific, is unable to defend Taiwan from an invasion and there are fears the Guam military base is at risk NOW', Pentagon sources warn
May 18, 2020
Another Pandemic? Two Trailblazing COVID-19 Researchers Dead In A Month
I hope readers can appreciate the prophecy from Islamic Hadith that allowed me to predict Jordan's turn against Israel and the West.
Nostradamus and The Third Age of Mars, Volume I, G.A. Stewart, 2017, Page 95
A brutal Egyptian dictator will come to power for seven months to a year. The prophecies in Islamic Hadith call him The Sufyani. There may be two versions of this despot.
The Sufyani
Before the rise of the Sufyani, there will be a sedition in the Maghreb, which will spread in every direction that no party or group could protect itself from it.
This has already happened. It was Barack Obama and Hillary Clinton's Arab Spring. I wrote about it on this Website while it was happening, and recognized it as such at the time nearly a decade ago.
Nostradamus and The Third Age of Mars, Volume I, G.A. Stewart, 2017, Page 542
(Ash-Sharani, Mukhtasar Tazkirah al-Qurtubi, p. 440)
Disorder, strife, and fear will emerge in the Magrib (west)… Strife will proliferate.
The Maghreb is North Africa where The Arab Spring began. It did spread to Syria with the help of NATO and the West.
The Sufyani
Following these events the Sufyani will start an uprising in the dry valley of Transjordan and move to seize Damascus, he will gain much support and he will advance to capture the rest of Syria, defeating the two other competing forces. Once he captures the 5 districts of Al-Sham, he will send armies to Iraq.
Let's see how many Doom and Gloom websites in the coming days can rip that little nugget off. That one took many days of research and reading a long time ago.
Here is the way plagiarism works fellow bloggers. If you have never read anything about End Times Prophecy in Islamic Hadith, taken that material and compared it to Nostradamus' prophecies or Biblical prophecy, and then put that commentary into two books, then your motives for suddenly writing about those subjects after coming to this Website would be questionable.
Many people get the germ of an idea from another source, do some cursory Wikipedia research, and then twist the narrative enough so that they can fool themselves into believing that they are the creators.
I have a long history of researching these topics, and so you will find better detailed accounts in my latest book, Nostradamus and The Third Age of Mars, The Complete Prophecies of World War III.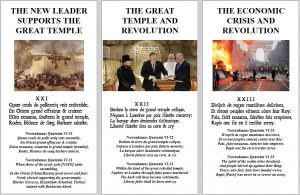 Revelation 5:5 (King James)
And one of the elders saith unto me, Weep not: behold, the Lion of the tribe of Juda, the Root of David, hath prevailed to open the book, and to loose the seven seals thereof.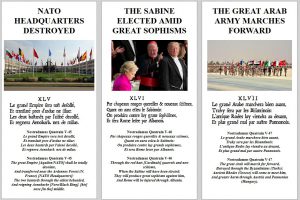 The following is an important article on where medicine and health are heading, led by Nobel Prize winner, Dr. Luc Montagnier.
May 17, 2020
How Huxley's X-Club Created Nature Magazine & Sabotaged Science For 150 Years
Amidst the storm of controversy raised by the lab-origin theory of COVID-19 extolled by such figures as Nobel prize winning virologist Luc Montagnier, bioweapons expert Francis Boyle, Sri Lankan Cardinal Malcolm Ranjith and the head of Iran's Revolutionary Guard, an elaborate project was undertaken under the nominal helm of NATURE Magazine in order to refute the claim once and for all under the report 'The proximal origin of SARS-CoV-2'…

Whether or not COVID-19 arose naturally as Nature Magazine attests or whether it arose in a laboratory as Dr. Luc Montagnier believes, what is certain is that science can be temporarily retarded, but its course of evolution cannot be held back forever.
Today, the legacy of Alexander von Humboldt, Karl Erst von Baer and Cuvier, Dana, Vernadsky and Benveniste is alive and well with Dr. Montagnier and teams of international researchers who have taken the theoretical, experimental and clinical work on water memory to a revolutionary new level with the opening up of a new school of quantum optical biophysics as I outlined in my recent paper Big Pharma Beware: Dr. Montagnier Shines New Light on COVID-19 and The Future of Medicine.

Describing the coming revolutions in biology, Montagnier said:

"The day that we admit that signals can have tangible effects, we will use them. From that moment on we will be able to treat patients with waves. Therefore it's a new domain of medicine that people fear of course. Especially the pharmaceutical industry… one day we will be able to treat cancers using frequency waves."

With Montagnier's bold call for an international scientific crash program into wave harmonics therapy to deal with COVID-19, and with the new alignment of nationalist systems amidst the multi-polar alliance led by Russia and China, there is a serious chance that the new paradigm of win-win cooperation championed by Henry C. Carey, Lincoln and other international patriots in the wake of America's Civil War, may actually be blossoming once more.
POSTSCRIPT (05-18-2020)
FURTHER PROOF OF THE BIG LIE

OCTOBER 21, 2014
____________________________________________________________________________________________