THE P.T. BARNUM OF DOOM PORN
Readers should not take this Post the wrong way. P.T. Barnum put on a great show.
Steve Quayle has a wonderful Doom and Gloom news aggregate website that I have been going to for over a decade. I believe some of the original writers like David Hodges have a real bead on world events.
July 26, 2019
The Reasons Why China Wants War with the United States
Unfortunately, most of the writers Steve Quayle links to lately are hacks riffing off the research of other people.
I will tell readers that I am having a delightful time trolling other Doom Porn websites and dropping truth bomb comments that their Webmasters never publish. But the message is delivered.
G. A. STEWART
THE PARROTING PIMPS OF DOOM
The latest was my comment for Vigilant Citizen. This author was clearly well acquainted with the material of The Q PYSOP, and the following article does not have one citation of where this person picked up the information.
July 24, 2019
Jeffrey Epstein: The True Ugly Face of the Occult Elite
My comment was that the article contained nothing original. I recognized the material from other sources, and I gave the author an F- for copying other people's work. This is how I rate Real and Fake news and commentary.
If readers want to know the source of Vigilant Citizen's article, they can start here:
#qanon
However, I do suspect that the Twitter hash-tag I picked it up from came from a 4chan ANON, and I am way too busy to go chasing after Q's bread crumbs.
Jerks like me are why I have my comments disabled.
G. A. STEWART
I have pointed to every Nostradamus' prophecy that predicted all of these events. They are happening in the exact sequence I have given. I have provided dates and names with my interpretations. The Purveyors of Doom come to this website often, looking for story ideas to feed their daily blogs. I challenge their predictive ability.

I suppose when Barack Obama returns, they will all claim that they predicted this too.
Holy smokes, once again only days later, Steve Quayle meets the challenge and links to this Barack Obama expert predicting the return of Barack Obama.
July 26, 2019
Obama Idolized, Immortalized, and Worshiped as a Savior
Here is my very unique and original version of that idea published on February 15th, 2018 and as far back as the 2016 election.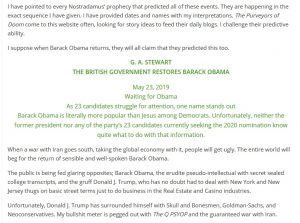 It seems that Steve Quayle may now also be onboard with Barack Obama as The Antichrist.

G. A. STEWART
OBAMA IS THE ANTICHRIST
Barack Obama will come back, probably after the death of Michelle Obama in a plane crash.
G. A. STEWART
THE SKY WEEPS FOR THE ANDROGYNE
Besides being a high-level sacrifice for Nostradamus' Pagan Sect of New Infidels, rumors that Michelle Obama is really a man will literally be put to rest. People will be hated, hunted, and doxed just for having suggested it in jest. So, remember, you also read that here first.
All Conspiracy Theory is soon going to go down hard and will be as relevant as The National Enquirer. Certain Conspiracy Theory websites will be implicated in inciting violence. They will be blamed for starting The Second American Civil War.
I continue to get increasingly disgusted with the repetition and twists that I see in the Alternative Media Market. It is hard to determine who is applying the twists. So, just like most UFO stories, I am really starting to tune most of it out. It reminds me of the Hollywood hack writers that now regurgitate old movie plots and call them their own.
There are real gems of information out there. And I did find the following link to a story about a submarine battle between the Russian Navy and the United States Navy on Steve Quayle's website.
July 2, 2019
REPORT: AMERICAN SUBMARINE TORPEDOED AND SUNK OFF ALASKA COAST
Digging deeper, this news story was also found on Israel's Debka.com, which sounds suspiciously like the Hal Turner item. So, who is riffing off of who remains the dilemma in tracking down sources on the Internet.
July 2, 2019
Urgent consultations in Washington, Moscow on reported US-Russian submarines in firefight
These stories came in conjunction with the Russian Losharik Submarine Disaster.
July 3, 2019
The mystery of the ultra-secret Russian "Losharik" submarine disaster
July 2, 2019
RED ALERT Vladimir Putin calls urgent meeting with defence chiefs after 14 Russian sailors die in submarine fire
July 2, 2019
Pence Recalled To White House As Putin Pulls Out Of Scheduled Event; Officials Say "No Cause For Alarm"
These urgent political matters indicate that there was clearly something more to this event.
Hal Turner's source puts the submarine battle off the coast of Alaska, but that was not the location of the Losharik Submarine Disaster.
July 2, 2019
14 sailors killed in fire aboard Russian navy deep-sea submersible
Some Russian media said the vessel was an AS-12 nuclear-powered sub, however, there has been no official confirmation, BBC News reported. The vessel is now at Severomorsk, the main base of the Russian Northern Fleet.
Right after the Losharik Submarine Disaster, Norway detected no radiation leakage from the submarine's nuclear reactor.
July 2, 2019
Norway says not detecting high radiation after Russia submarine fire
However, a week later, Norway reported a radiation increase nearly six-orders of magnitude higher coming from a sunken Soviet era submarine, the Komsomolets.
The Losharik Submarine Disaster and The Komsomolets Submarine Disaster 30 Years Ago occurred in the same waters.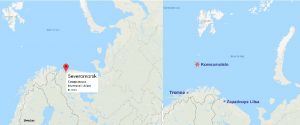 July 11, 2019
Norway Surveys Sunken Soviet Submarine
July 11, 2019
Russian nuclear submarine: Norway finds big radiation leak
It just seems remarkably coincidental to me that we would have a sudden million-fold increase in the radiation level of a 30-year-old submarine wreck. Therefore, were the Hal Turner or the Debka.com websites fed the wrong location on purpose? Intelligence information always contains markers to locate the source of a leak. The wrong location would be such a marker.
This story has been on my mind for the last few weeks as I watched the Jeffrey Epstein story unfold. The Great Scandal was also my temporal marker for when an economic war or real war would start with China.
Steve Quayle often comments on how Dumitru Duduman's Prophecies are following world events; and he is absolutely right.
My friends were recommending that I read Dumitru Duduman's Prophecies back in the 1990s. Regrettably, I only read through all of them a few years ago. I was shocked how they followed my interpretations of Nostradamus' prophecies. I believe Nostradamus' Great Pirate Army will be the Chinese army delivered to the shores of the United States by the idle freighters in Singapore's harbor.
Dumitru Duduman's Prophecies, Dreams & Visions
China and Russia Strike
The Russian president began to speak to the Chinese one. "I will give you the land with all the people, but you must free Taiwan of the Americans. Do not fear, we will attack them from behind".

A voice said to me, "Watch where the Russians penetrate America". Then I saw these words being written: Alaska, Minnesota, Florida.

Then the man spoke again", When America goes to war with China, the Russians will strike without warning".
The scary part of my Nostradamus' interpretations and Dumitru Duduman's Prophecies were a series of dreams I repeatedly had as a kid. Generally, they came around the start of every school year. In some form or another, I was watching the Chinese army marching down the Interstate highway near my home. I usually found myself on the run and trying to hide from them.
From Nostradamus and the Third Age of Mars, The Prophecies of World War III:

Nostradamus Quatrain VIII-17
Les bien aiƒez subit seront desmis,
Par les trois freres le monde mis en trouble,
Cité marine saisiront ennemis,
Faim, feu, sang, psƒte, & de tous maux le double.
Nostradamus Quatrain VIII-17
The affluent suddenly cast down,
By three brothers the world miserable and troubled,
Marine city seized by enemies,
Famine, fire, blood, pestilence, and all evils doubled.
"The affluent suddenly cast down" brings us back to Quatrain VIII-14 and the hint that "the great credit of gold and abundance of silver" may refer to The Global Economic Collapse.
"Les trois freres" I suspect is Nostradamus' reference to the three superpowers. Obviously, if they go to war they can bring "misery and trouble to the world".
The attack on a "marine city" seems to be the false-flag event that leads to war.
As I described in Chapter Seven, "the marine city" may be connected to the terrorist incident at a port city that brings Henri Selin to the public's attention.
However, I am more inclined to believe that "Cité marine" may be the marine bases that China has built on made-made islands in the South China Sea, which the United States military has threatened to destroy.
There is much more to this prophecy.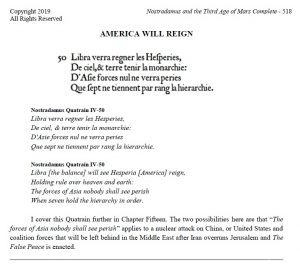 July 26, 2019
U.S. Warship Sails Through Taiwan Strait for Tenth Time This Year
July 24, 2019
U.S. warship sails through Taiwan Strait, stirs tensions with China
On Wednesday, China warned that it is ready for war if there was any move toward Taiwan's independence, accusing the United States of undermining global stability and denouncing its arms sales to the self-ruled island.
China's claim to the Western Pacific will have to be met sooner then later, and everybody knows the consequences.
I am beginning to think that Trump's lethargy in implementing his agenda is simply a delaying tactic before people realize the inevitable. The Russia-Gate Mueller Investigation, The Q PYSOP, The Jeffrey Epstein Scandal, and The Wall are just political theater to fill the news cycle as people scroll aimlessly across the Internet looking for drama, oblivious to what is going on in the Persian Gulf and the South China Sea.
March 12, 2019
Chilling World War III 'wargames' show US forces crushed by Russia and China
I began to publish the sequence of events and the main players in 2010. I have provided Names and Dates, so my turf is pretty well-marked no matter who tries to tag their name to it.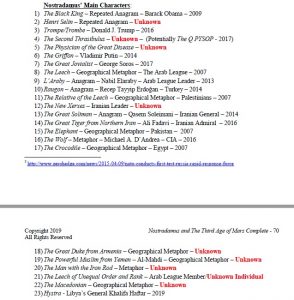 G. A. STEWART 2019
THE DATED PROPHECIES
The Alternative News Media is now under a laser targeting device. Alex Jones and Infowars have been neutered. He was the biggest and strongest, so you ain't seen nothing yet. I have read about the destructive breakup that Alex Jones has had with longtime coworkers and their criticism. Donald J. Trump and Roger Stone invited Alex Jones to play in The Big League, and that means walking the razors edge with your personal integrity.
I see this as more of a political tactic than the actual inclusion of The Alternative News Media.
If Trump and The Q PYSOP have the goods on Jeffrey Epstein, Bill and Hillary Clinton, and the Satanist cabal, why doesn't he just deliver the death blow? Why does he continue to string along his believers as it looks like a war with China and Russia is on the immediate horizon?
I think I got it right. Some how Trump is going to get kicked out of office because of a massive military failure and the economic crisis that follows.
July 26, 2019
Pelosi: I'm not slow-walking impeachment inquiry. Nadler: It's 'in effect' anyway
Here is a late add to to this article, but the following link is a well written original piece on detailing Donald J. Trump's connections to Roy Cohn and the network that leads to Jeffrey Epstein. It is not a retread of a Q Meme. It is solid information that I have discovered for myself, and a good portion of it is in my book, Nostradamus and the Third Age of Mars, The Prophecies of World War III.
July 25, 2019
Government by Blackmail: Jeffrey Epstein, Trump's Mentor and the Dark Secrets of the Reagan Era
It was during the latter that Cohn would meet another of his proteges, Roger Stone, whom he infamously instructed to leave a hefty bribe tucked in a suitcase at the doorstep of the Liberal Party's headquarters during the 1980 campaign. During this campaign, Cohn would also meet Paul Manafort — an associate of Stone and later Trump's 2016 campaign manager — and introduce both to Donald Trump.
Israel will have to pay the piper for its past sins. This is where Alex Jones and Steve Quayle have it dangerously wrong. Nostradamus makes it perfectly clear, Israel and the West will fall.
Barack Obama is coming back with The Jihad Squad and a few million new Social Media Communists that can digitally mobilize in minutes.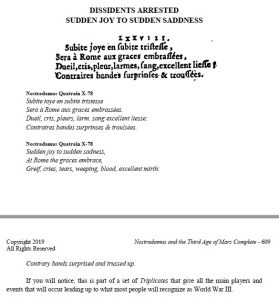 I am betting that my interpretations of Nostradamus' prophecies are going to be right. And that is what I try to sell here. Unfortunately, the vultures come here to pick so they can feed their insatiable daily blogs and hustle donations or sell widgets.
This is why I will be dedicating more of my free time to my Metaphysical Website and some upcoming musical gigs that I will be playing.
I do not apply a Business Model here. I am sort of Take It or Leave It; and I am certainly not the arbiter of Real News and Original Opinion, but I will claim certain turf.