MURDER AND STACKING OF THE SUPREME COURT
Q asks readers to follow the trail around the death of Antonin Scalia. As some readers may know, I examined this in 2016 to see where it fit into my interpretation of Nostradamus' Quatrain I-81.


Nostradamus Quatrain I-81
D'humain troupeau neuf ƒeront mis à part,
De iugement & conƒeil ƒeparez:
Leur ƒort ƒera diuiƒé en depart,
Kappa, Thita, Lambda mors bannis eƒgarez.
Nostradamus Quatrain I-81
Of the human flock nine set apart,
Of judgment and counsel separate:
Their fate determined on departure,
Kappa [K], Theta [Th], Lambda [L], dead, banished, astray.
Associate Justice Anthony Kennedy may retire; Elaina Kagen also fits the K, and Clarence Thomas qualifies for the Th.
Since Loretta Lynch is a powerful Democratic insider, she is my choice for "L". The prediction calls for the death of either Justice Kennedy or Kagan and the dismissal of Justice Thomas. I suspect somehow former Attorney General Loretta Lynch will be complicit, led "astray", with the conspirators who destroy the Supreme Court.
THE COINCIDENTAL MURDER OF A SUPREME COURT JUSTICE
The following February 9th, 2016 Emails between Democratic lobbyist Steve Elmendorf and Hillary Clinton's Campaign Manager, John Podesta use the term "wet works" and this is a very old reference to assassination. It graphically alludes to how assassins are generally showered in their victim's blood.
Steve Elmendorf has been a Democratic insider for nearly 30 years and he is openly gay. Once again, we see a connection to some very powerful homosexual men running the American government.
Justice Antonin Scalia was murdered on February 13th, 2016.
THE WIKILEAKS EMAIL CONVERSATION BETWEEN JOHN PODESTA AND STEVE ELMENDORF
February 09, 2016 16:36
Didn't think wet works meant pool parties at the Vineyard.
February 09, 2016 20:56
I am all in.

Sounds like it will be a bad nite, we all need to buckle up and double down

February 16, 2016
Michael Savage: 'Was Scalia murdered?'
February 20, 2016
Justice Scalia's unexamined death points to a problem
THE HSBC CONNECTIONS
DECEMBER 2012 HSBC PROSECUTED BY LORETTA LYNCH
JANUARY 2013 HSBC HIRES JAMES COMEY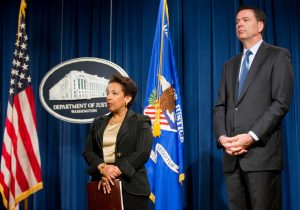 December 11, 2012
HSBC to pay $1.9 billion U.S. fine in money-laundering case
Compliance was "woefully inadequate," Loretta Lynch, the U.S. Attorney in Brooklyn
January 30, 2013
Former US Deputy Attorney General joins HSBC Board
James Brien Comey, Jr. (52), former United States Deputy Attorney General, has been appointed a Director of HSBC Holdings plc with effect from 4 March 2013.
SEPTEMBER 4, 2013 JAMES COMEY BECOMES DIRECTOR OF THE FBI
September 4, 2013
James Comey becomes the Director of the FBI
February 10, 2015
"Clinton foundation received up to $81m from clients of controversial HSBC bank"
February 10, 2015
Loretta Lynch fumbled on HSBC years ago. Now she can prove no bank is too big to jail
APRIL 27, 2015 LORETTA LYNCH BECOMES THE ATTORNEY GENERAL
April 27, 2015
Loretta Lynch was sworn in as Attorney General April 27, 2015
JUNE 27, 2016: THE BILL CLINTON LORETTA LYNCH MEETING
June 30, 2016
Meeting Between Bill Clinton and Loretta Lynch Provokes Political Furor
JULY 5, 2016: FBI DIRECTOR JAMES COMEY DISMISSES THE CLINTON INVESTIGATION
July 5, 2016
F.B.I. Director James Comey Recommends No Charges for Hillary Clinton on Email
July 12, 2016
"FBI agents believe there was an inside deal put in place after the Loretta Lynch/Bill Clinton tarmac meeting"
October 28, 2016
Congress to AG Lynch: 'Outrageous' You Would 'Essentially Plead the Fifth,' Refuse Answers on Iran Ransom Payment
October 28, 2016
October surprise: FBI reviewing new emails in Clinton server case
October 29, 2016
Comey's decision to make public new evidence that may raise additional legal questions about Clinton was contrary to the views of the Attorney General
November 6, 2016
Nato put 300,000 troops on 'HIGH ALERT' amid fears of all out confrontation with Russia
November 7, 2016
FBI has found no criminal wrongdoing in new Clinton emails, says Comey
This leads us right up to the election. So, the question begs, did James Comey close the investigation down because of the NATO Alert the day before? Was Comey assured by Nostradamus' Pagan Sect of New Infidels that they had more muscle and that there was nothing anybody could do about it?
With the January 31st, 2018 attack on the Republican Congressional train, followed by the death of the Manager of the Standard Hotel, it looks like The Pagan Sect has gone to the mattresses.