FOR SALE $10.00
THE MOST PRECISE AND COMPLETE BOOK OF NOSTRADAMUS PROPHECIES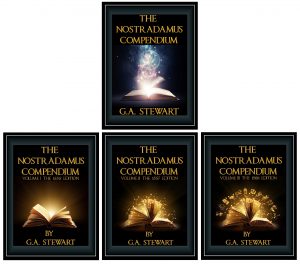 G. A. STEWART'S
NOSTRADAMUS COMPENDIUM
____________________________________________________________________________________________
Regular Readers will notice that I have made some changes to this Website.
After the recent server maintenance at my Mac Daddy Web Hosting company, and the ensuing problems that followed for this Website, I have fixed all but one and I have finally turned this last problem over to the technicians there. These seem to be regarding passwords and redirects.
All readers who are having similar issues, please contact me.
Having done the business math, I am putting this site on minimal life support. The one misconception that many readers have is that the $10.00 that they spend on a book is for Website maintenance and expenses, when actually it is the $10.00 that I earned for spending three or four years writing a book. I have been very generous footing the bill for the Website maintenance and expenses.
I thank those recent readers who have just become Regular Reader Supporters. I have had some Book Sales, but I have already seen a 30% drop in readership after announcing a password policy. Sadly, 97.4% of Regular Readers do not even want to spend the $10.00. I have reconciled myself to the fact that I will be writing for a few hundred people instead of over 20,000, and that is going to be much easier, because anyway you cut it, the pay is the same, but I do not have to work for the sale.
People can go to every Alternative Media Website and look for The Sales Pitch at the bottom of the page as every site begs for donations under the rubric of the loss of Free Speech and Tech Company Censorship. What does that mean, if you buy their product or donate, the Web Host of that site is going to give your money away to some Loss of Freedom Fund?
Bullshit… The money is going into their bank accounts just like it does here. Only for me, it comes right back out to pay for my Web Hosting fees and sometimes the technical support.
Are these bullshit website Freedom Fighters out there on the front line? They pretend they are, but again I say, Bullshit.
If Donald J. Trump and the COVID-19 Pandemic did not do anything else, at least all the bullshitters have been exposed.
Nostradamus Commentary has had nearly five-centuries of bullshitters. I call it The Nostradamus Circus and The Nostradamus Big Top.
I had a chance to join the circus but I turned it down. That is because I do not want to be another ass-clown on cable television. I also saw the Woke Movement coming, and readers will find what I wrote in my 2017 Contact Page appropriate.
Recently, I was doxed and received a very strange phone call with the individual wanting to setup a personal meeting. I knew where the call was going and what was up. For potential troublemakers, fucking with me comes with its own set of problems, and that includes digging up personal information like my phone number. Those would be federal problems if the troublemakers are lucky enough to make it that far after knocking on my front door.
When I mentioned this, the caller immediately hung up.
I am quite sure that my view of Nostradamus' prophecies does not pass The Woke Test. After spending a great deal of money, time, and energy maintaining this Website for over fifteen-years, I have finally come to some realistic conclusions. This is not worth it. This is a business and I am not here to provide readers with Free Entertainment and at the same time get strange, threatening phone calls.
That is combat pay where I come from, and that is certainly not rolling into my PayPal Account at the moment.
My recent post B-52's Over Budapest is my primary example of what I originally wanted for this Website.
Not one website or news organization has covered this monumental and very scary news story.
April 9, 2022
G. A. STEWART
Protected: B-52's OVER BUDAPEST
I have taken incoming information from a source like ADS-B Exchange, which I monitor, and then I have immediately assembled that and provided readers with quotes from my books and with my updated analysis. That post took me less than an hour to write. Regular Reader Supporters have the books, and they can turn to those pages and see what other Nostradamus' prophecies are connected.
There are seven prophecies that I use in that Update, each puzzle piece comes with edges to it that connect to other prophecies and other puzzle pieces. That is far too much information for a post, and this where Regular Reader Supporters can turn to the books and make their own connections without me writing a 3,000 word post.
I will still be providing Regular Reader Supporters with Updates, but they will be short and sweet, because I can point to the information in my books. Regular Reader Supporters can also use the search function on the top menu to look for specific prophecies that I have written about over the years.
I try to be meticulous here, and that required a lot of work to convince New Readers.
To be sure, it has been the loyalty of a small group of people that has kept me at it all these years, hoping that a few hundred would grow into a few thousand out of the thousands.
Therefore, I am making this site more efficient for me to operate while at the same time easier for Regular Reader Supporters to use. Regular Reader Supporters will note that I have added carousel marquees for the different categories that I have created for my Updates.
My attempts to sell New Readers on Nostradamus often require complex and wordy posts to setup a breaking news story. For me, these are the time killers. However, to attract New Readers, the Website will be set on automatic. I will devote one of the carousel marquees as a series of easy to read posts explaining my spin on Nostradamus and introducing New Readers to the basics of my view.
I understand that these changes mean losing thousands of Regular Readers, but the clock is ticking; website commentary is really not that important anymore.
I think all of our Business Models and money making plans are going to be shaken up very soon. Maybe we should all get busy living, because we know what the alternative is…
Good luck and God Bless to all. Please notify me of any technical problems.
____________________________________________________________________________________________
POSTSCRIPT 04-15-2022
My web hosting company has informed me that the Password Problems have been resolved. I encourage a few hundred readers to "ring out the system". If any Regular Reader Supporter has Password Problems, please forward those to me. Thank you.
____________________________________________________________________________________________