FOR SALE $10.00
THE MOST PRECISE AND COMPLETE BOOK OF NOSTRADAMUS PROPHECIES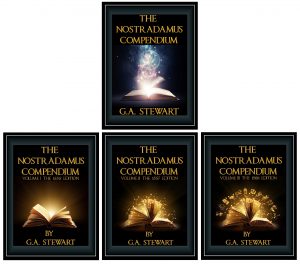 G. A. STEWART'S
NOSTRADAMUS COMPENDIUM
____________________________________________________________________________________________
PASSWORD CHANGE
As I mentioned in my post Au Revoir. It is not fair for me that people who bought a book three-years ago still have access to this Website. I have changed the password on the last two posts after Au Revoir.
The passwords for the older posts will change in the due course of time.
For all the people who have purchased a book from April 8th, 2021 until the Present, please contact me for the New Password.
I have to pay the bills here somehow.
Many thanks for your patience.
____________________________________________________________________________________________