HERE NOW – NOSTRADAMUS AND THE THIRD AGE OF MARS
I have completed Nostradamus and the Third Age of Mars, The Prophecies of World War III. The top news stories below are facets of events predicted by Nostradamus that I have published in one form or another on this Website.
May 14, 2019
China Calls For "People's War" Against The US, Vows To "Fight For A New World"
May 14, 2019
Trump: We Will Make A Deal With China "When The Time Is Right"
May 14, 2019
Leaked Pentagon Plan Calls For 120,000 Troops To Counter Iran
May 14, 2019
Trump Slams "Fake News" NY Times 120K Troops To Iran Report
"Now would I do that? Absolutely. But I have not planned for that. If we did that, we'd send a hell of a lot more troops than that."
May 14, 2019
US Accuses Iran Of Attack On Saudi Tankers
May 14, 2019
Turkey Flexes In "Largest Ever" East-Med Naval Drills Amid Cypriot Oil & Gas Grab
A common criticism about my approach to Nostradamus' prophecies is the complexity of the puzzle. It truly is hard to convince people that Conspiracy Theory is real, and the most popular Conspiracy Theories apply when I make my interpretations of Nostradamus' prophecies. Therefore, it becomes necessary to supply facts and citations for the incredulous and for the critics.
People have suggested that I write a Nostradamus For Dummies. Some years back, I jokingly created a parody page with such a book cover.
I did, however, create an easy to read section in this book with no commentary, in conjunction with a comprehensive Appendix that allows readers to easily see Nostradamus' consistency of themes and characters. I also provide readers with the original and oldest published version of each Nostradamus prophecy.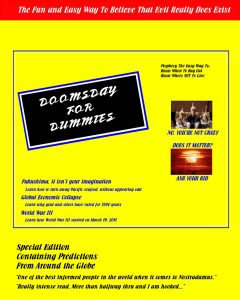 Doom and Gloom, it is a hustler's market. It has been since the first books on The Apocalypse started being written in the 6th century. It really took off after they started exploding nuclear bombs.
At the bottom of the Main Page are the four books I have written covering my view of Nostradamus' prophecies and various eschatological literature that covers the major religious beliefs of humanity. I find a remarkable commonality in the symbolism.
Metaphors and allusions are something many people have trouble with; so many people cannot accept prophecy beyond the boundaries of the literal.
This is a comprehensive book on Nostradamus' prophecies. All of Nostradamus' major prophetic writings in The Quatrains, The Presages, and The Sixains fall under three historical periods.
Antichrist I – Napoleon Bonaparte
Antichrist II – Adolf Hitler
Antichrist III – The Black King
I have gathered a dozen of the oldest published editions of Nostradamus' work and examined them in conjunction with the work of major published Nostradamus Commentators.
I certainly have a unique view.
There is enough material on this Website as an example. You will find that Nostradamus and the Third Age of Mars, The Prophecies of World War III is almost the same book I began selling to the public in 2010.
What I got wrong is, little did we all know, the West's own politicians would lead the Islamic invasion of Europe.
I hope readers will appreciate the work effort that went into this book. It is over 1,500 pages and it includes hundreds of Nostradamus' prophecies in conjunction with renowned prophets throughout the ages.