QUATRAIN I-40 UNFOLDING – HYSTRA APPEARS
Clearly, from the latest news, Nostradamus Quatrain I-40 is unfolding. I have also solved another Nostradamus anagram.
As I have mentioned before, only when the players come onto the world stage is it possible to interpret a Nostradamus' anagram, Quatrain, Presage, or Sixain.

Nostradamus Quatrain I-40
La trombe faulse dissimulant folie
Fera Bisance vn changement de loys:
Hystra d'Egypte qui veult que l'on deflie
Edict changeant monnoyes & aloys.
Nostradamus Quatrain I-40
The False Whirlwind [Trump] concealing madness
Makes Byzantium (Turkey) change its laws:
Hystra of Egypt one who wants to protest
[The] Edict changing money and alloys.
April 13, 2019
Saudi Arabia Bankrolling Haftar's Bid To Seize All Of Libya
Haftar would not be a player today without the foreign support he has received," a Libyan affairs expert told The Wall Street Journal in a new lengthy profile of the Benghazi-based General Khalifa Haftar, whose Libyan National Army (LNA) is advancing this week on Tripoli.
General Khalifa Haftar does fit with the anagram HYSTRA.
Hystra – Haftar
Last syllable easily swapped. Must resolve first syllable HYS to HAF
Hystra – Haf-tra
Do note in the ten different printings of Quatrain I-40 and the seven of Quatrain I-42 below that s always appears as an f throughout the various decades of different printing types.
Change Y to A:
Hystra – Has-tra
The S to F Printing Style Change:
Hystra – Haf-tra
Hystra – Haf-tar
HYSTRA IS GENERAL KHALIFA HAFTAR

April 13, 2019
Egypt Withdraws From Trump's "Arab NATO" Group
April 3, 2019
Pence Issues Turkey Ultimatum: "Choose Between Remaining NATO Member Or Buying Russian S-400"
April 12, 2019
Taibbi: Why The Assange Arrest Should Scare All Reporters
Presidential candidate Donald J. Trump sang Wikileaks and Julian Assange's praise over a hundred times on the campaign trail. We will have to see how it goes for Julian Assange, but it does not look good.
Sadly, President Donald J. Trump's performance has been a little worrisome and I am starting to rethink the following Trump Quatrains. They have a similar tone.
This quote from Quatrain I-40:
"The False Whirlwind [Trump] concealing madness"
"La trombe faulse dissimulant folie"
and the quotes from Quatrain X-76:
"His adherents prepare at the sound of deceit [Trump]"
"Des adherans feront à son de trompe"
and then Quatrain VII-35:
"The great fishery come to moan, cry, At having elected, [Trump] or [deceived] will be in the age"
"La grande pesche viendra plaindre, plorer, D'auoir eƒleu, trompés seront en l'aage".
Readers can go back to my recent Post The False Trumpet to see how George Ure and I collaborated on this new interpretation for Quatrain I-40.
Keep in mind, translation and interpretation are two separate subjects when delving into Nostradamus' writings.
As I have written Trompés can mean deceit and Trompe can mean horn, so we do have a seeming confluence of intent with La Trombe in Quatrain I-40, and Trompés in other Quatrains.
Here is how Quatrain I-40 has appeared through the earliest Nostradamus editions.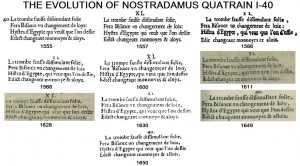 I find it interesting that in 1600 and 1628 La trombe was printed as La trompe.
Do note the printing style of S and F, which we can apply to the HYSTRA anagram.
Most appropriately, I will show Quatrain I-42, since we are coming up on the two days I call Bloody April 19th and April 20th. What is also worrisome this year is that April 19th will be on Good Friday.
If there is anything Satanists despise more it is Jesus Christ.
BLOODY APRIL 19th AND APRIL 20th
THE EVOLUTION OF AN ERROR


1555 EDITION

1557 EDITION ENDS AT CENTURY VII, 42 QUATRAINS

1557 EDITION ENDS AT CENTURY VII, 40 QUATRAINS

1566 EDITION

1611 EDITION

1627 EDITION

1630 EDITION
Nostradamus Quatrain I-42
Les dix Kalendes d'Apuril de faict Gotique
Resuscité encor par gens malins:
Le feu estainct, assemblée diabolique,
Cherchant les or du d'Amant & Pselyn,
Nostradamus Quatrain I-42
The tenth of the Calends of April in Gothic Count [April 20th]
Revived again by evil people:
The fire extinguished, diabolical assembly
Seeking the gold owed the lover and Pselyn [Henri Selyn].