THE DEATH OF ARIEL SHARON – 2014
This is another validation of Nostradamus' Dating Code.
The most memorable death of 2014 for "a Chancellor large as an ox" was Ariel Sharon. He was five feet, seven inches tall and weighed over two-hundred and fifty pounds. He died on January 11th, 2014.
Readers may ask what the 2011 date is about; I can only suggest that in 2011, Ariel Sharon showed "significant brain activity". In 2011, some people thought that Sharon would wake from his five-year coma.
This Sixain, besides being ample proof that Nostradamus wrote The Sixains, is also proof that he embedded dates into his work. Nostradamus' Jewish roots would certainly point to his interest in noting the passing of one of Israel's greatest military leaders.

Nostradamus Sixain XXV (22)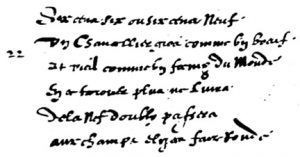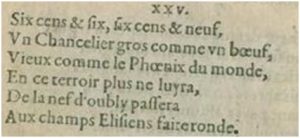 Nostradamus Sixain XXV (22)
Six cens & fix, fix cens & neuf,
Vn Chancelier gros comme vn boeuf,
Vieux comme le Phoenix du monde,
En ce terroir plus ne luyra,
De la nef d'oubly paƒƒera,
Aux champs Eliƒiens faire ronde.
Nostradamus Sixain XXV (22)
Six hundred and six [1606-2011], six hundred and nine [1609-2014],
A Chancellor large as an ox,
Old as the Phoenix of the world,
In this land will shine no more,
He will pass with the ship of oblivion,
To the Elysian Fields to make his round.