I have mentioned that because of my work with Nostradamus' prophecies over the years, I have learned to become a prepper. Therefore, when certain years came around, I would make sure that my supplies and gear were at optimal levels.
March 25, 2020
The Grasshoppers Are Swarming Mad That You Are Prepared For The Crash
I shared my feelings with readers in 2019, when I told everybody that after I published Nostradamus and The Third Age of Mars, The Complete Prophecies of World War III in May, I knew I had to get ready. I paid off my alimony early, and then with a full paycheck, I was hoping Doom would not arrive until later in the year, because I needed to purchase some neglected items. So, I began to prepare for some event in 2019 that Nostradamus associated with the mythological Charon, The Ferryman of The Dead.
The audience is probably getting tired of me reposting Sixain XXVIII, but it is a very successful interpretation on my part and clearly settles the debate that the author of The Sixains was Nostradamus.
THE FERRYMAN ACROSS THE RIVER STYX
Nostradamus Sixain XXVIII (24)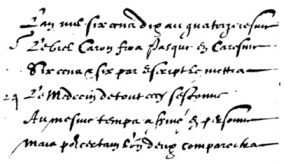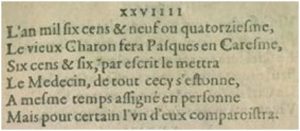 Nostradamus Sixain XXVIII (24)
L'an mil ƒix cens & neuf on quatorzieƒme,
Le vieux Charon fera Paƒques en Careƒme,
Six cens & ƒix, par eƒcrit le mettra
Le Medicin, de tout cecy s'eƒtonne,
A meƒme temps aƒƒigné en perƒonne
Mais pour certain l'vn d'eux comparoiƒtra.
Nostradamus Sixain XXVIII (24)
The year one thousand six hundred and nine [1609-2014] or fourteen [1614-2019],
The old Charon will celebrate Easter in Lent,
Six hundred and six [1606-2011], in writing he will place it
The Physician, by all this is astonished,
At the same time summoned in person
But for certain one of them will appear.
My bet for 2019 was another NATO war with three possible candidates, Iran, Russia, China, or all three together. Do not be too sure that COVID-19 is not part of that war.
March 17, 2020
China locked in hybrid war with US
With the dynamics of Nostradamus' Pagan Sect of New Infidel's, it is hard to know who the agent provocateur was who released the biological weapon. And accidents do happen.
But here we all are, basically five-months after the November 2019 release of COVID-19, and the United States' turn is next.
March 24, 2020
Here Is Where The World Now Is On The "Corona Curve" At This Moment
Italy and Iran seem to be reaching the Root Mean Square part of the curve. The United States has a long way to go.
March 26, 2020
The Scientist Whose Doomsday Pandemic Model Predicted Armageddon Just Walked Back The Apocalyptic Predictions
British scientist Neil Ferguson ignited the world's drastic response to the novel Wuhan coronavirus when he published the bombshell report predicting 2.2 million Americans and more than half a million Brits would be killed. After both the U.S. and U.K. governments effectively shut down their citizens and economies, Ferguson is walking back his doomsday scenarios.
I am skeptical. I do not think that America shutdown fast enough.
Today was a learning experience and terrible eye-opener. I reached my limit with bullshit before 7:00 AM. You are fucked America by poor, psycho leadership.
Why am I more prepared then a large International Corporation?
Maybe it is the Nostradamus' material, but I did not know what was coming in 2019.
When COVID-19 first appeared in China and began making the news in early 2020, I realized that this was the event. A biological weapon was something I had least prepared for, and so I found myself going to Home Depot early on to get replacement filters for my breathing mask. To my surprise there was one box left.
That is the point where United States leaders, beginning with the Commander-In-Chief, the Joint Chiefs of Staff, and state governors should have begun assessing the United States' vulnerabilities to the COVID-19 virus.
Surely, since military intelligence and the other alphabet intelligence agencies know what the official death toll in China must be, they would have understood that the United States was woefully unprepared. Even secretly, they could have gone to private industry and begun ramping up the production of ventilators, sanitizers, filter masks, and other personal protective equipment, as well as COVID-19 testing kits.
After my early trip to Home Depot, I made a beeline for the grocery store and bought bleach, disinfectant, and hand wipes. Beyond a few gallons of bleach, I did not need large quantities of these items. At the very least, this is what the company I work for should have been doing, as well as a few of its more knowledgeable customers.
The United States is now three-months behind on making those decisions. So, apparently the people who cleaned out the local Home Depot store of filter masks in January were much smarter than United States' military and political leaders.
As essential personnel, two of my technicians today were denied personal protective equipment because there is none to be had; I am seriously outraged. I can just imagine how doctors, nurses, and hospital staff must feel.
It was today when I finally understood Nostradamus' prediction, "The supporting common people will rise up… the way realms will have been weakened by those of the Orient…"
The elitist reaction to the outbreak of this virus has been heartless. As long as the economy runs and people keep using their credit cards, some politicians and captains of industry and finance are good with 2% to 4% of the population dying.
Out of approximately 329-million Americans, 80% of the population may get this virus. That is 263.2 million people; 2% of that number is 5.3-million people.
As I keep repeating, what if the Chinese numbers are wrong?
March 24, 2020
Is China hiding COVID-19 death toll? 21 million cell phones disappeared, why?
George Ure at UrbanSurvival.com is very good at math and he charts the numbers daily while also making future projections. He has derived a global mortality rate of 4.463%. For the United States that would amount to 11.7 million people.
Why did I choose an 80% infection rate? I believe in Murphy's Law and I do not believe the Chinese math. The CDC worst case scenario also uses a large infection number, 214-million, and also a lower mortality rate. Using George Ure's mortality rate, the CDC worst-case scenario would still leave 9.6 million dead.
March 11, 2020
Coronavirus: Up to 70% of Germany could become infected – Merkel
March 13, 2020
CDC's Worst-Case Coronavirus Model: 214 Million Infected, 1.7 Million Dead
That will start a Second American Revolution and not what I have been calling The Second Civil War.
March 25, 2020
Coronavirus: Billionaires want people back to work, but their employees aren't so sure
The billionaire Tom Golisano was smoking a Padron cigar on his patio in Florida on Tuesday afternoon. He was worried.
"The damages of keeping the economy closed as it is could be worse than losing a few more people," said Mr Golisano, founder and chairman of the payroll processor Paychex.
I was watching Tucker Carlson's interview with Texas lieutenant Governor Dan Patrick when he basically told the American people to "suck it up buttercups", crony capitalism must roll on and over the dead bodies.
March 23, 2020
Texas' lieutenant governor: U.S. should get 'back to work'
This son-of-a-bitch and his millionaire and billionaire buddies will have access to hospitals and ventilators.
March 25, 2020
Why Did Hundreds Of CEOs Resign Just Before The World Started Going Absolutely Crazy?
My technicians are apparently not Essential enough to earn personal protective equipment. That is the lesson I learned today, among a few other eye-opening observations. And as I thought about this lesson, and the fact that I had to eat a shit-sandwich and there was nothing I could do about it, I suddenly realized why Nostradamus predicted a plague and then a revolution.
THE COMMON PEOPLE RISE UP
Nostradamus Epistle: Paragraph 32:1


Nostradamus Epistle: Paragraph 32:1
The supporting common people will rise up and chase out the adherents of the legislators.
TRANSLATION: Nostradamus Epistle: Paragraph 32:1
The common people will support the poor that rise up, and they will chase out the corporate lobbyists that have corrupted the legislators.
Nostradamus Epistle: Paragraph 32:2
And the way realms will have been weakened by those of the Orient…
TRANSLATION: Nostradamus Epistle: Paragraph 32:2
And the world economic system will weaken and collapse after North Korea, China, and the United States go to war. China will immediately abandon the American dollar as the world's reserve currency.

Nostradamus Epistle: Paragraph 32:3
It will seem that God the Creator has loosed Satan from the prisons of hell to give birth to the great Dog and Dohan,
TRANSLATION: Nostradamus Epistle: Paragraph 32:3
After the collapse of the dollar and the global economic chaos that ensues, [Gog and Magog] will be given the powers of Satan and set free from the prisons of hell.
Nostradamus Epistle: Paragraph 33:1

Nostradamus Epistle: Paragraph 33:1A
Then will commence a persecution of the Churches as never before seen.
Nostradamus Epistle: Paragraph 33:1B
And meanwhile, there will appear so vast a plague that more than two thirds of the world will fail and decay.
Nostradamus Epistle: Paragraph 33:2

Nostradamus Epistle: Paragraph 33:2
So many that one will be unable to ascertain the true owners of fields and houses, and weeds growing in city streets will rise higher than the knees.
Events are unfolding according to my timeline, although the one-year delay of the 2020 Tokyo Olympics, which I believe may be related to Nostradamus' Games of Slaughter, is a positive sign that just maybe The Big War will not come until next year. Although, I do believe a NATO war with Iran is coming in 2020.
March 24, 2020
Tokyo Olympics postponed to 2021 due to coronavirus pandemic
The appearance of Comet Atlas in May and June does fit certain Nostradamus parameters for a large war starting, if it has not already with the release of COVID-19. I am particularly worried about the May 10th time-frame. Readers of my recent book know why.
March 23, 2020
Comet ATLAS may put on quite a show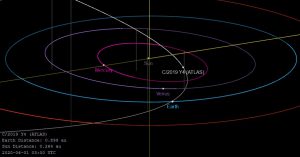 March 23, 2020
C/2019 Y4 (ATLAS)
Comet Atlas was discovered in the constellation of Ursa Major, The Great Bear. That is another cause of my concern, along with its name.
GOLD AND SILVER SHORTAGE SIGN
March 25, 2020
"The Gold Market Is Breaking Down": Gold Spreads Explode As LBMA Warns Of Liquidity Problems
Last night, when observing the unprecedented "gold run" on precious metals dealers which has left all gold vendors with little to no physical gold, we said that "the price of physical gold has decoupled from paper gold" as a result of paper gold liquidations as leveraged funds scramble to cover margin calls using safe assets…
TRUMP CHASED FROM OFFICE SIGN
March 24, 2020
Will Trump Be Forced To Delay November Election?
March 24, 2020
Cop Out: Will Coronavirus Hysteria Open Door To Full-Blown Martial Law In America?
March 24, 2020
"Someone Is Gonna Get Shot" – LA County Sheriff Orders All Gun Stores Closed
WAR WITH IRAN SIGN
March 24, 2020
Pompeo Issues '5 Facts' Claiming Iran Exported COVID-19 To "At Least 5 Countries"
If you read my last Post, you would see that I was motivated to man the wall during this crisis. I can tell readers that after this morning, if a sizeable portion of this Website's 90,000 readers had bought my book, I would have just said fuck it and walked out the door on the spot.
America, you are on your own. The monopoly money check Americans will get next month is for Mastercard, Visa, and Discover, not Americans or their families.