THE CHANGE OF EMPIRES
NOVEMBER 10, 2017
1. WHAT HAPPENS ON NOSTRADAMUS' FUTURE TIMELINE?

1. HUMANITY IS UNDERGOING A CHANGE OF EMPIRES. HOW NOSTRADAMUS ARRIVED AT THE YEAR 2011 FOR THE START OF WORLD WAR III IS RELATIVE TO YOUR PERSPECTIVE.

SINCE THIS IS 2017, THE ONLY EVENT THAT QUALIFIES IS THE MARCH 19th, 2011 NATO ATTACK ON LIBYA AND THE ACCOMPANYING ARAB SPRING INITIATED BY UNITED STATES PRESIDENT BARACK OBAMA.

FOR READERS TO ACCEPT MY INTERPRETATIONS, THEY MUST EXAMINE THE BASIC REPETITIVE STRUCTURE OF NOSTRADAMUS' WORK AND HOW HE NOTED TIME AND THE BEGINNING OF EVENTS. ALL OF NOSTRADAMUS' METAPHORS ARE SUBJECTIVE. THEY HAVE BEEN DEBATED FOR ALMOST 500 YEARS.

MY DISCOVERY IS THAT NOSTRADAMUS FRAMED HIS GRAND THEME AROUND HUMANITY'S RELATIONSHIP WITH GOD. THIS FRAMEWORK IS DESCIBED IN HIS EPISTLE TO HENRI, AND ALL OF HIS METAPHORS AND THE DATING CODE RELATE TO CHRISTIANITY.

WARFARE - "BORN OF THE DIVERSITY OF RELIGIONS"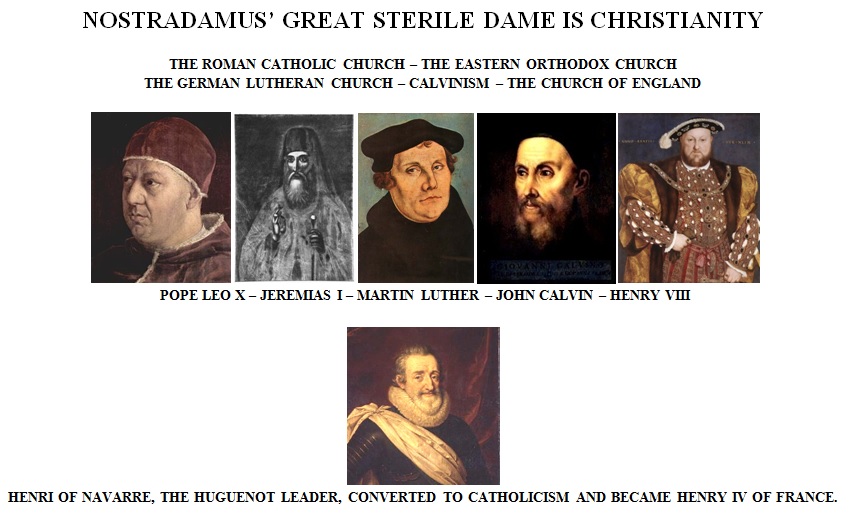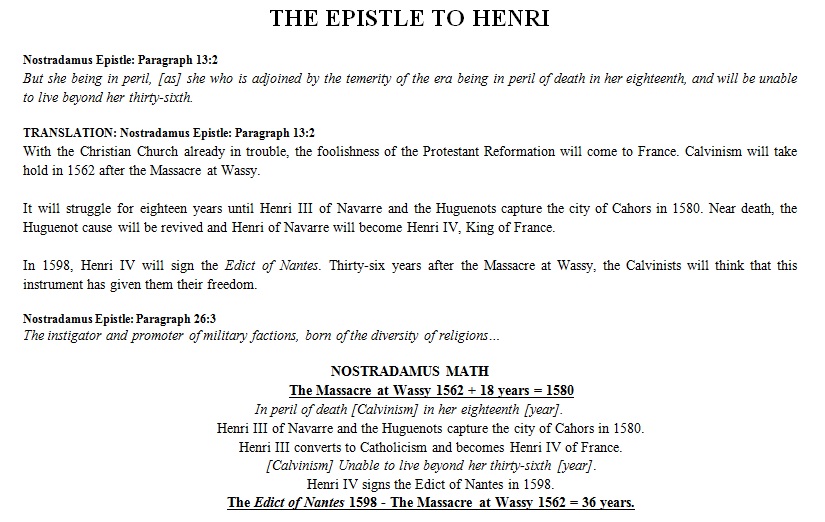 Nostradamus Epistle: Paragraph 13:1


Nostradamus Epistle: Paragraph 13:1
For God will regard the long sterility of the great Dame, who shortly afterwards will conceive two principal infants:

TRANSLATION: Nostradamus Epistle: Paragraph 13:1
The Christian Church will become a sterile institution. Five hundred years after the Great Schism of 1054 CE, reconciliation between the Eastern and Western churches will fail. The Christian Church will remain divided into two principal sects, the Roman Catholic Church and the Eastern Orthodox Church.

Nostradamus Epistle: Paragraph 13:2


Nostradamus Epistle: Paragraph 13:2
But she being in peril, [as] she who is adjoined by the temerity of the era being in peril of death in her eighteenth, unable to pass her thirty-sixth.

TRANSLATION: Nostradamus Epistle: Paragraph 13:2
With the Christian Church already in trouble, the foolishness of the Protestant Reformation will come to France. Calvinism will take hold in 1562 after the Massacre at Wassy.

It will struggle for eighteen years until Henri III of Navarre and the Huguenots capture the city of Cahors in 1580. Near death, the Huguenot cause will be revived and Henri of Navarre will become Henri IV, King of France.

In 1598, Henri IV will sign The Edict of Nantes. Thirty-six years after the Massacre at Wassy, the Calvinists will think that this instrument has given them their freedom.

But on October 18th, 1685, Louis XIV will revoke The Edict of Nantes and the Huguenots will be persecuted once again and Calvinism will be unable to survive in France.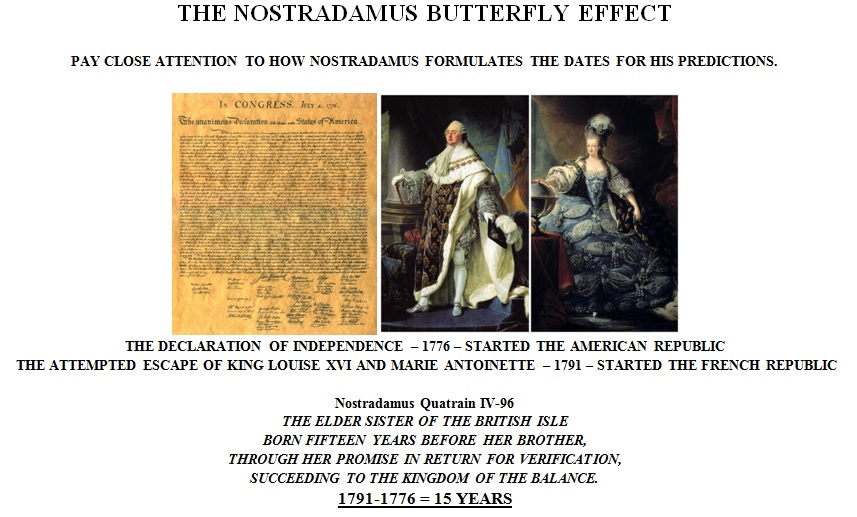 AS YOU CAN READ FROM THESE EXAMPLES, NOSTRADAMUS USES THE DATES OF SPECIFIC EVENTS THAT ARE PRELUDES TO THE RECOGNIZED HISTORICAL DATES.

AMERICA - THE BALANCE

Nostradamus Quatrain IV-96
La soeur aisnee de l'Isle Britannique,
Quinz ans deuant le frere aura naissance:
Par son promis moyennant verrifique,
Succedera au regne de Balance.

Nostradamus Quatrain IV-96
The elder sister of the British Isle,
Born Fifteen years before her brother:
Through her promise in return for verification,
Succeeding to the kingdom of the balance.

TRANSLATION/INTERPRETATION: Nostradamus Quatrain IV-96
[America] The elder sister of the British Isle
Born Fifteen years [1776] before her brother [France in 1791]
Through her promise in return for verification [concerning nuclear weapons],
[America will] Succeed to the Kingdom of the balance [Christian Church/Justice],

THE EARTH'S SUPREME POWER

Nostradamus Quatrain X-100
Le grand empire sera par Angleterre,
Le pempotam des ans plus de trois cens,
Grandes copies passer par mer & terre,
Les Lusitains n'en seront pas contents.

Nostradamus Quatrain X-100
The great empire will be through England,
The pempotam [all-powerful one] for more than three hundred years,
Great forces to pass by sea and land,
The Lusitanians (Portuguese) will not be content.

Nostradamus and the Age of Desolation, G. A. Stewart, Page 313

PAMPOTAMIA could be related to POMPOTANS in Quatrain VIII-97 or PEMPOTAM seen in Quatrain X-100.

...In Nostradamus and his Prophecies, Edgar Leoni sees this as a compound word constructed of two Greek and Latin words, Pan, meaning All, and Potens as Powerful, hence all-powerful.

Quatrain X-100 relates this squarely to England. It is the last quatrain of the published Ten Centuries. So, the importance of Quatrain X-100 and England's role in world affairs cannot be understated.

This is unequivocally the most important Quatrain in The Centuries because Nostradamus is giving readers the identity of The Masters of the Game.

It was during the 2012 London Olympic Opening Ceremony that I recognized that 2012 was the 311th year of the Hanoverian Succession to the throne of Great Britain. This quatrain is a big win for Nostradamus, "for more than three hundred years".
2011 - WORLD WAR III - THE NATO INVASION OF LIBYA

Nostradamus Quatrain I-49
Beaucoup beaucoup auant telles meneés
Ceux d'Orient par la vertu lunaire
L'an mil sept cent feront grand emmenées
Subiugant presque le coing Aquilonaire.

Nostradamus Quatrain I-49
Very much before such intrigues
Those of the Orient [Russia/China] by virtue of the Moon [Islamic Army]
The year one thousand seven hundred [1700 -2011] prepares the great to be marched away
Nearly subjugating a corner of Aquilon [NATO].

2038 - THE END OF WORLD WAR III

Nostradamus Quatrain III-77
Le tiers climat soubz Aries comprins
L'an mil sept cens vingt & sept en Octobre,
Le roy de Perse par ceux d'Egypte prins:
Conflict, mort, pte; à la croix grand opprobre.

Nostradamus Quatrain III-77
The third climate comprising Aries [World War III]
The year one thousand seven hundred and twenty-seven [1727 -2038] in October,
The King of Persia (Iran) captured by the Egyptians:
Conflict, death, loss: to the cross great shame.

THE WAR OF THE THIRD ANTICHRIST
WILL LAST 27 YEARS
2011-2038

Nostradamus Quatrain VIII-77
L'antechrist trois bien tost annichilez,
Vingt & sept ans sang durera sa guerre,
Les heretiques morts, captifs exilez,
Son corps humain eau rogie gresler terre,

Nostradamus Quatrain VIII-77
The third antichrist soon annihilated,
Twenty-seven years of blood will his war last,
The heretics dead, captives exiled,
Blood, human corpses, water, red hail covering the Earth,

Quatrain VIII-77 exactly matches the number of years spanning the [1700-2011] code date in Quatrain I-49 and the code date [1727-2038] in Quatrain III-77. This is certainly more than coincidence.

Readers should take note of the symmetry between Nostradamus' numbering of Quatrain III-77 and Quatrain VIII-77.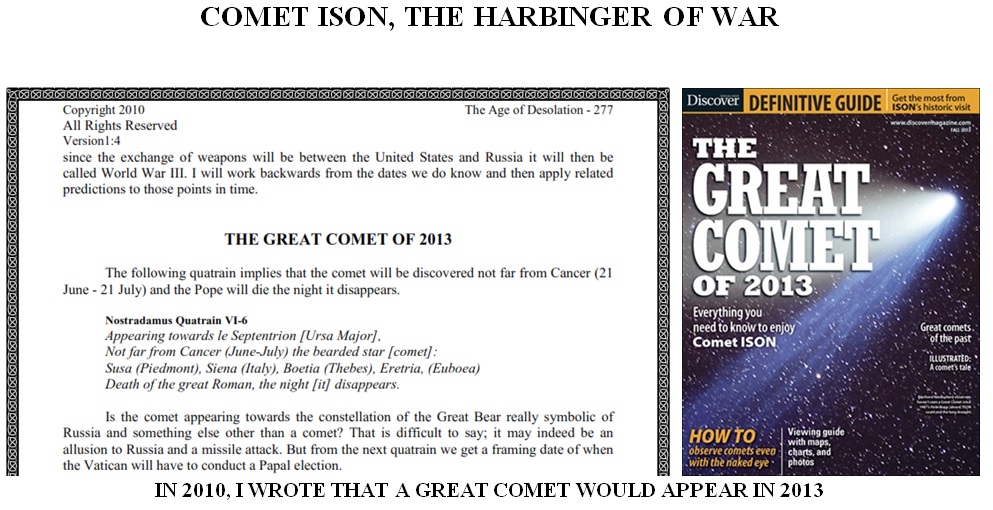 AS COMET ISON MADE ITS CIRCUIT AROUND THE SUN, NATO WAS PREPARING THE COUP D'ÉTAT IN UKRAINE.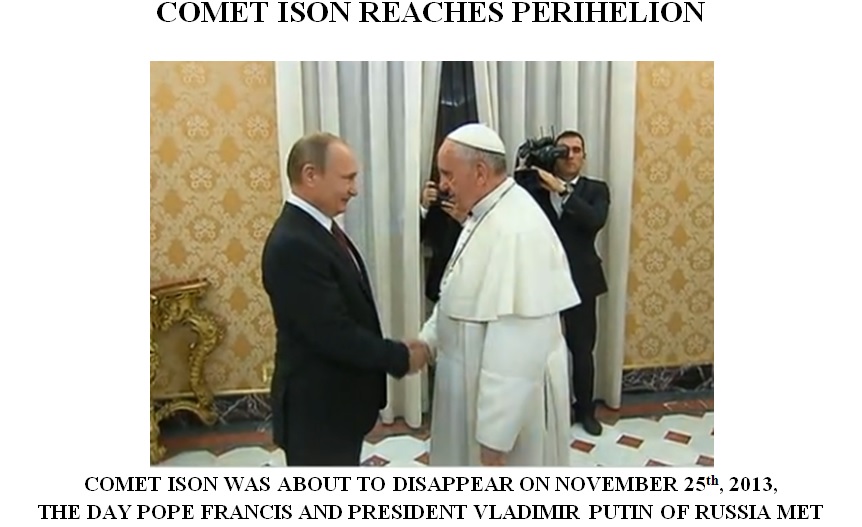 AS RUSSIAN PRESIDENT VLADIMIR PUTIN WAS MEETING WITH POPE FRANCIS, THE NATO-BACKED EUROMAIDAN PROTESTS IN UKRAINE BEGAN DAYS BEFORE, ON NOVEMBER 21st, 2013.

THE JUNE 27th, 2000 SECRET HOLY CONSECRATION OF RUSSIA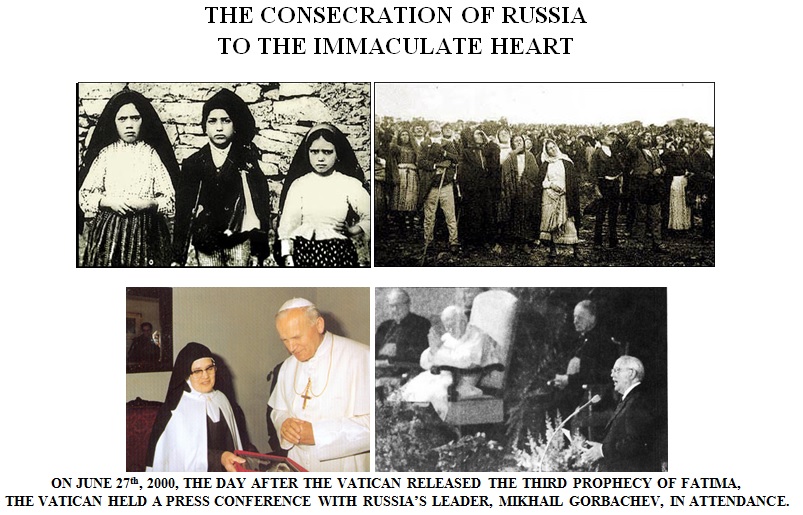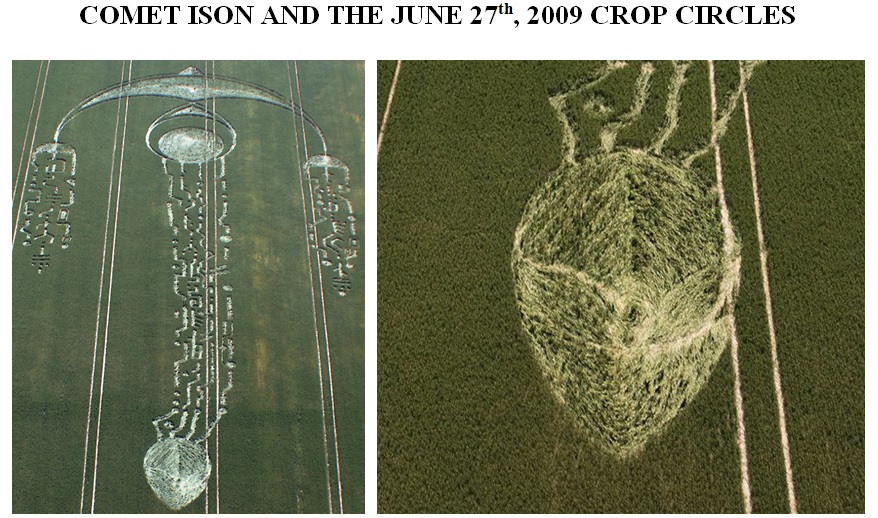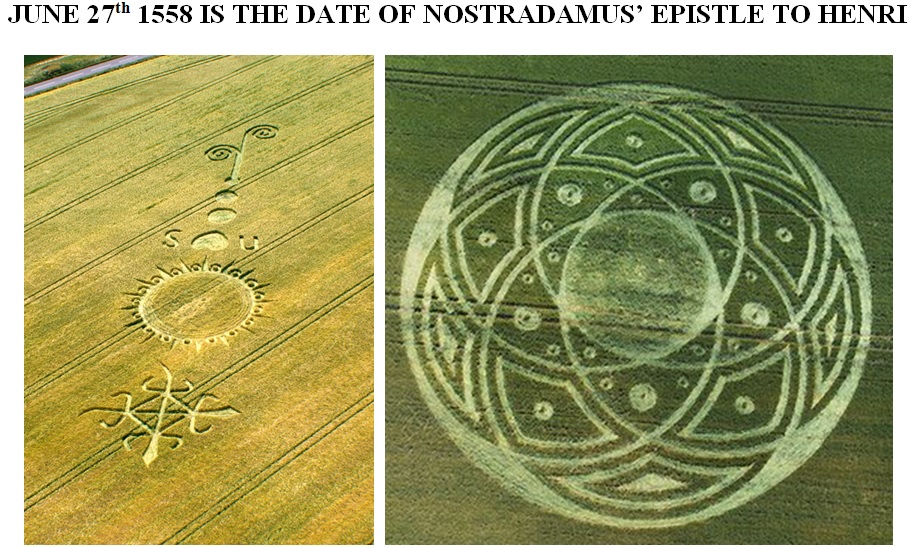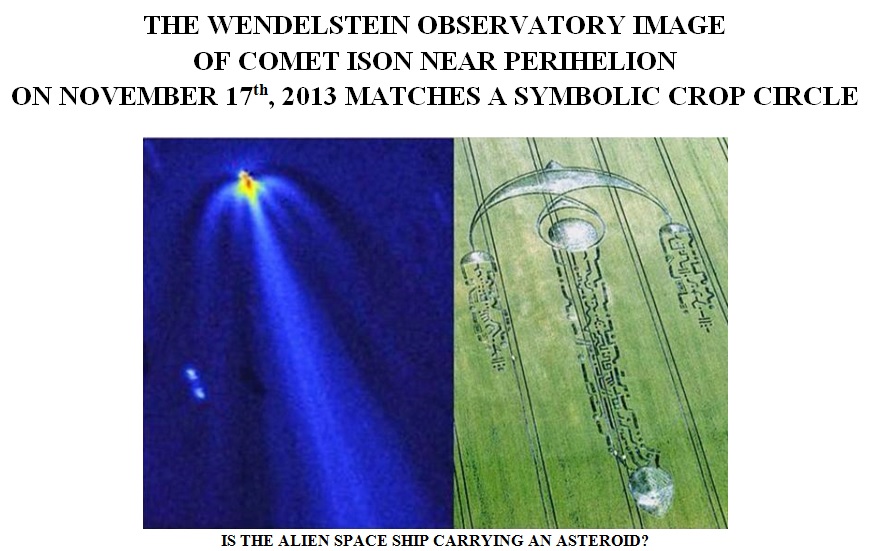 Book of Enoch LIII:5 (Richard Laurence Translation)
…These are prepared for the host of Azazeel, that they may be delivered over and adjudged to the lowest condemnation; and that their angels may be overwhelmed with hurled stones…

Revelation 18:21 (King James)
And a mighty angel took up a stone like a great millstone, and cast it into the sea, saying, thus with violence shall the great city of Babylon be thrown down, and shall be found no more at all.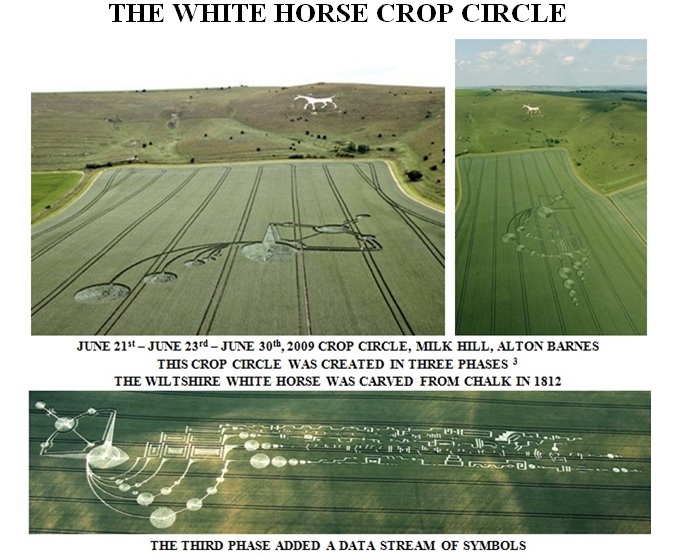 RUSSIAN PRESIDENT VLADIMIR PUTIN IS NOSTRADAMUS' GRIFFON.

AS THE 3 NUCLEAR REACTORS AT FUKUSHIMA MELTED INTO THE WATER TABLE IN 2013, IT SET THE PACIFIC OCEAN ON FIRE WITH RADIOACTIVITY. AT THE SAME TIME, VLADIMIR PUTIN PREPARED RUSSIA TO GO TO WAR OVER EVENTS IN SYRIA.

2013 - THE GRIFFON PREPARES FOR WAR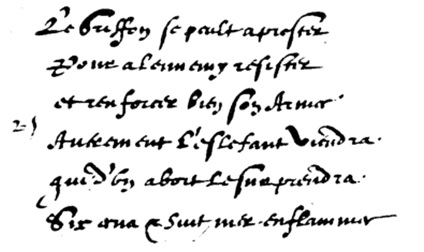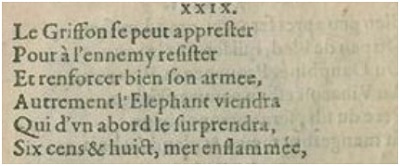 Nostradamus Sixain XXIX
Le Griƒƒon ƒe peut appreƒter
Pour à l'ennemy reƒiƒter
Et renforcer bien ƒon armee,
Autrement l'Elephant viendra
Qui d'vn abord le ƒurprendra,
Six cens & huict mer enflammée.

Nostradamus Sixain XXIX
The Griffon is able to prepare himself
For resisting the enemy
And to well reinforce his army,
Otherwise the Elephant will come
He who will suddenly surprise him,
Six hundred and eight [1608-2013], the sea aflame.

NOSTRADAMUS USES TWO IMPORTANT YEARS TO FRAME THE NEW WORLD ORDER, 1990 AND 2014.

PRESIDENT GEORGE H. W. BUSH ANNOUNCED THE COMING OF THE NEW WORLD ORDER TO A JOINT SESSION OF THE UNITED STATES CONGRESS ON SEPTEMBER 11th, 1990 AT 9:09 PM.

ON MARCH 5th 2014, THE FIRST DAY OF LENT, PRESIDENT VLADIMIR PUTIN CHALLENGED THE NEW WORLD ORDER WITH NUCLEAR WAR OVER EVENTS IN UKRAINE.

2014 - THE CHANGE OF EMPIRES BEGINS

Nostradamus Quatrain VI-2
En l'an cinq cens octante plus & moins,
On attendra le siecle bien estrange:
En l'an sept cens & trois cieux en tesmoings,
Que plusieurs regnes vn à cinq feront change.

Nostradamus Quatrain VI-2
In the year five hundred eighty [1580-1990] more or less,
One awaits a very strange century:
In the year seven hundred and three [1703-2014] heaven in witness,
That several realms one to five will make a change.

THE NATO PROXI-WAR WITH RUSSIA BEGAN IN 2014. IN 2019, DIRECT COMBAT WILL TAKE PLACE.

2019 - THE FERRYMAN ACROSS THE RIVER STYX ARRIVES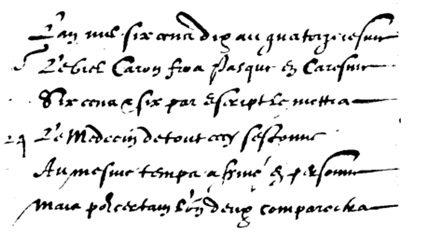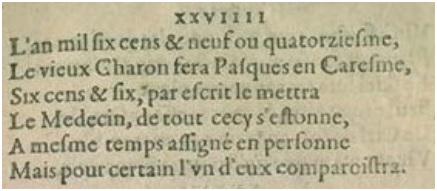 Nostradamus Sixain XXVIII (24)
L'an mil ƒix cens & neuf on quatorzieƒme,
Le vieux Charon fera Paƒques en Careƒme,
Six cens & ƒix, par eƒcrit le mettra
Le Medicin, de tout cecy s'eƒtonne,
A meƒme temps aƒƒigné en perƒonne
Mais pour certain l'vn d'eux comparoiƒtra.

Nostradamus Sixain XXVIII (24)
The year one thousand six hundred and nine [1609-2014] or fourteen [1614-2019],
The old Charon will celebrate Easter in Lent,
Six hundred and six [1606-2011], in writing he will place it
The Physician, by all this is astonished,
At the same time summoned in person
But for certain one of them will appear.

NOTE HOW SIXAIN XXVIII INCLUDES THE DATES 2014 AND 2019, THE YEAR NATO AND RUSSIA CLASHED OVER UKRAINE. WILL 2019 SEE DIRECT CONFLICT?

ALTHOUGH WORLD WAR III ENDS IN IRAN IN 2038, NOSTRADAMUS' FUTURE WORLD KING WILL NOT CONSOLIDATE POWER UNTIL 2065.

2065 - THE AGE OF HENRI V

Nostradamus Quatrain X-101
Quad le fourcheu sera soustenu de deux paux,
Auec six demy-corps, &t six Sizeaux ouuerts:
Le tréspuissant Seigneur, hériter des crapaux,
Alors subjugera, sous soi tout l'universe.

Nostradamus Quatrain X-101
When the fork will be supported by two stakes,
With six-half-bodies and six open scissors [M-CCCCCC-XXXXXX/1660/2065]:
The very powerful Lord, heir of the toads,
Then subjugating, all beneath the universe himself.

THIS IS A VERY IMPORTANT EXTRA-QUATRAIN.

THIS QUATRAIN IS ANOTHER LATE DISCOVERY IN MY RESEARCH. EDGAR LEONI TRACKS THE APPEARANCE OF THE EXTRA QUATRAIN X-100 TO 1605. I HAVE NOT BEEN ABLE TO FIND THAT EDITION, SO I PRESENT QUATRAIN X-101, FROM THE 1611 EDITION.

THIS QUATRAIN IS OF COURSE, A 1600 SERIES PROPHECY, AND YOU MUST ADD THE APPROPRIATE CODE KEY OF 405 CE GIVING THE DATE 2065. IT CONFIRMS THAT THE PRIORY OF SION EXISTS.

BEFORE CLOVIS CONVERSION TO CHRISTIANITY, ALLEGEDLY THE BANNER OF THE MEROVINGIAN KINGS CONTAINED TOADS. DURING HIS BAPTISM BY ST. RÉMI IN REIMS ON CHRISTMAS DAY IN 496 CE, AN ANGEL DESCENDED FROM HEAVEN WITH A SHIELD CONTAINING THE FLEURS-DE-LIS.

HENRI V IS NOSTRADAMUS' FUTURE KING OF FRANCE. HE PREDICTS THAT HENRI SELIN WILL DIE IN 2075.
1. HOW DOES THIS FIT IN WITH EVENTS HAPPENING TODAY?

1. PRESIDENT DONALD J. TRUMP HAS FILLED HIS CABINET WITH THE FAILED GENERALS FROM THE BUSH AND OBAMA ADMINISTRATIONS. AQUILON IS NOSTRADAMUS' METAPHOR FOR THE EMPIRE OF THE NORTH, NATO.

BELOW, IN QUATRAIN X-76, "HIS ADHERENTS PREPARE AT THE SOUND OF [TRUMP]", I BELIEVE IS A REFERENCE TO THE GENERALS IN THE ADMINISTRATION OF PRESIDENT DONALD J. TRUMP WHO ARE IN GENERAL DAVID PETRAEUS' CIRCLE. FROM THE TENOR OF THE QUATRAIN, THEY ARE PREPARING TO BETRAY TRUMP.