Nostradamus Quatrain II-68
De l'Aquilon les efforts seront grands,
Sur l'Ocean sera la porte ouuerte,
Le regne en l'isle sera reintegrand:
Tremblera Londres par voille descouuerte.

Nostradamus Quatrain II-68
The efforts of Aquilon [NATO] will be great:
The gate of the Ocean will be opened,
The kingdom in the isle [England] reintegrated:
London trembles by discovering the sail.


THE OFFENSE OF THE ADULTERER KNOWN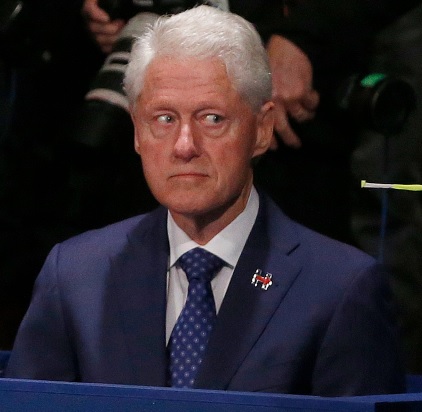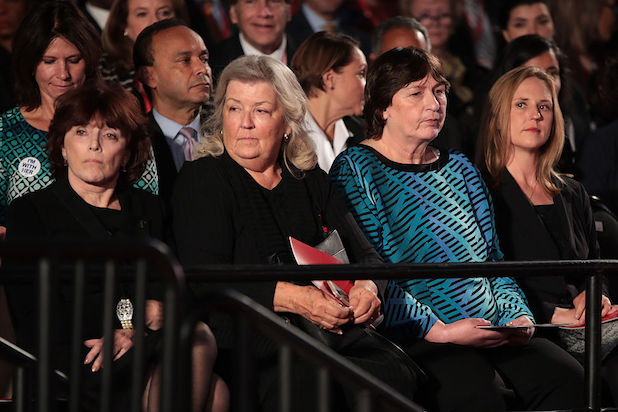 BEWARE THE CLINTON EVIL EYE
HOW THE CLINTONS REALLY FEEL ABOUT AMERICANS
Except for the 1%, there is not one segment of American society that the Clinton Politcal Machine does not have disdain for.

I know she has begun to hate everyday Americans
She doesn't want the people knowing about her relationships on Wall Street
She wants to achieve consistency and the best way to do that is to keep the people ignorant
...We've all been quite content to demean government, drop civics and in general conspire to produce an unaware and compliant citizenry. The unawareness remains strong but compliance is obviously fading rapidly
I'm kind of far removed because the life I've lived and the economic, you know, fortunes that my husband and I now enjoy
...If everybody's watching, you know, all of the back room discussions and the deals, you know, then people get a little nervous, to say the least. So, you need both a public and a private position
This coalition, a collection of generally under-represented, low social capital individuals has become increasingly networked and increasingly motivated.
This group that our analysts are calling the ((Makes air quotes)) bucket of losers could not only be a significant force in the next election but could, on an outside percentile, even win.
Some groups of people are almost always highly successful given only half a chance (Jews*, Hindus/Sikhs and Chinese people, for example), while others (Muslims, blacks** and Roma***, for instance) fare badly almost irrespective of circumstances. The biggest group of humanity can be found somewhere between those two extremes – the perennial overachievers and the professional never-do-wells.
They're children of the Great Recession. And they are living in their parents' basement... They feel that they got their education and the jobs that are available to them are not at all what they envisioned for themselves. And they don't see much of a future...It's a false promise. But I don't think you tell idealistic people — particularly young people — that they've bought into a false promise
Needy Latinos and 1 easy call
Conservative Catholicism: It's an amazing bastardization of the faith. They must be attracted to the systematic thought and severely backwards gender relations and must be totally unaware of Christian democracy.
My dream is a hemispheric common market, with open trade and open borders
...Qatar and Saudi Arabia, which are providing clandestine financial and logistic support to ISIL and other radical Sunni groups in the region
Saudi Arabia Has Funded 20% Of Hillary's Presidential Campaign, Saudi Crown Prince Claims
Top 10 Clinton scandals exposed by WikiLeaks
AMERICA, HOW DO YOU FEEL ABOUT TREASON?
THERE ARE MORE SECRETS TO COME
I find it amazing that I cannot get Nostradamus and the Third Age of Mars out fast enough before what I have written appears in the news. Below, I have posted some of Chapter Eleven. In Nostradamus and the Age of Desolation, I wrote about the public revelation of world leaders' close secrets that Nostradamus predicted in his Epistle to Henri, "the impurities and abominations, will to great shame, be brought out".

We see that happening now with various major Email hacks.

I knew Quatrain VIII-14 was related to former-President Bill Clinton, but I did not see it in the context of the three Quatrains that follow it. Consequently, it did not find its way into the first two editions of Nostradamus and the Age of Desolation even though the second edition was 850 pages. There is only so much you can cover.

As I have written previously, and as I have documented in the new book, Nostradamus provided many sequential Quatrains that are related. Most are in a series of three Quatrains or Presages, which I call Triplicates.

They are related in the sense that it gives a sequence of predictions that are similar to signs on a highway directing you to a specific point. The final one, Quatrain VIII-17, is unmistakably clear and our current destination.

I begin with the prediction in Paragraph 31 in The Epistle to Henri. I use Edgar Leoni's paragraph numbering system, and then I have incorporated my own subparagraphs to breakout the individual predictions.

I think the Bill and Hillary Clinton scandal is just in its infancy. Their mug shots will be the new face of Conspiracy Theory turned to Criminal Conspiracy. I suspect it is going to explode to reveal major elements of Nostradamus' Pagan Sect of New Infidels. The spark that ignites that explosion is going to be a Clinton connection to convicted sex offender Jeffrey Epstein.



Bill Clinton has travelled on Jeffery Epstein's private jet 26 times.

Billionaire sex offender Jeffrey Epstein once claimed he helped found Clinton Foundation as he touted close relationship with former president during plea bargain negotiations.



With Bill Clinton's four alleged victims attending the October 9th, 2016 Presidential debate, it was nothing less than historic.

Nostradamus Epistle: Paragraph 31:1


Nostradamus Epistle: Paragraph 31:1
Then the impurities and abominations, will to great shame, be brought out and manifested in the darkness of the obscured light; [it] will cease towards the end of the change in reign.

TRANSLATION: Nostradamus Epistle: Paragraph 31:1
Then abominable secrets will be brought out from the dark and obscure world of intelligence operations and bring great shame and great scandal to political leaders. It will cease near the end of a change of leaders.

Nostradamus Epistle: Paragraph 31:4


Nostradamus Epistle: Paragraph 31:4
The first will be totally undone in all of Europe and part of Africa by the third, by means of the poor in spirit who, aroused by madmen through libidinous luxury, [who] will adulterate.

TRANSLATION: Nostradamus Epistle: Paragraph 31:4
The first brother, those of the Roman Catholic Church, will be completely undone in Europe and part of Africa through connections to the Third Antichrist.

The corruption seen in the leaders of the church will be so egregious that it will arouse the poor in spirit. They will be emboldened and rise up after being shown the excesses of these madmen who lived in luxury and were involved in child prostitution and the sex slave trade.



Nostradamus Quatrain VIII-14
Le grand credit, d'or, d'argent l'abondance,
Aueuglera par libide l'honneur,
Cogneu ƒera d'adultere l'offenƒe,
Qui paruiendra à ƒon grand deshonneur.

Nostradamus Quatrain VIII-14
The great credit of gold and abundance of silver
Honor blinded by lust;
The offense of the adulterer known,
That succeeds to his great dishonor.



Nostradamus Quatrain VIII-15
Vers Aquilon grands efforts par hommasse,
Presque l'Europe & l'vniuers vexer,
Les deux eclypses mettra en telle chasse,
Et aux Pannon vie & mort renforcer.

Nostradamus Quatrain VIII-15
Towards Aquilon [NATO] great efforts by the mannish woman,
Nearly all of Europe and the world vexed,
The two eclipsed such that they become the hunted,
And for Pannon (Hungary) life and death reinforced.



Nostradamus Quatrain VIII-16
Au lieu que HIERON feit sa nef fabriquer
Si grand deluge sera & si subite,
Qu'on n'aura lieu ne terres s'attaquer,
L'onde monter Fesulan Olympique.

Nostradamus Quatrain VIII-16
At the place where HIERON [Jason] had his ship built,
There will be such a great sudden flood,
That there will be no land to attack,
The wave climbs Fesulan [Thessalian] Olympic (Mt. Olympus, Greece).



Nostradamus Quatrain VIII-17
Les bien-aiƒez ƒubit ƒeront deƒmis,
Par les trois freres le monde mis en trouble.
Cité marine ƒaiƒiront ennemis,
Faim, feu, ƒang, peƒte, & de tous maux le double.

Nostradamus Quatrain VIII-17
The affluent suddenly cast down,
By three brothers the world miserable and troubled,
The marine city seized by enemies,
Famine, fire, blood, pestilence, and all evils doubled.

Nostradamus Epistle: Paragraph 32:1-4


Nostradamus Epistle: Paragraph 32:1
The supporting common people will rise up and chase out the adherents of the legislators.

TRANSLATION: Nostradamus Epistle: Paragraph 32:1
The common people will support the poor that rise up, and they will chase out the corporate lobbyists that have corrupted the legislators.

Nostradamus Epistle: Paragraph 32:2
And the way realms will have been weakened by those of the Orient…

TRANSLATION: Nostradamus Epistle: Paragraph 32:2
The monetary crises within the Group of Seven countries will cause the Chinese to abandon the American dollar.

Nostradamus Epistle: Paragraph 32:3
It will seem that God the Creator has loosed Satan from the prisons of hell to give birth to the great Dog and Dogam…

TRANSLATION: Nostradamus Epistle: Paragraph 32:3
After the collapse of the dollar and the global economic chaos that ensues, Gog and Magog [City of London] will be given the powers of Satan and be set free from the prisons of hell.

Nostradamus Epistle: Paragraph 32:4
Who will make such an abominable breach in the Churches that neither the reds nor the whites without eyes nor hands will know what to make of it.

TRANSLATION: Nostradamus Epistle: Paragraph 32:4
Gog and Magog will impose a global martial law. The freedoms of the Group of Seven Nations will disappear under a technological control grid. Neither Christians nor Muslims, without communications or mobility, will understand what is happening to them.

Nostradamus Epistle: Paragraph 32:5
Their power will be taken from them.

Gog and Magog are the mythical giants who are the guardians of the City of London. George H. W. Bush's Skull and Bones nickname is Magog.

His Skull and Bones fraternity brother, Secretary of State John Kerry, is busy kicking off Plan B and doubling-down on World War III.

Nostradamus use of the great Dog and Dogam appears to be an anagram alliteration of Gog and Magog.

"The affluent suddenly cast down" supports the prediction of revolution from The Epistle to Henri.

"Without eyes nor hands" also suggests some kind of intelligence and military paralysis, perhaps due to an EMP Attack.
1) Quatrain VIII-14: "The great credit of gold and abundance of silver" suggests economic events related to The Adulterer. We know that in 1999 President Bill Clinton repealed the 1933 Glass-Steagall Act. This 1933 and 1935 legislation put restrictions on the banking and securities industries. Many commentators believe that the removal of these protections led to the 2007-2008 Financial Crisis through easy credit.

The future prediction: It will also lead to the Global Economic Collapse.

2) Quatrain VIII-15: "Towards Aquilon [NATO] great efforts by the mannish woman". We know that Hillary Clinton was the chief architect of the Arab Spring and NATO's attack on Libya and the subversion of Syria. "The mannish woman" suggests that this is a reference to Hillary Clinton's alleged bisexuality.

The future prediction: "Nearly all of Europe and the world vexed", "the two eclipsed" suggests the war between NATO and Russia. The two eclipsed are France and the United States. It should be noted that in various writings of Nostradamus, he predicts the defeat of NATO through events related to Hungary.

We note in Quatrain V-47: "And greater harm through Austria and Pannonias (Hungary)".

We note in Quatrain V-48: "A great affliction from the scepter [Russia]". "A fleet from Africa will appear before the Pannonians (Hungarians)".

Quatrains V-47 and V-48 are also part of a very important Triplicate Series.

3) Quatrain VIII-16: "A great sudden flood", "there will be no land to attack" suggests the wave from a sea based nuclear explosion will flood Greece.

The future prediction: I suspect that Greece will be greatly afflicted by nuclear naval battles in the Aegean Sea and in the Adriatic Sea. According to the population projections from Deagle.com, Greece goes from 11-million to 4.8-million people and that is a 60% reduction.

4) Quatrain VIII-17: "By three brothers the world miserable and troubled".

The future prediction: "famine, fire, blood, pestilence, and all evils doubled" suggest the worst parts of World War III.

I think we stand at the doorway.

CONSPIRING TO CREATE
UNAWARE AND COMPLIANT CITIZENS
Last week, I was discussing my divorce and my will with a friend who is an attorney. A few days before, I had just posted an update on this webpage with the title War, The End of Lawyer Defined Reality. Disgusted with the American legal system, I paraphrased this thought to him and he asked me what does that mean.

I told him war is coming and it will change life as we know it. Incredulous, he asked me where the source of my information was. That week alone, 40 million Russians practiced going to their designated bomb shelters, Russian newspapers were talking about the eventuality of nuclear war, and various components of NATO and Russia's militaries were probing each other's defenses in stories like: Four Nato airforces scramble jets as Russian bombers scout Atlantic coast or Russian jet flies within 10 feet of US plane.

Laughingly, he told me he did not read these headline stories in the Tampa Bay Times. I told him you won't find these news stories on the Sports Page or by checking on the performance of your fantasy football team. What scares me is the number of educated Americans who are living in a fantasy world.

In July, Russian President Vladimir Putin admonished the mass media saying, I don't how to get through to you people. How do you not understand that the world is being pulled in an irreversible direction?

Former U.S. Assistant Secretary of the Treasury, Dr. Paul Craig Roberts, simply tells Americans, "Are You Planning Your Retirement? Forget About It. You Won't Survive To Experience It".

If he and other notable Americans cannot wake our fellow citizens up, I know my little effort on this website is just an amusing footnote to the historical times we live in. My goal is not to save anyone but to prove that prophecy is real. That validates our spiritual reality, which various scriptures and ancient texts tell us is the ultimate reality. If you read about my near-death-experience, some of us are lucky enough to discover that before we shuffle off this mortal coil.

Humans do not have freewill; it is an illusion. We all ride on the tide of history, and when the tide is favorable, we get to choose whether we want Trix or Cheerios for our breakfast cereal. When the tide is not favorable, we could be rummaging through the garbage looking for our next breakfast, or according to Nostradamus, some of us in the future will be dining on our neighbors.




Nostradamus Quatrain II-75
La voix ouye de l'insolit oyseau,
Sur le canon du respiral estage,
Si haut viendra de froment le boisseau,
Que l'homme d'homme sera Antropophage.

Nostradamus Quatrain II-75
The voice of the rare bird heard,
Over the cannon breathtaking coinciding [with war],
So high will the bushel of wheat rise,
That man will be eating his fellow man.

Most of the readers of this Website are spooled up on what is coming. I know from my own experience that trying to convince people in your circle what the future holds is near to impossible. Will they remain so unaware and compliant when the food runs out and their neighbors begin licking their lips?

Clinton Campaign Email Outlines Effort "To Produce an Unaware and Compliant Citizenry"
To: john.podesta@gmail.com

This was all planned a very long time ago. There are no Black Swan Events. Galileo and Newton worked out the math to cause and effect a long time ago. Our leaders understand that math; they are simply thinning out the herd.

Good little sheep... come over here by the fire.