THE MAIL IS NOW COMING IN
As of today, 30,095 readers from 5036 cities have stumbled upon this website in the last twenty-two months.

As you can see from my Google Statistics, you are perhaps one of many people in all those little bubbles spread across planet Earth.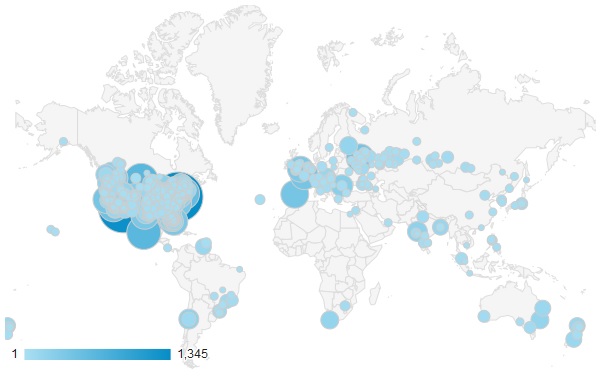 WHERE ARE YOU?
There are many American bubbles, and the European bubbles are now growing very quickly, the Russian bubbles actually started growing in 2014, and Chinese bubbles just started springing up last year.

People are waking up. It's getting scary out there. They are checking out this website to find out when Doom is going to be knocking on their door.

Some of you are already living in countries where Doom is knocking. A wave of Doom has been spreading around the planet since 2010 and the advent of The Arab Spring.

The Arab Spring is the social engineering plan The Masters of the Game initiated in 2010, and then began to fully implement in force in 2012.

In his Epistle to Henri Nostradamus called The Masters of the Game, The Pagan Sect of New Infidels.

Now I do not have the pedigree and reputation of Graham Hancock or Robert Bauval, but if you read my book and some of the abbreviated information in the link above, then you will understand that their research in The Master Game, Unmasking the World's Secret Rulers provides volumes of evidence and citations for my suppositions on Nostradamus' Pagan Sect of New Infidels.

If you are interested in this website, then the majority of you are, no doubt, profiled as a "Conspiracy Theorist". History is a "Conspiracy Theory"; that's how wars start and empires collapse. Political leaders conspire to break the law, and that's why they are often charged with Criminal Conspiracy.

Unfortunately, a little human corruption here and there sums to a certain amount where societies can no longer function.

So, most people have tuned out. What can they do about it? Being called a "Conspiracy Theorist" is an uneducated persons' simple insult to the complexities and overwhelming tide of human history that he or she has failed to study.

However, since we are social creatures trying to live in harmony, we all have a civic duty to help understand those social complexities, enabling us to be informed participants in government.

Perhaps when that collective unawareness of a society reaches a certain threshold that is why they collapse.

Believe me, I understand the apathy. Doom is not a happy subject. What can you do about it?

I recently posted on this website that Producers from the Discovery Channel had interviewed me as a "Nostradamus Expert" for an upcoming documentary they were filming on nuclear war.

My study of Nostradamus' writings has always been a hobby. However, my Alternate Personality, the one who must work 40 plus hours a week to support this website and my strange hobby, can also be considered an "in-the-trenches expert" on the American war machine, especially the airpower part.

I have worked on rockets, aircraft, and helicopters, and the Producers liked that angle.

Unfortunately, the Producers were less interested in my opinions on Nostradamus than in my prepping plans for nuclear war.

I made it quite clear, I have no prepping plans for nuclear war. I work at a major nuclear target. I call them "six-minute targets". If I'm at work, I will be vaporized. I will not have time to process what is happening. If I'm at home, if the third-degree burns do not kill me, I will probably drown in the tidal wave that will soon follow the explosion or explosions.

TRYING TO SELL CRAZY
I saw one of the characters on a "Prepping Documentary" sucking water out of a dirty toilet bowl with a "Lifestraw Water Filter". Apparently, he was not too concerned about the viral components of that water. The least he could have done was taken the water from the tank.

Frankly, I did not want to be juxtaposed or edited between people similar to that guy. That just was not good information. I give no prepping advice on this Website, and I am not qualified to talk about how I might Prep, so I declined.

Nostradamus is hard enough to sell, and my research on Nostradamus' Pagan Sect of New Infidels has produced information that I even think sounds crazy. So, that complicates the sale. But Doom is here and it's getting obvious.

The graph below represents the User traffic to this Website since I decided to keep statistics in September of 2014.

The spikes are world events driving people to this site. Note the current spike following the attempted military coup d'état in Turkey.

There is so much information coming in, and that is already in my upcoming book, Nostradamus and the Third Age of Mars, that I am presenting some of the Main Events here because time is running out. I have compartmentalized these topics on this main page.

THE UNKNOWN FEAR FACTOR
If you have family responsibilities and obligations, you had better get quickly to work understanding what is coming so your kids don't have to ask, "what's for dinner tonight Mommy and Daddy?"





This is not advice; from my point of view events in August may begin the breakdown and spool up to mass starvation and then war with Russia by year's end. So, the Main Events on this front page are for Readers to give a quick glance on where I believe the world is at. I will try to keep NOSTRADAMUS IN THE NEWS up to date with the relevant stories to support the opinions on this page.





As you can plainly read below, I have no exact bead on the future. It is the shotgun approach to prophecy. I am still not sure if war will begin through events in Syria and Turkey or through a game of chicken between NATO and Russia near Kalingrad.

Oh yeah, and then there's China.



July 18, 2016
China Warns US Patrols In South China Sea Could End In "Disaster" As It Launches Navy Drills.

July 17, 2016
U.S. Warships Surround Disputed Chinese Waters, Prepared For War: "WWIII At Stake".