COMET ISON, IT'S HERE
AS
US AND CHINA
GO CRITICAL

Readers of my book and site members please take note that this ongoing crisis with China is right on schedule and will only escalate.
November 29, 2013
Japan Dispatches F-15s, E-767s And P-3 Into China's Air Defense Zone, China Scrambles Su-30 In Response

Ragnarök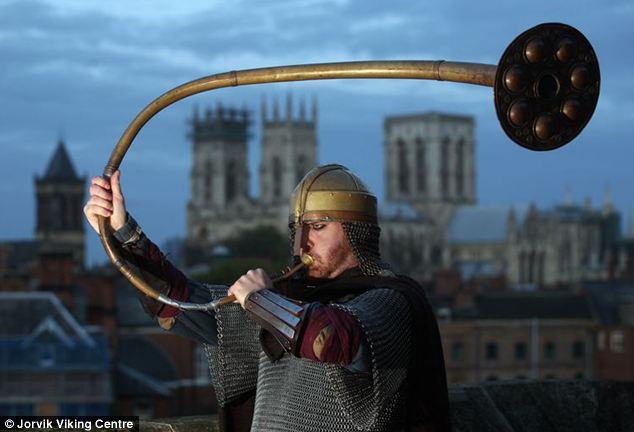 November 15, 2013
Will the world end in 100 days? Sounding of ancient trumpet in York warns of Viking apocalypse on 22 February 2014

If the Norse Apocalypse, Ragnarök, has been declared to begin on February 22nd, 2014, that means the Norse Great Winter, Fimbulvetr had to begin in 2010.

Readers and members can go back into the archives for the 2010 and early 2011 Updates where I suggested that Fimbulvetr had begun.
COMET ISON,
APOCALYPSE NOW?





I just completed another YouTube video that encapsulates the themes in my book with a very appropriate musical score.

Mozart's Requiem Mass in D Minor, and Carl Orff's Carmina Burana, O Fortuna really set the tone for the times.

It is just a visual record of what I have gotten correct in the book.

You get your $9.99 worth on this website, the next Member's Update will be out by tomorrow night.


_____________________________________________



To the members of this website, the latest Internet buzz has linked the new pictures of Comet ISON with a particular Crop Circle from June 27, 2009. I wrote about this series of Alien looking Crop Circles in my June 2009 Update. The link is provided below.

Please note that June 27th is the date Nostradamus published his Epistle to Henri. Also note that it is the Crop Circle I just included in the video below.

We are very close to seeing nuclear war; readers know that there will be a warning from Nostradamus' "Rare Birds". Just what could those Rare Birds be?

Several hundred readers and I know. All you have to do is buy a $9.99 EBook to find out.

To the Membership: Look for an update on this story very soon. My real job and a family illness have kept me busy, so I apologize for the lack of updates. Most of you know the predictions.

I've been consulting with George and Grady over at Nostracodeus. They have been showing me some very interesting data that I believe hints at Nostradamus' prediction in the Sixains.



Nostradamus Sixain XXXIV
Princes and Lords will all make war against one and other,
First cousin brother against brother,
Arabs [L'Araby/Arab League] finished by the happy Bourbon,
The Princes of Jerusalem very agreeable,
To committing the heinous and execrable deed,
They will feel the effects of the bottomless purse..



The effects of the Bottomless Purse means that there will be no more American money for Israel after the United States goes broke.



NOSTRACODEUS _____________________________________________



November 18, 2013
Comet ISON Grows Wings; Comet Lovejoy, a Fountain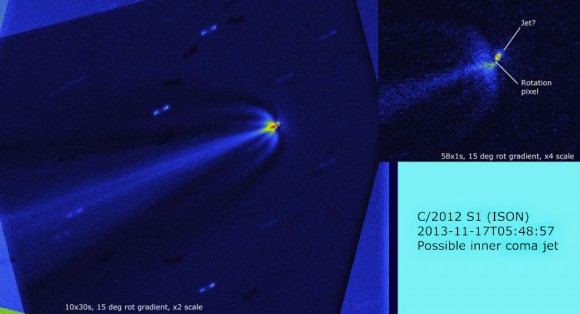 November 19, 2013
ISON's New Wing Hood Growth Photo!! – Depicted In Crop Circles

JUNE 2009 AGE OF DESOLATION UPDATE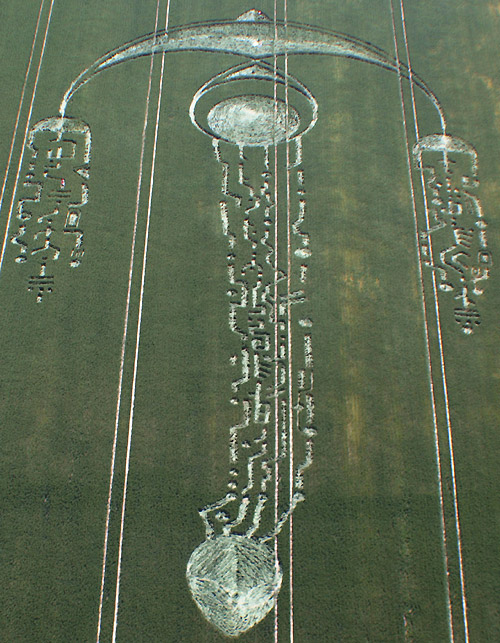 November 17, 2013
Israel steps up rhetoric ahead of Iran talks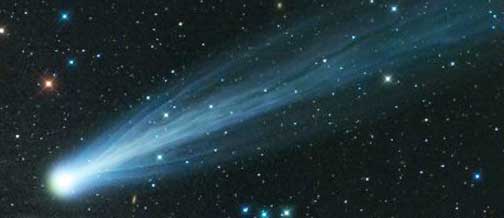 November 17, 2013
Israel steps up rhetoric ahead of Iran talks

NOVEMBER 22, 1963
NOVEMBER 2013
THE 50 YEAR PLAN
AND
THE ATTACK ON IRAN




For some time I have wanted to do a series of creative musical videos of what's been rolling around in my brain. Music is the page divider in our lives.

As a musician, I appreciate the historical transition between generations. The sixties, early seventies, and nineties saw a beautiful integration of music with the social conditions of Western society.

Since we are at the cusp of a new age for humanity, which I have called The Age of Desolation, after the prophecies of Nostradamus and those in the Holy Bible, I have called this series of videos Doomsday For Dummies.

My first video is Lesson 1: Surviving Hypocrisy. The message is simple; war and assassination are not good. They are acts hypocritical to the enhancement of life in an evolved civilization.

For the most part, I have used cultural iconic photographs and videos in this first video. It is a timeline of history centered around the Kennedy Assassination 50 years ago this week.

It was a conspiracy, and the Big Media Sale for the 50th Anniversary will be on the Lone Gunman Theory, discredited by a Congressional Committee in 1979. This is a historical fact. It just blows me away how the Media simply ignores the findings of the 1979 House Select Committee on Assassinations.

Our world today stands on the edge of destruction because of the murders of John F. Kennedy, Martin Luther King, and Bobby Kennedy.

Charles De Gaulle understood who tried to kill him six months before President John F. Kennedy was assassinated. That is why De Gaulle withdrew France from NATO.

I realize that many people will not know who many of the historical people are that flash through the video. You should know. They have killed you, but you don't know it yet. This is why I have chosen Tool's song Ænema for this first video. It's a song about superficiality in the face of tidal waves.

Lead Singer Maynard James Keenan's lyrics are spot on, and drummer Danny Carey's use of hemiola with his double bass drums and floor tom makes it sound like the Apocalypse has arrived.

The anger, discordance, and controlled chaos in this song are perfect themes for moral hypocrisy in an Age of Desolation.

The 50th Anniversary of the Kennedy Assassination makes November 22, 2013 very special. Communists and Fascists love 50 year and 100 year plans.


_____________________________________________

IRAN ATTACK
November 16, 2013
Israel said to be working with Saudi Arabia on Iran strike plan

November 2, 2013
Panetta: US may have to use military force against Iran

November 2, 2013
Top Generals Reveal Obama's Secret High Level Military Purge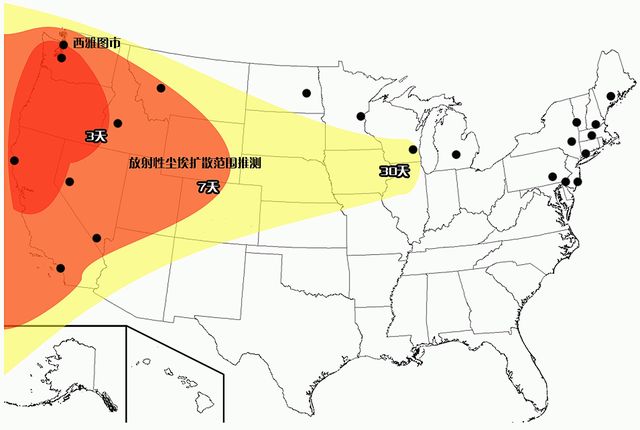 CHINA'S PLANNED NUCLEAR STRIKE ON THE UNITED STATES

October 31, 2013
Inside China: Nuclear submarines capable of widespread attack on U.S.

October 31, 2013
US Is the Enemy, Says Chinese Military Documentary
"Conflict and struggle with the American hegemonic system is inevitable on the path of China's national rejuvenation..."

_____________________________________________


FOR THE SKEPTICS:
NOSTRADAMUS PROVEN
PREDICTIVE ABILITY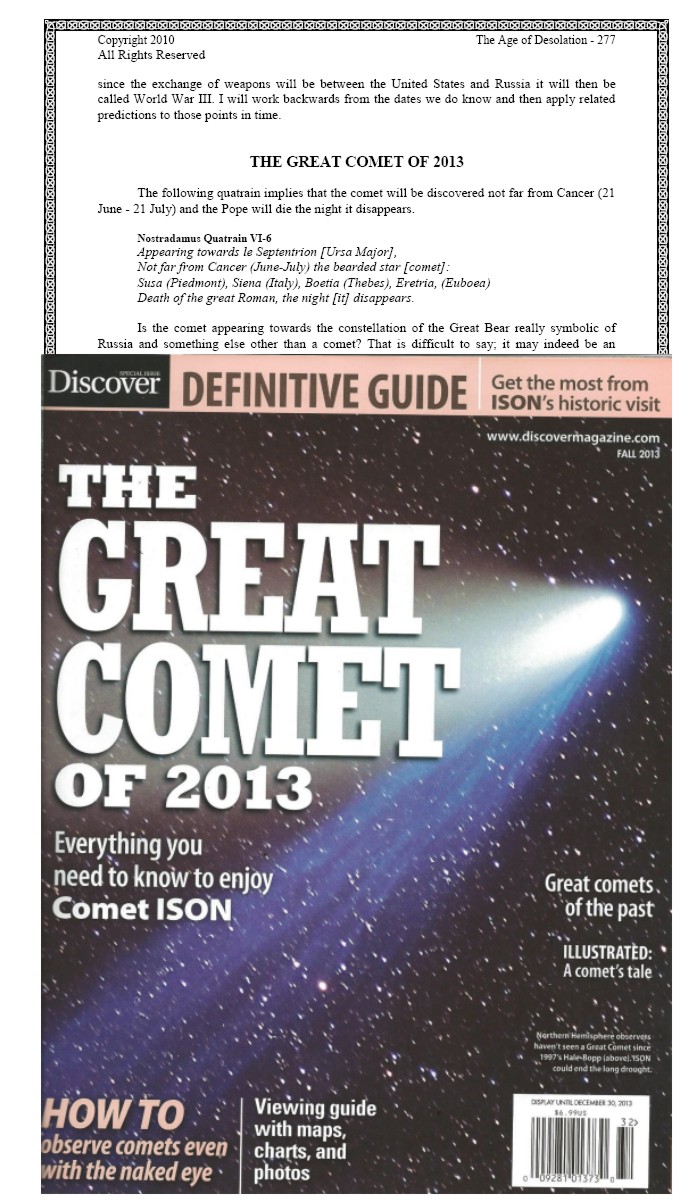 SORRY DISCOVER, BEAT YOU BY 3 YEARS



To old and new readers, I have finished the preliminary construction of my long promised Member's Website.

I have started from scratch with the Database, if you have purchased the book, please Email me and I will use your Email address as your User Name and I will send you a Password that you can then change.

At some point I'll ask for money to keep it all going.


_____________________________________________

2014 METEOR STORM
CONFIRMED

Nostradamus Quatrain II-47
The great old enemy mourning is poisoned,
Sovereigns [Governments] are subjugated by infinite numbers:
Stones [Meteorites] raining hidden under the fleece [comet's tail],
Through death articles [of war] cited in vain.



2014 is when the rain of meteorites is set to occur...

...The rain of meteorites will come in January or February 2014. This will trigger a global nuclear war with China being the main target of America and Russia.


"There will have fallen from the sky such a great abundance of fire, and of burning stones, and this will occur a short time before the final conflagration."

APRIL 13, 2013
Comet ISON Meteor Shower
Veteran meteor researcher Paul Wiegert of the University of Western Ontario has been using a computer to model the trajectory of dust ejected by Comet ISON, and his findings suggest that an unusual meteor shower could be in the offing.
"For several days around January 12, 2014, Earth will pass through a stream of fine-grained debris from Comet ISON," says Wiegert. "The resulting shower could have some interesting properties.
_____________________________________________

THE ARAB PRINCE OF WAR APPEARS ON SCENE
Nostradamus Quatrain V-25
The Arab prince of Mars [war], Sun, Venus, Lyon [Leo/August].
The rule of the church will succumb at sea:
Towards Persia (Iran) very near a million men,
Byzantium (Turkey), Egypt, the true serpent will invade.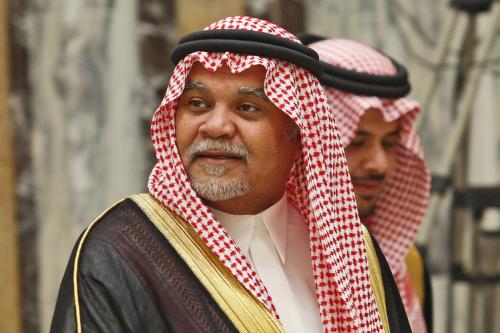 AUGUST 27, 2013
Meet Saudi Arabia's Bandar bin Sultan: The Puppetmaster Behind The Syrian War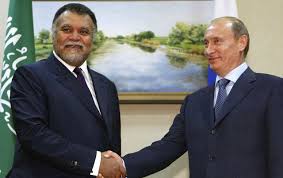 AUGUST 29, 2013
Saudis offer Russia secret oil deal if it drops Syria
Saudi Arabia has secretly offered Russia a sweeping deal to control the global oil market and safeguard Russia's gas contracts, if the Kremlin backs away from the Assad regime in Syria.

WHY BANDAR BIN SULTAN'S THREATS TO RUSSIA AND PUTIN WILL CAUSE SAUDI ARABIA TO BURN.
AUGUST 29, 2013
... As an example, I can give you a guarantee to protect the Winter Olympics in the city of Sochi on the Black Sea next year. The Chechen groups that threaten the security of the games are controlled by us, and they will not move in the Syrian territory's direction without coordinating with us. These groups do not scare us. We use them in the face of the Syrian regime but they will have no role or influence in Syria's political future."

Nostradamus Quatrain V-16
The Sabaean tear (Saba, Saudi Arabia) no longer at its high price,
Human flesh by death burned to ashes:
The isle of Pharos (Egypt) invaded by the Crusaders [NATO],
When at Rhodes (Greece) the harsh specter [of war] appears.



Since "Sabaean tear" is an allusion to the Saudi Arabian city Saba and their trade in frankincense, the predictions in lines one and two in Quatrain V-16 suggest that Saudi Arabia will be overrun. Perhaps "Sabaean tear" is a metaphor for oil. "Human flesh by death burned to ashes" implies nuclear weapons. Oil is "no longer at its high price" because of the nuclear radiation.
THE IMPORTANCE OF GREECE

AUGUST 28, 2013
US Asks Greece for Military Base Access
Washington has asked Greece for permission to use its military bases in Kalamata and Souda for a possible strike on Syria over the alleged use of toxic gas in Ghouta on the eastern outskirts of Damascus.
The two bases in Peloponnesus and on Crete would be used by the American air force and navy for transportation purposes.

Nostradamus Quatrain I-74
After having tarried they wander into Epirus (Greece),
The great relief will come towards Antioch (Syria):
The curly haired black [king] strives strongly for the Empire [of Aquilon/NATO]:
Bronzebeard [Aenobarbe] will roast on a spit.

Nostradamus Quatrain V-90
In the Cyclades (Aegean Islands), Perinthus and Larissa,
In Sparta (Northern Greece)and the entire Peloponnesus:
So great a famine, pestilence through a false dust.
Nine months it will last throughout the peninsula.

_____________________________________________

IT'S ALL IN THE BOOK



SINCE WE ARE NOW DOWN TO THE WIRE, I HAVE PUT THE HEART OF MY BOOK ON THIS WEB PAGE. AT THE BOTTOM OF THE NEXT COLUMN ARE THE 17 PROPHECIES THAT WITHOUT A DOUBT HAVE COME TRUE AND ARE COMING TRUE AS YOU READ THESE WORDS.

AS YOU READ ABOVE, THE MAJOR PLAYERS HAVE ARRIVED. THESE ARE THE LAST SIGNS WE WILL GET BEFORE THE WORLD IS FOREVER CHANGED. I FELT OBLIGATED TO PUT IT OUT THERE.

THE FAIRY TALE WORLD IS A FAIRY TALE, AND TODAY'S NEWS IS APPROPRIATE FOR THE THICK HEADED.



AUGUST 29, 2013
SAS launches internal inquiry over sensational claim that elite regiment was behind deaths of Princess Diana and Dodi Fayed

_____________________________________________

REAL RAY GUNS
Nostradamus Sixain XXVII
Fire from space from the Western side,
From the mid heaven, running to the East,
Worms half dead without finding a root.
Third Age of Mars the warlike,
One will see fires shining from the Carbuncles,
The age of the Carbuncle will bring famine in the end.

The "Third age of Mars" appears several times in the Quatrains and Sixains. It is an obvious reference to World War III...

"Fires shining from the Carbuncles" is a reference to laser weaponry. Interestingly enough, a carbuncle is anyone of the scarlet and crimson varieties of garnet where the stone is cut with a convex face. There is an ancient legend that Noah used such stones to illuminate the ark.

This arcane bit of myth shows just how fine the weave is to Nostradamus' tapestry regarding the future and the past...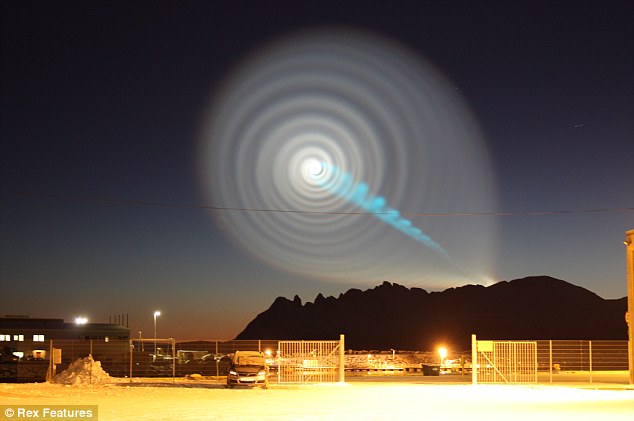 THE NEW BESSEL BEAM WEAPONS
BESSEL BEAM
TRACTOR BEAM
APRIL 18, 2013
THE SCIENCE OF BEAM WEAPONS

Revelation 13:13
And he doeth great wonders, so that he maketh fire come down from heaven on the earth in sight of men.

Nostradamus Quatrain V-81
The royal bird [Eagle] over the city of the sun [Rome, Italy] ,
Seven months in advance it delivers a nocturnal omen:
The wall of the Orient [China] will fall lightning and thunder,
Seven Days the enemies directly to the gates.
_____________________________________________

1260 DAYS
AND
TWO WITNESSES



From my book, Nostradamus and the Age of Desolation:




May 23, 2013: "One thousand two hundred and threescore days" from December 10, 2009 and Barack Obama's Nobel Peace Prize.

I think the two witnesses have flown under the radar in the countless riots that have erupted in the United States and Europe. Nondescript, they are fighting the good fight and they will probably appear somewhere around May 23, 2013.



MAY 20, 2013
Edward Snowden... leaked details of several top-secret U.S. and British government mass surveillance programs to the press.
Snowden left Hawaii for Hong Kong on May 20, 2013...

MAY 23, 2013
Code Pink's Medea Benjamin Interrupts Obama Speech The Code Pink activist confronted the President on drones, Gitmo

_____________________________________________

THE REAL BAD NEWS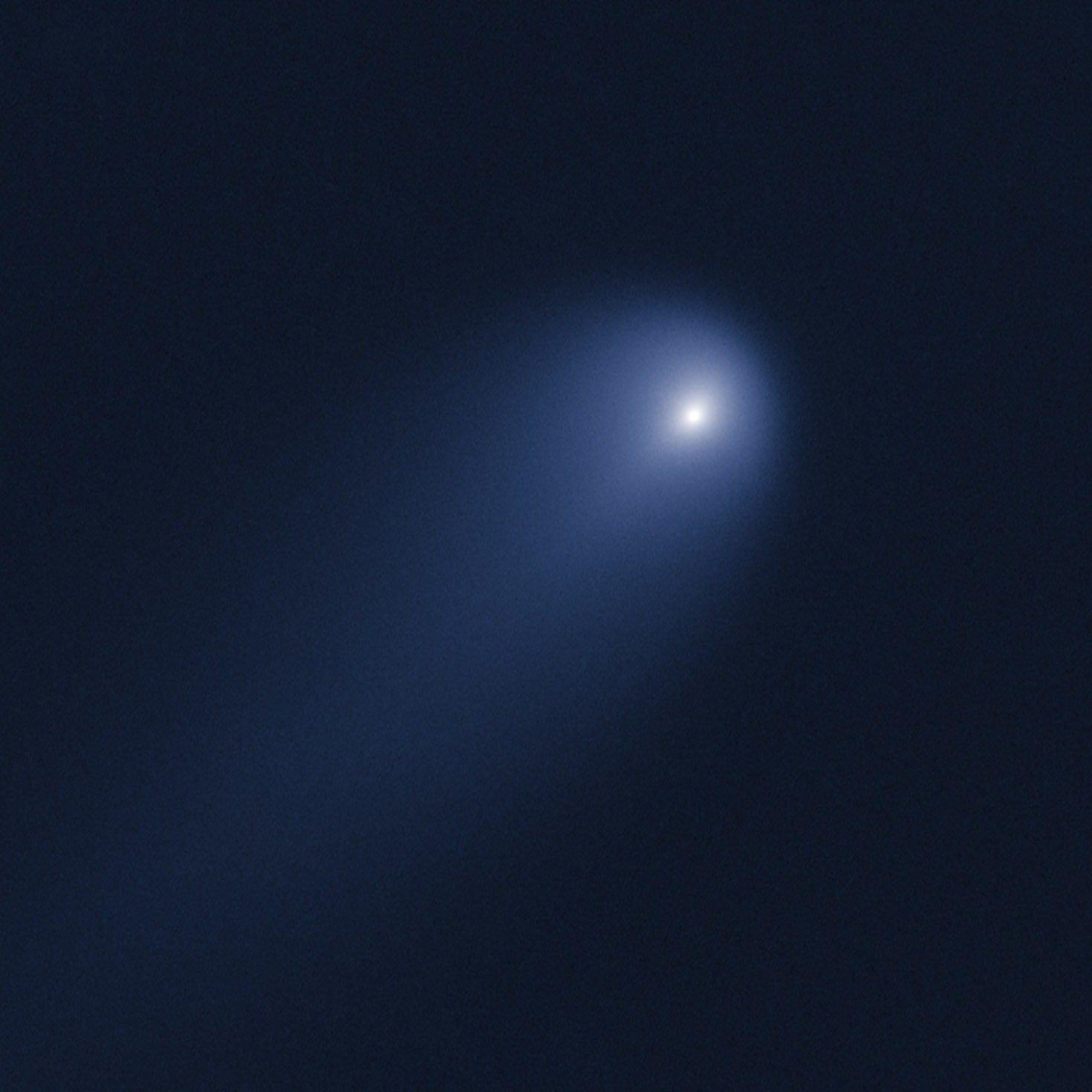 COMET ISON's FIRST HUBBLE CLOSE-UP



As readers of my two books know, I wrote that Nostradamus' Great Comet of 2013 would make its first appearance near May of 2013.

That day has come.





_____________________________________________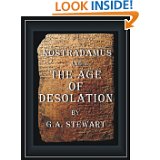 BUY THE KINDLE VERSION AT AMAZON.COM AND RECEIVE THE LINK TO THE PDF VERSION.

IF YOU BUY THE BOOK ON AMAZON,
SEND ME AN EMAIL TO
THEAGEOFDESOLATION@HOTMAIL.COM
FOR ONE MONTH FREE ACCESS TO THE MEMBER'S WEBSITE
_____________________________________________



_____________________________________________



_____________________________________________

SUGGESTED MORNING READING LIST
LOOKING INTO THE FUTURE